Camping Group Brings Charlotte Kids to the Outdoors
A Q&A With Keith Cradle of Camping With Cradle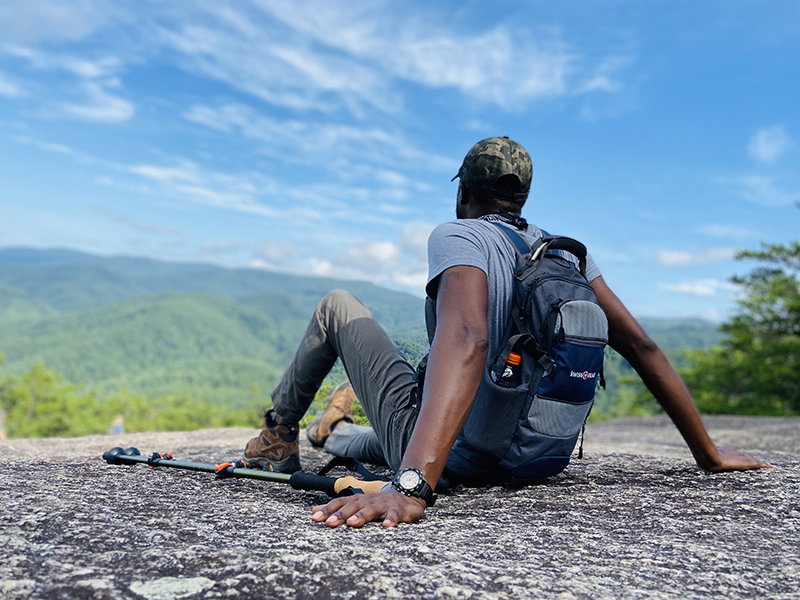 Keith Cradle is a busy guy. The 46-year-old serves as director of youth and juvenile programs for the Mecklenburg County Sheriff's Office. He's also on the boards of directors for the Bechtler Museum of Modern Art and the Charlotte Trail of History—along with seats on the Mint Museum Contemporary Art Board and the Juvenile Crime Prevention Council. It's no wonder Cradle unplugs from Zoom and escapes on weekends, when the avid hiker and camper heads to one of the several state parks that surround Charlotte.
Recently, Cradle merged his work life and outdoor hobbies to create Camping With Cradle, a mentoring program that brings Charlotte kids to the mountains. He launched the group last year, and the nonprofit's efforts will continue this summer as COVID restrictions loosen. Charlotte magazine spoke with Cradle about why he founded the group and what he's working against.
Charlotte magazine: When did your interest in the outdoors begin?
Keith Cradle: I've always enjoyed being outside. I was a certified lifeguard in high school and did summer camps. But I really started camping and hiking around 10 years ago.
CM: You're someone who already works with young people every day. What needs does Camping With Cradle meet?
KC: Well, we do have plenty of groups who do something like this in Charlotte, in terms of getting kids outside. But when we talk about access and inclusion for segmented groups of kids—particularly underserved kids—inside some of our communities, we know they're not getting outside of the city. They're not spending the money to do some of these larger summer programs. This was an opportunity for me to go ahead and reach those kids. There's room for all of it: those bigger, mainstream groups and those in the smaller segments like myself.
CM: Obviously, being free from digital distractions has its advantages. What else is it doing for these kids?
KC: Number one, you start with the health benefits, the physical (activity), their mental health, and psychosocial development. The outdoors gives all of that to adults and kids alike. But we know that most kids don't get outside like we used to. I'm 46. My mom used to throw us out of the house in the summer and say, "Don't come back." Even in my (north Charlotte) neighborhood, I don't see a lot of children outside play en masse like we used to. So you have to work against that and make it fun. You have this idea that it's all bugs, and it's too hard and unenjoyable. So you have to get through that red tape first. The mental benefits come even with learning to survive a bit, along with the physical benefits—how to put up a tent, how to start a fire, how to cook food, how to sleep throughout the night and realize the trees aren't going to kill you.
You're also working against the intimidation factor: You also look at where the parks are. Some of these state parks opened in the 1930s, '40s, '50s. Black families were not driving through some of those rural towns and cities. These were sundown towns. (Ed.: "Sundown towns" were all-white communities during Jim Crow where Black people could work during the day but had to leave by dark.) Even today, as I'm driving through some of these areas, you see stuff like Confederate flags everywhere. So a kid may be like, "Oh, hell, no, I'm not going through there." You see why most Black folks have stayed away out of habit. It's healthy for us to have these open conversations and get new context to open these spaces up for folk who traditionally didn't go there.
CM: You said you picked up camping about a decade ago. Was there ever a time when you didn't feel safe?
KC: No, but I think I've always had an adventurous spirit. I think there have been people who are just more intrigued, than anything, to see some Black guy wandering around. They may feel like they have to impart some wisdom to you sometimes. They may suggest you do or buy certain things to make it easier. And then they get a little closer and see your gear, and they realize you've done your homework (laughs).
CM: Once you've convinced kids to head out with you, what can they expect?
KC: Any state park within our reach. Really, just two or three hours out of Charlotte, especially for an overnight trip, gets kids outside of the comfort zone. You lose a bit of cell coverage, so they're not depending on that as much. For a lot of kids, it's when you lose sight of that skyline that changes your whole dynamic and outlook.
CM: What kind of lasting impact have you found so far?
KC: If you have, say, 10 kids that go out with me and a leader, six of them will probably say, "You know, that was fun, but I'm good now." But that's still four saying, "When are we going again?" And at least those six kids still had the opportunity. They know what exists out there, and they expanded their vocabulary in this area, hopefully. What they do with this experience afterward is up to them. But they can never say, "No, I've never done that before," again. That's what we're getting rid of.
Find out more about Cradle's mentoring program at campingwithcradle.org.