Can Developers Honor Brooklyn's Past as They Build Its Future?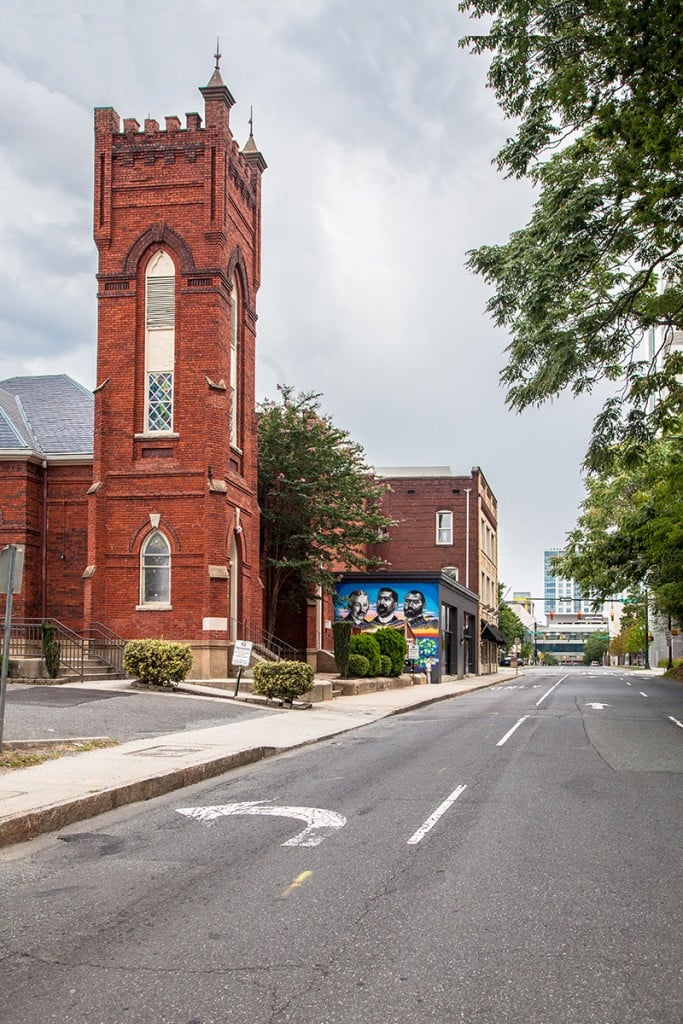 The smell of old wood and creaking sanctuary floorboards tip you off to the age of the Grace AME Zion Church on South Brevard Street in Second Ward. It's one of the oldest black churches in Charlotte, dedicated in 1902 after a $2,000 fundraising campaign by the founding congregation. Next door, at 229 South Brevard, stands one of the oldest commercial structures in the city, the Mecklenburg Investment Company Building, completed in 1922.
A brightly colored mural, painted last year by young artist Abel Jackson, incorporates portraits of three black men critical to the MIC Building's development and the neighborhood, Brooklyn, where it was developed: J.T. WIlliams, Thaddeus Tate, and William W. Smith. Williams and Tate were prominent business leaders in Brooklyn and investors in the building's construction; Smith, the project's contractor, was Charlotte's first black architect. If you stand on Brevard and look at the building's façade, you notice a strip of light-colored brick just below the roof line with dark, diamond patterns embedded along its length. The diamonds were Smith's signature design.
This intersection of Brevard and East Third streets was one of the social and commercial hubs of Brooklyn, a historic black community razed and redeveloped in a series of urban renewal projects in the 1960s and '70s. More than 1,000 homes and 216 businesses were demolished. Brooklyn remains the foremost symbol in Charlotte of a pattern that repeated itself in city after city in that era: Black communities with homes, businesses and fully formed identities condemned as slums and destroyed to make way for government buildings and developers' plans.
Except for the two church structures and the MIC Building. They're the only remnants of Brooklyn left standing. Today, a new group of developers is trying to resuscitate the buildings in a way that seems like an impossibly tricky balancing act—a renovation that can serve as a mixed-use hotbed for entrepreneurship and a fresh sense of community as it honors the property's, and Brooklyn's, history.
***
The group, the Brooklyn Collective, bought the corner parcel and the three buildings on it in 2015. Since then, they've moved forward with their plans, which include a handful of small businesses, a future expansion to include artists-in-residence and community meeting space, and a renovation of the main church building into a museum that celebrates Brooklyn's memory. The plans intentionally echo the MIC Building's uses in its heyday, when restaurants occupied the ground floor, offices for black professionals dominated the second, and the third held a meeting hall for black social clubs—whose members in the Jim Crow era were barred from white gatherings. In recent years, the new owners have used the space to host a marketplace for minority retailers, events for International Women's Day, and a forum for local independent authors.
"Our mission is centered on upward mobility and inclusivity," says Jason Wolf, who runs Brooklyn Collective. "That type of person and that type of work has been performed on this corner of downtown Charlotte since 1886, and we have the privilege of drawing upon the history of these buildings to inspire future actions."
Wolf says he wants to recreate the "energy" these buildings and their tenants brought to this corner of uptown, although it'll likely take him and his team several more years to fully realize its plans for the properties. But bringing new life to the corner is more than a matter of energy. Uptown property is some of the most valuable in the city, and Brooklyn Collective has to make money with their development plans—and that raises the uncomfortable possibility that, even as it pays nominal homage to historic Brooklyn, it'll price out the very people whose history Wolf and his partners seek to honor. A warning stands just a few blocks away in Second Ward, where BK Partners is moving ahead with plans for its 17-acre, $683 million Brooklyn Village mixed-use project. Community leaders and descendants of Brooklyn families have criticized the developers for not including enough affordable housing units.
***
That kind of conflict is common in Southern cities. Some developers, like those who helped rejuvenate the historically black Sweet Auburn district in Atlanta and Anacostia neighborhood in Washington, D.C., took pains to preserve the areas' unique history as they sought private investment, says Dr. Willie Griffin, staff historian at the Levine Museum of the New South. The developers of those neighborhoods established research libraries with company and family records as part of their projects, Griffin says: "Those developments kept the history alive by playing an active role in preserving it."
Wolf and his Brooklyn Collective partners say preservation of Brooklyn's history and opportunities for the poor and working class are central to their vision, which aims to resurrect the spirit of what in the 1890s and years afterward was known as "the Black Better Class." Williams, Tate, and Smith were prominent in this community of local black businessmen in the post-Reconstruction era.
A generation removed from slavery and educated during Reconstruction, these men coalesced around values of self-discipline, morality, and education. They believed clean living, business success, and building wealth through land ownership provided a path for Charlotte's black community to elevate itself from poverty after centuries of slavery. The Black Better Class rallied around the Temperance Movement of the late 19th century, and many of its leaders split in 1886 from the largest black congregation in Charlotte, Clinton Chapel on Mint Street, to form Grace AME Zion Church because they believed Clinton Chapel leaders were too permissive toward drinking.
The new church was one of the Black Better Class' anchors. Over the next several decades, many of its congregants created institutions for the black community, including libraries, insurance companies, churches, law and medical practices, and social organizations like the YMCA, Shriners, and Masons. The destruction of Brooklyn put an end to that community and way of life. It's what's missing from Brevard and Third even now, and part of what Jason Wolf and his team hope to resurrect. It's far from clear, even with the best intentions, whether they can. But they're committed to trying.
"We are surrounded by surface parking, on a corner of downtown that doesn't even have a sidewalk on the other side of the street," Wolf says. "This corner hasn't seen energy in the last few decades. Look for the energy. It starts there."
JOHN SHORT is a freelance writer (among other professions) who loves digging up Charlotte's past and pondering its future. Email him at jwesleyshort@gmail.com with your favorite Charlotte history trivia, or just say hey when you see him on the fully operational streetcar.