Can Food Heal? Charlotte Pastries and Cocktails Infused with CBD Just Might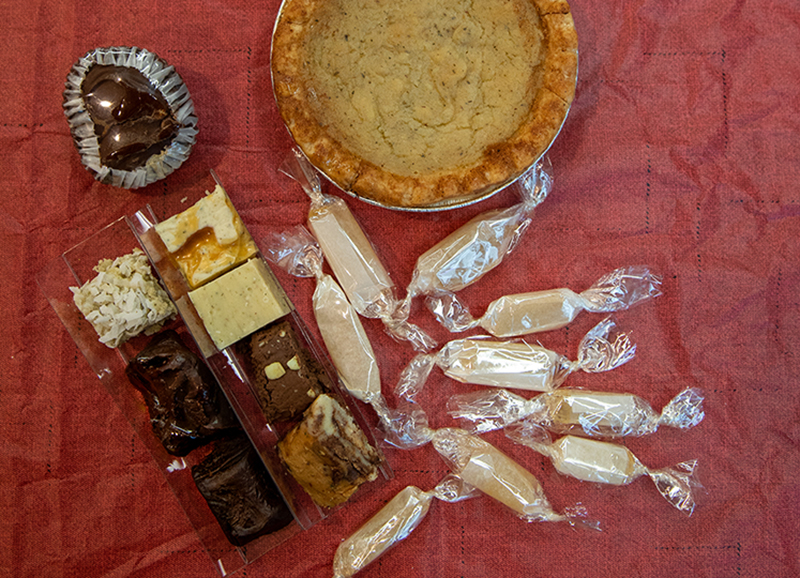 ON THE FALL AFTERNOON we meet at Mitty's Café in South End, Kendra Jeffress skips the handshake and goes straight for a hug. She offers me some coffee and one of her homemade CBD-infused muffins. As we sit down to chat, she tells me she can read a person's energy, and she says mine is "encouraging." Maybe it's her soothing voice, or maybe it's the muffin. Either way, I feel at ease.
If you haven't heard, cannabidiol (CBD) is a natural, non-psychoactive concentrate extracted from the marijuana plant. Think of it as a legal cousin of THC.
Recently, CBD has surged in popularity, and while you shouldn't expect to get high, it may help with inflammation, insomnia, and anxiety.
Jeffress suffered from chronic abdominal pain, weight loss, and malnutrition for years. Chronic inflammation of her gastrointestinal tract made eating so unpleasant that doctors believed she was anorexic. When she was 26, her intestines ruptured, and following emergency surgery to repair the perforation, she finally got the correct diagnosis: Crohn's disease.
As she recovered, Jeffress slowly reintroduced foods into her life. "My mom fed me from the garden. She grew foods that heal, and as soon as I could eat again, I wanted apple turnovers made with apples from her garden." Jeffress also watched cooking shows to pass the time. Then she had a revelation. "I began to look at food as medicine," she says. "You get nutrient power from food when you eat the right thing."
More than a decade later, when Jeffress' 11-year-old daughter was diagnosed with a rare, progressive form of epilepsy called Unverrichtt-Lundborg disease, they faced a familiar challenge. "I was told that Ali would have to be tube-fed," she says. "How would she heal if she couldn't eat?"
Jeffress explored holistic avenues and learned about the benefits of hemp and CBD oil. She flew to Colorado to learn about Rick Simpson Oil (RSO), a cannabis oil developed by Canadian medical marijuana activist Rick Simpson. "I gave Ali a single grain of rice with a tiny drop of the oil, and within one minute, her heart rate normalized," she says.
She was on to something—in June of 2018, the FDA approved Epidiolex oral solution for treatment of seizures associated with two other rare and severe forms of epilepsy similar to Ali's. (Epidiolex is an oral solution of oil-based CBD.) "I learned that eating the wrong thing could spark neurotoxins and cause a seizure," Jeffress continues. "But if your body relaxes, you can start to heal."
Soon she began experimenting with CBD oil in the kitchen. "There is no cookbook for this," she tells me with a laugh. She's careful to cook at low temperatures to avoid burning off the nutritional value, and she says there was lots of trial and error, because CBD oil comes in many forms, meaning there are different temperatures for different things.
One of her muffins has approximately 30 milligrams of CBD, and Jeffress says that comes from a combination of CBD flour and raw hemp material. "It has everything but THC," she says. The muffins are also gluten-free, and she uses vegetables and beans in place of grains whenever possible to avoid common food intolerances. In place of granulated white sugar, she uses coconut palm sugar and agave syrup to encourage balance of the glycemic index, thus avoiding a rapid increase in blood sugar. Instead of canola oil, she relies on hemp butter, olive oil, coconut oil, and sunflower oil.
Her pastries were a hit with friends, and in 2016 Jeffress launched Ladybugs Medibles, which sells CBD-infused pumpkin bread, paleo monkey bread, and vegan banana black walnut bread. "The time I started Ladybugs Medibles was Ali's end date," she says. At her initial diagnosis, Jeffress says doctors predicted Ali would live to 16, maybe 18. Ali is now 22.
***
WHEN MIXOLOGIST COLLEEN HUGHES first heard about CBD oil, she knew she wanted to develop a CBD cocktail for her bar menu at Haberdish, a restaurant in NoDa. She says the drink was nearly four months in the making, starting with an education about the properties of CBD oil. "Certain liquors have their roots in medicine. Many of the herbal liquors that are on the market started off as medicine 500 years ago," she says. "So it seemed like a natural fit for this bar, because we're about drinks that make you feel good."
The result is the Apothecary, which combines prickly pear reduction, Conniption gin, Cocchi Americano wine, ginseng ginger infusion, bitter melon, lime, and CBD concentrate for a fresh and avant-garde cocktail. When I meet with Hughes to sample one at Haberdish, I can't detect any medicinal taste—just a light, refreshing beverage that leaves me with only the slightest buzz. "I think it brightens the mind with the added benefits of CBD oil, and people have told me they feel better after drinking it … I really do believe a little booze can do a lot of good and lift the spirits," Hughes says. "If we can get (CBD) into more hands, as opposed to pharmaceuticals, I think that's a great trend."
Cocktails and pastries are just the beginning. Jeffress experiments with snack foods such as CBD-infused Jell-O, chips, and popcorn. She also cooks customized meals for clients who host CBD parties. She recently catered a CBD barbecue where everything on the menu was CBD-infused. "I even made CBD pizza recently," she says. "I put (CBD) in the cheese, sauce, crust, and the olive oil I brush onto the crust."
Today Ladybugs Medibles are available online, and customers can also find them at Mitty's Café, which is tucked inside Vigor Charlotte in South End. Here customers can find a slew of CBD-infused products like gummy bears, lotions, and even dog treats.
"We have everything you eat, drink, smoke, or ingest in any way," says owner Mitchell Cook. When I ask him to describe his customer base, he tells me it's not made up of the granola, tree-hugging types some might assume. "People don't come here wanting to get high," explains Larry Clark, CFO of Vigor Charlotte. "We get older people with cancer, people with epilepsy … We've even had Carolina Panthers players with joint pain. A huge percentage are repeat customers."
So how exactly does CBD work to relieve pain and inflammation? As Cook explains, the CBD goes "home" to the cannabinoid receptors in the brain. When your receptors react with CBD, they form anti-inflammatory effects that reduce pain. "You're igniting the endocannabinoid system," he says. "It's like homeostasis, like the body is coming back together and nothing is off-kilter."
As with introducing any new substance into your regimen, however, it's important to be aware of any side effects or risks associated with usage. According to Medical News Today, a number of small-scale studies have examined the safety of CBD in adults, and researchers found no significant side effects on the central nervous system, vital signs, or mood. The most common side effect was fatigue, and some users reported changes in appetite or weight. Researchers have not yet performed these studies on children.
"We're not doctors, and we're not selling medicine," Cook says. "But at the end of the day, we'll hear from customers who tell us they took our advice, got off medication, and feel so much better."
If you ask Jeffress, she says she's living proof of that. "Five years ago, I was injecting myself with methadone every four to six hours for pain," she says. "I was a legal drug user. But once I discovered cannabis oil, my body began to heal and repair, and my scans show almost no scar tissue now."
She's also become a cannabis educator, activist, and head of the North Carolina Cannabis Patients Network. Ladybugs Medibles continues to expand, and is now available at Charlotte CBD, Joy Mart, Charlotte Vitamins and Health, and Common Market.
Ali has victories and setbacks, but thanks to her mom's tireless efforts, she always eats well. As for Jeffress, she tells me she holds on to a phrase that's always resonated in her mind: Eat, so that you will feel better. "Your body must eat to survive," she says. "Food is medicine, and I'm infusing foods with love and joy."