Can the Old Common Market Live Again?
The owners are bringing the neighborhood gathering place back. Want to get there? Just walk 1,153 paces from the old spot.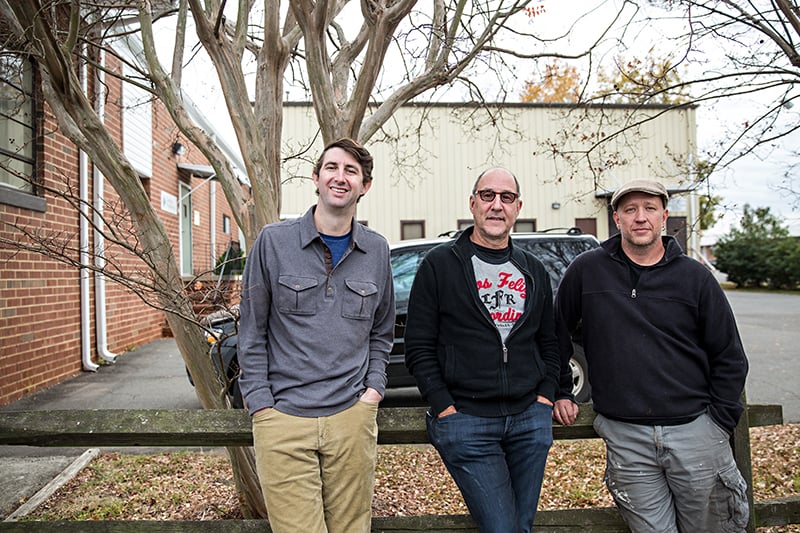 BEFORE LOCKING the doors at Common Market in South End for the last time in late July, co-owner Chuck Barger made sure the place was spotless. He'd lovingly called it the ugliest building in South End for years, but that day, he wanted to leave it looking dignified. The shop had hosted a staff party to finish off the remaining inventory, and now, after a year of mourning the news that Common Market was closing, it was time to say goodbye.
Barger and co-owner Blake Barnes stood in the parking lot, looking at the building they'd renovated themselves and readied to open at the bottom of the recession eight years earlier. Nobody wanted to leave first. Barnes likens it to a new couple saying goodnight after a first date.
Eventually, "We were all like, 'OK, let's go,'" Barnes recalls. They awkwardly pulled away.
"I had this tremendous sense of relief from having finished something," Barger says of that last day, "because when you run this kind of business, you never really finish anything. You're open every day, it's more of the same. But I got this done, and we're gonna start it over again and make it better."
And after some downtime, starting over in South End is in motion. Barnes and Barger and their team will open a new Common Market at 235 West Tremont Avenue in the first half of 2017. And how they got there is a common Common Market story.
***
GRAHAM WORTH, who has a background in finance and real estate, was having coffee last summer with a friend at Common Market in South End. He was looking to be part of a local business endeavor, and his friend, a regular at the store, volunteered to introduce Worth to Barger. That connection led to what Worth, Barnes, and Barger joke was a speed dating-style introduction. Now, Worth has joined Barnes and Barger to help them as they expand. He helped them negotiate a lease on their new location. Construction will begin this month. Worth will play a big role in seeing the new store open, and when it does, he'll continue to help manage the business.
"Chuck said to me at some point, 'We love doing it, but it's also very taxing,'" Worth says. "He'll be there (in the new store) without having to deal with busted pipes."
The new Common Market will have a much larger patio, with 4,000 square feet that will include balconies and some smaller areas where people "can just be," Barger says. Inside will be about the same size as the old store—3,000 or so square feet—and will have a lot of familiar features.
All of the old signs and fixtures decorating the walls were boxed up in the old store and will make their way to the new one, as will the old tables. The storefront will be behind the market's massive patio on a more industrial street, which Barger hopes will give customers the same feeling of discovery they had in the old store. The rest will be up to its customers.
"It's gonna be as much the same as you can make it be," Barger says. "We create a store that is 80 percent what it is, and 20 percent of it is what that neighborhood wants."
Barnes spends most of his time at the original Common Market, which opened in 2002, and says each store has its own fiercely loyal neighbors. The two stores opened as the same concept, but the South End store morphed to fit the transient, apartment-dwelling customers of the neighborhood, while the Plaza Midwood store connects with the homeowners who live nearby. They sell more kombucha and cigarettes at the Plaza location; energy drinks and Diet Coke are better sellers in South End.
"The customers told us what to do," Barnes says. And they expect the same to happen on Tremont Avenue.
***
BARNES AND BARGER needed a break from hunting for real estate after the old store closed.
"Blake and I, in that long grieving process of closing down, we were both gung ho about a new location," Barger says. "We were emotional, and we admitted to each other at one point over lunch, 'I don't know if I have the strength to do this.'"
As customers wondered where Common Market would pop up again, Barnes and Barger sightings spurred rumors: maybe Rock Hill, maybe Belmont.
They began looking again when Worth joined the team in the fall. The trio found many landlords in South End who loved the idea of having Common Market in their spaces, but didn't budge on rent. That lack of support frustrated them.
"We were very hurt by the attitude of many of the people who own property in the neighborhood who don't give a shit about their neighborhood," Barger says.
When they looked for leases in the mid- to late 2000s, there was little competition. Worth brought expertise in navigating the new Charlotte commercial real estate scene.
In order to keep their plans secret, the group worked out of Elder Gallery in South End, holding meetings in private, away from eager ears. They talked about the things they wanted to stay the same in the new Common Market—the familiar, living-room vibe and stickers on the walls. They also talked about a few things they hope to improve, such as having someone on the staff to make sure the tables are clean and napkin dispensers are full.
The new store will be a little shinier; Barnes says the move gave them a chance to clean all of the higher-hanging objects in the store. There may be a few additions to the kitsch collection, as well—though the collection is always evolving anyway because pieces are often stolen. Barger has a growing pile in his basement of items that might find a home in the new Common Market: a kids' drum set, a captain's mirror, and lighted wagon wheels, among other things.
And the Tremont Avenue location is only 1,153 steps away from the Camden Road spot, as counted during a customer contest to see who could come up with the best guess of the distance. As for when the store will open, that depends mostly on construction and permitting schedules. Barger isn't hedging on a set season: "It will get cold, it will get warm, and we will open."
Kristen Wile is senior editor of this magazine. Reach her at kristen.wile@charlottemagazine.com or on Twitter: @kristenwile.