Cantina 1511: Expanding the Border
New location on Park Road solidifies the Mexican eatery's brand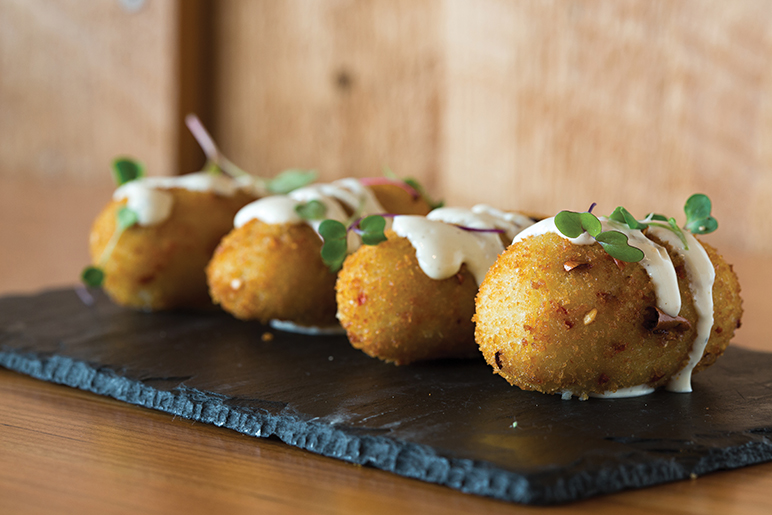 WHEN CANTINA 1511 moved from East Boulevard to Park Road Shopping Center, the popular restaurant changed more than its address. The inside of the new place is full of Mexican wares, from mosaic tiles dotting giant wood beams to a huge mural, reminiscent of Diego Rivera's work, on the back wall.
Longtime fans will recognize the colorful Fiestaware plates and pendant bubble light fixtures, which carried over from the old location. But stained concrete floors, bright purple shirts donned by the servers, and Dia de los Muertos art are all new to the Cantina experience. The restaurant has shed that comfortable, lived-in feel. The Park Road space is more contemporary and trendy, which means it's lost some of its charm and quirks. There are several upgrades in the new space, too: more parking, a large patio, and nearly 100 more feet of dining space—all improvements over the crowded Dilworth location. Another happy addition: The new spot's massive wooden bar and separate margarita station stacked with limes, tequila, and salt. The tequila cocktail comes in many flavors, from pineapple to mango to strawberry, and with nearly any tequila.
The dishes at the new location live up to the Cantina standard; the menu remains unchanged. On a recent visit, Sidewalk Antojitos ($9.75) held vinegary, flash-fried vegetables such as cauliflower and carrots, chicken nachos, and tortilla roll-ups with corn, lettuce, and cucumbers. (The dish is a rotating selection of Mexican street food.) The star of the plate, however, remains the pig wings carnitas. The miniature pork shanks are as sweet and tangy as ever, with a hint of smoke. For a Mexican eatery that gets plenty of attention for its takes on more typical Mexican fare, such as tacos and burritos, the new location gives reasons to branch out. One to try: the orange-coriander crusted pork loin ($17.75), a tender cut of pork loin over creamy and crisp tamales.
Cantina devotees will have to make a few adjustments. The new location has more in common with its Stonecrest sister restaurant than with the Dilworth original—but the most important element, the food, is still very good.