Catawba River Rising
We're here because the river's there. Yet few of us acknowledge the Catawba, that thick ribbon of water that flows under interstates 85 and 77 and feeds our lakes, lawns, and faucets. So I set out to discover it.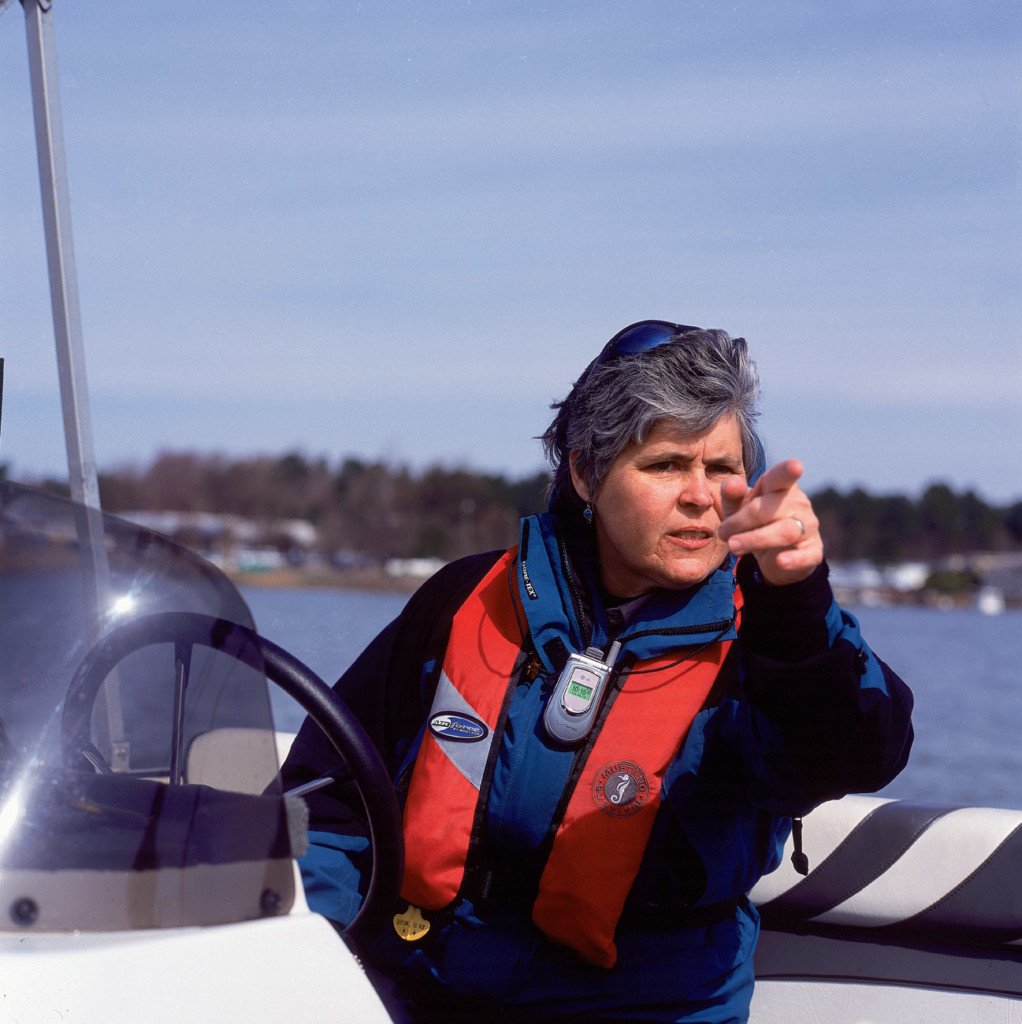 "HEY!"
"THE RIVER IS NOT A TRASH CAN!"
Catawba Riverkeeper Donna Lisenby's voice booms, echoing off the underside of Lake Wylie's Buster Boyd Bridge. She's yet to see the culprit, the person responsible for dirt and debris sprinkling into the river through a drainage hole in the bridge. But after only fifteen minutes with Lisenby, I sense the perpetrator could be the Incredible Hulk and she'd be no less deterred. This is her river. Someone is trashing it. That someone will pay.
We boat out from beneath the bridge and look up at a large North Carolina Department of Transportation man wearing a yellow hard hat, holding a push broom. He looks at us, head cocked slightly to the side.
"IT'S ILLEGAL to dump trash in the river."
The man stares, mouth open. Perhaps he's trying to comprehend the situation: He's sweeping road grit when he hears a commanding voice from below. Peering over the bridge, he finds a small white boat floating into view,piloted by an angry woman with two bemused-looking male passengers, one with a camera in hand. Is that lady yelling at me?
Finally, "I'm just doing what the boss man tells me to do."
"WHO'S YOUR BOSS MAN?"
Confusion. Silence.
"WHERE'S YOUR BOSS MAN?"
The man hesitates and then points to a collection of yellow hard hats farther down the bridge. Lisenby guns the outboard Yamaha and rockets the Miss Rachel Carsontoward the road crew. In no time, the "boss man" reports to the edge of the bridge.
"Your crew is ILLEGALLY dumping trash into the river."
The foreman feigns surprise, says he'll put a stop to it, and Lisenby thanks him for his cooperation. We speed back to the Lake Wylie Marina to report the infraction to two officials with Mecklenburg County's Water Quality Program, whom we'd run into not ten minutes before. The county workers assure Lisenby they'll speak to the road crew on their way to test water and sediment runoff from the Palisades, a 1,500-acre, 2,000-home golf course development that drains into eight of the lake's coves.
Turning south again, back toward the bridge, Lisenby stands at the helm. Dressed shoulder to ankle in a thick, black, GoreTex, wind-avalanche-nuclear-fallout suit and eyes hidden by mirrored sunglasses, she cuts an imposing figure commanding a craft with "Catawba Riverkeeper" emblazoned on both sides.
"It's like the Old West out here, where lots of things happened when no one was looking," she says. "But there's a new marshal in town and people are like, 'Where did you come from?' "
In fact, Lisenby is not new. She saddled up as the Catawba Riverkeeper seven years ago. But forget marking anniversaries; there's work to be done. Our river flows, polluters lurk, and if she's not fighting the bad guys, who is?
"We're going dam to dam, Lake Wylie to Mountain Island Lake," she says of the day's maneuvers. "First, we'll buzz Duke Power's security cameras. Wave and let 'em know we're out here. Then we'll head north to pick up [newly elected Mecklenburg County Commissioner] Jennifer Roberts in Belmont. She needs to see the river. Then we'll continue to the dam at Mountain Island. You'll see a lot. Questions? Hang on, then."
The smooth roar of the 175-horsepower engine puts us in motion, unleashing a furious flow of wind — particularly biting on this overcast March day — and unfolding an even, curling wake behind us. So begins my day on patrol with our riverkeeper and also a journey to discover Charlotte's most-important natural resource: the Catawba River.
Zipping along the surface of Lake Wylie, I'm reluctant to admit — especially as a native Charlottean — that I know the lakes but had never given the Catawba much thought. In fact, I wasn't even sure it was a "real" river, certainly not one you could paddle. Rivers raged in the mountains or flowed wide and lazy near the sea.
"The Catawba always seemed to be just a muddy, seventy-mile-per-hour blur off the interstate," I half-yell, hoping the wind will carry away my admission.
Lisenby nods, as if she hears this often. The first person of many I'll meet during six weeks exploring the "real" Catawba, she'll set straight that a broad river flows between "seeming" and "being." By 6 p.m. on this day, I'll see elements of the Catawba's past and present; learn about how Duke Power's federal relicensing process for its dams and reservoirs might impact the river; float by homes flooded by last September's hurricanes; and visit several municipal water-intake and waste-discharge sites; and Lisenby will find more than ten pollution issues on which to follow up.
Finally, I'll have my breath permanently fouled by my first traditional river lunch: sardines from the can, on crackers, with Tabasco sauce. But I'll get back to that.
This is not an environmental sermon. No local-news tactics (You won't believe what's in your tap water! News at eleven.) will scare you into this story. Where is the hope in dire predictions of ice caps melting, ozone holes widening, fire ants marching? We can't prevent El Nino this year, La Nina the next, or, heaven forbid, the return of the Macarena. Maybe the sky is falling, the oceans rising, but I still must return overdue library books, shuffle my boys about town, and earn a living.
I stay sane in part by leaving the pavement and venturing forth into precisely the same wilderness and waters that some warn will be ruined before the eleven o'clock news. The rustle of leaves in the wind, the rush of water over rock—these are the sounds that soothe me, that provide an abiding sense that everything is going to be all right.
Besides, the Catawba River isn't really in danger, is it? I mean, the government and Duke Power and people like Donna Lisen- by, they're protecting our water supply. Aren't they?
"America is a great story, and there is a river on every page of it," wrote native Charlottean Charles Kuralt in Life on the Road. Kuralt's words apply also to his hometown, where the Catawba River appears on every page. In fact, our city's short story is "No Catawba, no Charlotte." Everything — from the banks, Ballantyne, and Emeka Okafor to your job, the street on which you live, and your neighbors next door—is here, one way or another, because of the river and its tributaries.
Yet do we know the Catawba's story, of the river's importance to our past, present, and future? Do we actually see the river when crossing over on an interstate bridge or when Jet-Skiing its lakes? Most of us do not. And who can fault our ignorance? The Catawba is not the mighty Mississippi or the Grand Canyon — carving Colorado. Charlotte has no waterfront, no tourist-alluring, pub-lined River Street; we're not Savannah or New Orleans. Our river flows around the city, not through it.
It is difficult to go to the river. Unless we own a boat, have access to a lake house, or trek to one of the few public places that allow swimming, we forgo it, booking instead for the beach or Blowing Rock. Of those who live on Mountain Island Lake or lakes Norman and Wylie, few think of the water lapping their lawns as a river.
We dam the Catawba, dress it up with million-dollar homes — packaged as the Point, the Peninsula, the Palisades — and forget that beyond the fully equipped, covered marina slips and beneath the lakes' placid waters lies the 2-million-year-old riverbed that still delivers water more than 450 miles from the mountains to the sea.
The Catawba's story begins in the Appalachians near Mount Mitchell, the highest point east of the Mississippi. Water from three underground springs percolates just enough to rise from the earth, join, and form a rivulet. The water first flows slowly, then falls steeply, gaining volume from thousands of dendritic creeks, streams, and tributaries on its journey from clouds to Charlotte to Charleston Harbor.
En route, the river changes names, from Catawba to Wateree to Santee to Cooper. The water, of course, recognizes neither names nor state lines; however, when we speak of the Catawba, it's of the riverbed's first 225 miles, which follows a course roughly parallel to interstates 40 and 77, passing just west of Charlotte, and down into South Carolina and its end in Lake Wateree.
Our Catawba River and I go way back. I learned to swim, water-ski, fish, paddle, sail, howl at the moon, and smooch on or beside its waters in lakes Norman and Wylie. In nearly every one of my thirty-eight years, I've been to the river many times.
You also know the river; it flows into your home and office every day. You drink the Catawba, bathe, wash clothes, and boil pasta in its waters. Perhaps, inside a local church, you were baptized in the river. Beneath every city bridge where water flows are creeks — McMullen, Briar, Sugar, Irwin, and more –that become the Catawba. Right now, the river comprises roughly 60 percent of your body, even if you drink locally purchased Dasani.
So why am I swept away, standing at water's edge on a warm winter day, twenty-three miles downstream from Lake Wylie in South Carolina's Landsford Canal State Park?
Perhaps because for the first time, I'm actually seeing the river. That is, the "real" river, where sticks thrown into the current float swiftly downstream, where eddies form behind rocks. The Catawba courses by at an impressive 12,000 cubic feet per second. But never mind the measurements; the sound speaks of the river's speed. Utter silence, save for forceful flowing water, following gravity and the earth's path of least resistance. And all this less than an hour from downtown Charlotte.
My entire life, I've never seen the river for the lake. Ninety percent of the Catawba's water pools in eleven reservoirs, including Charlotte's north-to-south triumvirate: Norman, Mountain Island, and Wylie. Thus the term "riverine" is used to describe river sections that resemble, well, rivers. Landsford Canal State Park straddles three miles of the river's longest free-flowing section, a thirty-mile stretch from Lake Wylie to Fishing Creek Reservoir, just north of the textile-mill-imploded village of Great Falls.
"What you're looking at is the riverbed as it looked thousands of years ago," says Don Oneppo, the park ranger on duty. You can visualize the prehistoric Catawba at Landsford—deep woods crowd the riverbanks and nature abounds—but you can also smell modern settlement upriver. "That's Charlotte's wastewater, coming out of Sugar Creek," says Oneppo, who's worked at the park for twenty-six years. "I don't smell it anymore."
After a couple hours hiking the park's two trails and bushwhacking along the river's edge, I no longer notice the scent either. Returning from the woods, I run into Oneppo, smiling, binoculars in hand: "You just missed the bald eagles," he says.
It's easy to find the Catawba Indian Reservation. Just follow the large, brown signs from the Dave Lyle Boulevard Exit off Interstate 77 in Rock Hill. Numerous right and left turns through the city's rural outskirts eventually deliver you to the tribe's 1,020-acre reservation beside the river. I arrive on a whim, after calling my friend, Dr. Kenny Patterson, the medical director for the tribe's clinic, from the road. He gives a brief tour of the facility housed within the impressive, 30,000-square foot Longhouse (the clinic has since been moved), seat of the Catawba Indian Nation's government and administrative headquarters.
It's late in the day; few people are around. Stepping outside, I look down the hill to the river, running muddy after recent rain, and try to comprehend the sweep of changes this land and its people have experienced.
No other entity is as tied to the river as the Catawba tribe, whose ancestors settled its banks at least by the early seventeenth century. After paddling upriver from Charleston in 1701, Englishman John Lawson, the first surveyor general of the Carolinas, encountered the Siouan-speaking tribe's river villages in present-day York County. Accounts suggest the natives called themselves Ye Iswa, meaning "river people." (Kawahcatawba, meaning "people of the river," came after European settlement in the eighteenth century.)
"The stories the river could tell if it could talk," says Carson Blue, sixty-one, a member of the tribe's executive council, whom I reach at Tire Town, the Rock Hill business he owns and runs with his son, Pat.
Blue shares how his grandfather, Samuel Taylor Blue, witnessed the devastating 1916 flood that took fifty lives, destroyed nearly every bridge on the river, and severed the Piedmont's communication with the outside world. "He saw cars, cows, bales of cotton floating downstream. If you were in the way, the river took you with it."
He recounts his own experiences with modern mini-floods from Duke Power's intermittent releases from the Lake Wylie Dam, just a short distance upstream. "We'd wade out to sit on a rock and fish," Blue says, "but when they turned the water loose, you had to get out quick, unless you wanted to be stranded."
Respect, rather than fear, factors into Blue's relationship with the river, as it did for his ancestors.
"The way you think of your home? The river was their home, their lifeblood. The Native Americans respected the river, stayed close to it for the fish it produced and the game that grazed the bottomlands. The river was clean then, not polluted."
Blue, who was born next to the river and baptized in it at age eight — "Jesus got the River Jordan and I ended up in the Catawba," he says — is Mormon, as are many tribal members. (Mormon missionaries began converting the Catawbas in the 1880s.) Do church members still opt to be cleansed of sin in the river? "Sure," Blue says. "But it's a lot fewer in winter."
Frustration flashes in his voice when discussing the river's water quality. The reservation sits just downstream from where Sugar Creek — which carries much of Charlotte's treated wastewater—enters the Catawba. "It's terrible what they put into the river," he says, speaking not just of Charlotte but other municipalities and industries upstream as well. "There are more than 600 licenses [counting storm-water dumps] to dump waste into the water."
Rusty Rozzelle drives daily across the bridge that bears his family name — Rozzelles Ferry Road — to commute to work. Born and raised in Shuffletown off N.C. 16 north of Charlotte, Rozzelle's family roots run deep along the Catawba. Early pioneers drawn here to farm include his great-great-great grandfather, who settled a 1,000-acre riverside plantation in the 1830s in the area we now call Mountain Island Lake.
Today, as water quality program manager for Mecklenburg County's Land Use and Environmental Services Department, Rozzelle oversees monitoring water quality, investigating pollution, and defining and enforcing ordinances for the county's 190 miles of shoreline on lakes Norman, Wylie, and Mountain Island, plus 3,000 miles of creeks. In other words, he watches our drinking water.
"We've seen degradation in some coves, but the water quality in Mountain Island's main channel remains excellent," says Rozzelle of the city's main reservoir. Charlotte's web of creeks presents the biggest challenges; one of the most-troubled is Sugar Creek. "It runs through the most heavily urbanized section of the county, plus there are periodic sewer leaks and illegal discharges. It's hard to monitor because many of these pipes run underground," he says. "But we're working to protect and restore Sugar Creek, as we are all of our creeks."
The lengths to which Rozzelle has gone to find illegal pollution includes flying over Sugar Creek with an infrared camera to capture heat differentials of effluent into the water stream. His drive is, in part, personal; some of the creeks he played in as a boy are no longer suitable for human contact.
"People won't protect what they don't see," he says of the myriad streams winding through the county. Once vital to settlers arriving here in the mid-1700s, such waterways as Irwin, Briar, and Little Sugar creeks provided fish, drinking water, and power to turn lumber and grain mills' wooden waterwheels. After Charlotte began drawing water and generating electric power from the Catawba River in the early twentieth century, the creeks declined in visibility and health. For most of this century, our creeks served as waste dumps.
In 1969, the Charlotte Newspublished a series of investigative reports on the health of Little Sugar Creek, which flows through Freedom Park. A UNC-Charlotte biologist searched for aquatic life by testing bacteria levels at Cordelia Park, Piedmont Courts, and Freedom Park. He found one dead frog, one live earthworm, but not one fish. The creek was dead.
In 1996, county commissioners set a goal to restore 100 percent of Mecklenburg's surface waters to a state suitable for "prolonged human contact," which includes swimming. At the time, only 15 percent of county waters met the standard. Two years later, the county replicated the 1969 tests and found a healthy fish population numbering nearly 800. (Just don't eat what you catch — yet.)
Rozzelle says we're "around 32 percent" right now. The county's Web site says all Mecklenburg surface waters should be suitable for swimming and fishing by 2015. Imagine that: pulling off Providence, Randolph, or Monroe roads and going for a swim.
Seen the blue signs at each bridge in town naming a creek or watershed? That's part of the initiative, building awareness of the waterways that flow to the river and on to the sea. More enticing reminders include the current and planned greenways lining such watersheds as Little Sugar, McMullen, and McAlpine creeks. Greenways provide flood control; filter pollutants; create wildlife habitat; and make for killer cycling, walking, and skating trails. The county's master greenway plan calls for 185 paved miles of greenway by 2009. Thirty paved miles exist now.
"We're not just protecting water quality," Rozzelle adds. "We want our waterways to be appreciated and used."
In the early twentieth century, men like James B. Duke, Dr. Gill Wylie, and William States Lee saw the Catawba River for what it could become — a workhorse to generate power for industry and economic growth—and for what it could make them: richer. So they got to work.
In 1904, the first dam on the Catawba River provided electricity to Rock Hill's Victoria Cotton Mill and, in turn, created Catawba Lake, the river's first reservoir. Harnessing the river's power proved challenging when heavy rains swelled the banks, washing away the first dam. But with James B. Duke's bucks backing the Catawba Hydro Station, concrete poured and poured again. By 1928, Duke Power (so named in 1924) had built twelve hydropower facilities along the river, creating an integrated power grid from the mountains to the Piedmont.
Catawba Lake — renamed Wylie in 1960 but known to many longtime Charlotteans as simply "the rivah" — filled out completely in 1926 when engineers raised the dam to its current height, expanding the lake's surface area from 5,000 to 13,443 acres.
It's here on the very last of those acres that Riverkeeper Donna Lisenby pulls the boat to the edge of the dam. I peer down. Lisenby talks hydrology — of requiring Duke Power to mimic the river's natural hydrograph (where reservoir inflow equals outflow)—and about the environmental impact of dams. I'm listening, taking notes, but my eyes keep lifting, drawn to the stark contrast between our position on a bubble of deep water abutting concrete and just a few yards beyond, a wicked vertical drop to the riverbed far below.
There are 76,000 dams in the United States. Each interrupts a river's natural flow, creating in turn adverse environmental effects. On the whole, benefits of reservoirs often outweigh costs. Dam a river and you get municipal water supplies; flood control; recreational outlets; wildlife habitats; and electricity, whether generated via hydro stations or by fossil- and nuclear-powered facilities, which use reservoir water as a coolant.
Another benefit of some reservoirs: highly lucrative land, even if it's notorious Carolina red-clay dirt. And the rising value of waterfront land figures prominently in the Catawba River's past, present, and future.
"Especially after the Civil War, this was poor cotton-farming land," says Lisenby, steering the boat into a muddy, forlorn-looking cove with a decrepit dock at the far end. "When Duke came through, promising electricity, and started buying up all the land, few raised an eyebrow. If landowners didn't want to sell, Duke exercised the right of eminent domain to buy the land for the common good."
The water rose, creating hundreds of miles of shorefront, which was dirt cheap at first. Ninety-nine-year leases on an acre or two of lakefront land went for as little as $100 a year. Hardworking weekenders parked trailers on their lots or built inexpensive river shacks to enjoy fishing, boating, and otherwise recreating on "the rivah" while the world whirled on.
If land lease holders allowed a purchase option to expire, they'd find their next property valuation depressing. In
1970—one year after Duke Energy transferred its land holdings to real-estate and land-development subsidiary Crescent Resources — bulldozers broke ground on 1,600-acre Tega Cay, Lake Wylie's first large-scale development. Land prices rocketed to the moon.
Laurens, South Carolina native Frank Burgess Sr. witnessed the lake's evolution. In the early 1970s, he assumed a $100-a-year lease on his 1.2 acres on Old Concord Shores, located a half-mile south of the Catawba Nuclear Station. His first option to buy, for $9,600, arrived in 1976. He passed. Burgess bought his land at the next opportunity in 1985 for $80,000, tore down his river shack, and built a permanent residence on the lot. He figures the land alone is worth a quarter of a million dollars today.
Lisenby takes the boat out of gear and we drift in the secluded cove toward the crumbling dock. Up a barely discernible path through the trees stands a dilapidated shack, aluminum siding bent like cowlicks, curtains drawn. "What you're looking at there," she says, "is the end of an era. One of the few remaining river shacks."
We're off again, out of the cove, past the Gold Coast line of million-dollar mansions, including one where Charlotte-now-New Orleans Hornets owner George Shinn got stung by a Honeybee and another where the former Tammy Faye Bakker's shoe collection tried to out-stomp Imelda Marcos' lineup.
Lake Wylie is the oldest of eleven reservoirs on the river; Lake Norman is the youngest. Many native Charlotteans, ages forty-five and older, may recall the lake's creation in 1964, when construction on the colossal Cowans Ford Dam ended.
Duke Power invited me to tour the dam on a Monday at 10 a.m. Driving north on Interstate 77, I experience the first nostalgic, bellyaching moment of my river journey. I had left the house at 9:25 a.m., confident I'd have time for a coffee refill en route. The brilliant skies and reggae music relax me, and traffic moves easily toward the lake. Coming upon Exit 25, I see what looks like, but cannot be, a line of cars backed down the exit ramp to the interstate shoulder.
What cannot be, is. I pull to the back of the line. Traffic zips by at seventy, while the traffic signal at the ramp summit teases the impatient, letting what feels like only four or five cars turn left before grinning yellow, then halting the rest of us with its red stare.
See, I remember when Cornelius/Exit 28, once the lake's biggest exit, had one Hardee's and maybe two gas stations. The drive west from the exit passed through ruralville to Jetton Road on the right, forever marked in my mind by a white, weathered farmhouse on the corner. It was here, as a child, on those summer lake trips, that my heart skipped. Jetton meandered past farms with Lake Norman coming in and out of view until you reached the small, weekend lake homes on the right.
You could cross Jetton Road away from the lake and disappear into the red-clay wilderness to shoot twenty-twos, ride dirt bikes, and build campfires. But why would you when all 32,475 acres of the lake beckoned you to swim, fish, water-ski, and sail the uncrowded waters? This was the Lake Norman of my youth.
Thirty years and ten minutes later, I'm finally turning left on N.C. 73, late for the tour. I've heard of Birkdale. Now I've seen it.
What have they done to the Lake Norman of my youth?
Even from a distance on N.C. 73, Cowans Ford Dam appears immense. Driving the long asphalt road toward it, my excitement builds. Dams are cool.
A large steel-and-wire security gate rolls back where four Duke employees await: Mary Kathryn Green and Rosalind Bennett from corporate PR; Don Cofer, who oversees the thirteen Catawba River dams as well as others in the company's system; and Randy Horton, the hydro-station manager for several dams, including Cowans Ford.
Despite inviting a photographer via e-mail, Green begins by saying no photos may be taken of the facility, citing security concerns. We're handed hard hats and safety glasses in the dam's 1960s-era lobby, over which hangs a stunning, painted mural of the Catawba's entire course, from the mountains to the Piedmont, including the lakes, cities, and towns along its path. No one remembers the artist's name.
"This mural ought to be on display for the public," I say. "It'd do so much to educate people about the river."
Everyone agrees, but I sense the idea is abandoned in the lobby, after we descend roughly fifty-five to sixty feet below the lake's surface, deep into the belly of the concrete leviathan. The sensation is not unlike visiting the bowels of a large stadium — the ground floor of Bank of America Stadium, for example — except here, the air is cool and damp. Water pools in puddles on the floor, coming from slivers from the walls. Perfectly normal, someone assures us. It's remarkable to imagine the force of the river pushing toward us, to be this close to 356 billion gallons of water just on the other side of the wall.
Cowans Ford is a peaking station; water flows through any number of its four turbines to generate power during peak demand times, typically afternoons in the summer and mornings in the winter. Two percent or less of Duke Power's electrical output comes from hydro power. (More than 50 percent comes from fossil-fuel-powered plants, such as the coal-fired Marshall Steam Station upriver on the lake.)
We step down into the first turbine cell, a large silo-shaped room with a steel-grate walkway suspended above and around the turbine's invisible blade below. Cofer and Horton identify the huge hydraulic gates that release water through the propeller-like blade, turning the turbine. From the silo, all you can see of the turbine is a shiny, cylindrical arm that drops from the ceiling to the floor where it attaches to a thick steel wheel, the top of the turbine's blade.
"What's the sound like when it's running?" I ask.
Smiling, Cofer leads us to the one turbine that's operating. Inside the silo, the thunderous noise deafens; the roar bespeaks volumes about man's engineering ingenuity. I behold the giant silver turbine spinning at light speed, effortlessly, perfectly centered, smooth.
"Must be selling some power," Horton says, grinning, after we've stepped out from the silo.
Despite the fact that hydro power is a clean renewable source of energy, we don't rely on it very much. "We can't control the river. We can only manage it," says Cofer. "We have to work with what nature gives us."
In other words, there's not enough water in the basin to do more with hydropower. Nothing supersedes water supply — "fuel," in Duke parlance—as a factor considered in regulating flow through the man-made dams. And Scott Holland has the job of monitoring nature's beneficent or miserly manner and adjusting the river accordingly. He's the closest thing Duke has to a "river czar." His department watches water levels upstream and down and, in essence, makes the river run.
Managing the Catawba is "often a juggling act since the system is driven by Mother Nature," Holland says. Supply changes constantly based on many elements, including rainfall, time between periods of rain, season, evaporation, and the soil type where the rain fell. After gauging supply, his department considers required releases for environmental quality, necessary operations to meet projected energy demands, supplying municipal and industrial water supply needs, recreational interests, and restrictions on lake levels for lake residents.
Another important element: Sometimes, the Catawba throws a fastball.
We take an elevator to the top of the dam and walk across it to view the floodgates. Last September, in the wake of Hurricane Frances, Duke opened one gate ten feet—something that had never been done—to lower the lake in preparation for floodwaters raging downstream. It was an amazing sight, Horton says. "So much water was rushing out that you couldn't tell which of the eleven floodgates was open.
The tour ends. Green and Bennett escort me to Duke's environmental labs in an office building on the grounds of the nearby McGuire Nuclear Power Plant, where Duane Harrell, Duke Power's manager of biological scientific support, meets us outside the building. He's tall, tan, experienced (twenty-five years with Duke) and at ease—just the type of specialist you'd like to see were you an ailing fish. Harrell oversees the company's fisheries program, monitoring the health of the lakes' aquaticlife. When a fish kill surfaces, his department gets the call.
Harrell leads us to an empty conference room, we sit around the table, and he begins: "When I first joined the company, I wondered if I was compromising my integrity. How would a utility address environmental concerns? But I've not found that to be an issue. Our department has an informal carte blanche. Management understands that we understand the environment."
Duke uses a multidimensional approach to operations decisions, he says, looking up and down the food chain from plankton to insects to fish, as well as considering environmental threats from bacteria to water temperature.
So the company relies on his proactive counsel when making operations decisions?
"When we present research, management may ask what the rationale is for our recommendations; however, I can't recall ever being overruled on an environmental-related issue."
Harrell is remarkably candid when I raise Duke's opposition to proceed in designating twelve miles of the Catawba River from Lake James to Morganton as trout waters. (Such a designation would require Duke to upgrade its Lake James Dam to keep water-oxygen levels and temperature ranges below the dam within limits conducive for trout spawning. Duke Power is not opposing the designation but has requested a delay until relicensing studies are complete.)
"Ultimately, that question will come down to, 'Is it biologically necessary enough to justify the expense?' " he says.
As we're leaving the building, Harrell points out a large portrait of Frank Boldridge, the physician-founder of Duke's environmental program, the nation's first such initiative launched by a public utility. In 1923, when malarial outbreaks along several dam-created reservoirs threatened the public's health (and James B. Duke's wallet via litigation), Boldridge created a mosquito-control program.
Today, the utility employs roughly seventy personnel involved in environmental matters, including several biologists who make up a floating team of electroshock therapists. Each spring, they board boats rigged with electric rods that shoot low amperage into the water six to ten feet beneath the surface. The juice is just enough to stun fish and raise the living to the surface. Among the more unusual finds: rainbow trout, which Harrell believes washed downstream in floods. And Pacu, members of the piranha family, that probably outgrew their fish tanks or owners' interest.
I raise my eyebrows. Harrell quickly clarifies that they're not voracious meat eaters like the famed Amazonian fish. "But they do have sharp teeth," he says. Later, I learn on the Internet that Pacu are vegetarian.
If Duke Power seems especially image-conscious these days, it's understandable. Big changes are going down in how the utility manages the river. What's up? FERC Project 2232. That's Federal Energy Regulatory Commission-speak for the Catawba River, its thirteen dams, and Duke Power's application to renew the 1958 license to operate the river's flow through those dams. Like automobiles, hydroelectric dams — Cowans Ford on Lake Norman, for example — require a licensed operator and Duke must apply for a renewed license from FERC every thirty to fifty years.
The multiyear renewal process—Duke's current license for the Catawba-Wateree facilities expires in 2008—is "one of the biggest relicensing projects in the country," says Mark Oakley, the utility's relicensing project manager. "We're racing toward a license-application deadline [August 2006] that can not be changed."
What can and does change is the scientific understanding of the environment and public sentiment for the outdoors. In 1958, Duke's primary concern was profitable power generation. Today, FERC requires Duke to give equal consideration to water quality, land conservation, aquatic and wildlife habitat, and public recreational access. The new license will define the river's course for decades to come, so intense negotiations between the utility and various river stakeholders—from conservationists to developers, elected officials to kayakers — are under way, the participants busily crafting an application with the best chances of sailing through to approval.
It's a colossal and, at times, contentious process that Oakley says is more art than science. "Everyone has to give a little of what they want and take a little responsibility to craft a sustainable future for us all."
Midway through patrol with Donna Lisenby: We're zipping full speed upriver, running behind to pick up Jennifer Roberts, chair of the county's natural-resources committee. Lisenby points to the South Fork's confluence with Lake Wylie. "They used to call it the 'Rainbow River.' It ran different colors depending on the dyes the textile mills were using," she hollers over the wind and engine.
Despite the many hard financial and sociological effects, the rapid unraveling of the Carolinas' tightly knit textile community is a good thing for the Catawba River.
Hunkering down against the wind, I watch Lake Wylie transform the farther north we go. From the broad water and familiar, über-developed lakefront, the shoreline closes in with more trees and fewer boats, homes, and piers. The protected water flattens to a wind-rippled surface, opaque against the day's overcast skies.
Two numb hands later, we arrive at the Belmont landing. Half-a-dozen cars fill the parking area, but no one gets out to greet us. I take the moment to ask Lisenby to describe her relationship with Duke Power.
"It's a fairly typical environmental watchdog-utility relationship," she says. "We think they can do some things much better. We've seen a big improvement with [Duke Power CEO] Ruth Shaw's appointment. I'd give them a D overall. Y'all ready to eat? We're having a traditional river lunch."
From a storage bin in the boat's bow, Lisenby pulls a can of sardines, box of crackers, and Tabasco sauce. "I went upscale," she says holding up the can, as if I'll recognize the brand. "You put a sardine on a cracker, add some Tabasco, and you've got lunch."
After distributing paper towels and crackers, Lisenby opens the sardines, releasing a dense fishy-fish odor that defies the wind and envelops the boat. Smelling honor on the line, or good sportsmanship at the least, I pull a sardine from the oily bath, place it on the cracker, load up on Tabasco, chew a few chews, and down it goes. The taste? Well, I'll be sleeping in the guest bedroom tonight. For good measure, my breath now shot, I have another.
Lisenby is impressed; I gather her river lunch is often refused. She breaks into laughter and pulls out our "real lunch" — fine deli sandwiches, bags of chips, and bottled water — as Jennifer Roberts emerges from one of the cars in the parking lot.
That Roberts climbs aboard with an open can of sardines on deck — not to mention that she also eats a couple — says at least one thing about our elected representative: If you can kiss ugly babies, you can easily handle a few sardines.
In between generous gulps of water, Roberts, an avid outdoorsperson, answers my question about why she's joined the river tour.
"Air and water are public trusts. We're the twenty-third-largest city in the nation yet we rank ninth in worst air quality. That bothers me." Simple enough. "And future world conflicts will be about water," she adds. OK, that broadens the issue a little.
We continue north into "industrial alley," where manufacturing firms and closed textile mills line the riverbanks. Lisenby points out a large Clariant plant that manufactures DEET, the mosquito repellant, as well as ingredients that go into a fragrant bar soap. My first thought — that mosquitoes must have a love—hate relationship with the riverside facility—is not Lisenby's point. It is, of course, that Clariant manufactures such a dangerous chemical right next to our water supply.
An occasional osprey flies overhead, drawing our eyes from the river. Lisenby maneuvers the boat to the left bank, where a worn concrete box spews a dark effluent into the river, plus a noxious odor into the air. Sardines have nothing on the smell of Mount Holly's treated wastewater.
"Wow," I say. What else do you say the first time you float upon treated sewage flowing downstream toward docks from which you've swum many times? How can this be okay?
"It has to do with acceptable risk," says Lisenby. "Measurements of fecal coliform bacteria levels are gauged against acceptable risk. It's something like if five people per 100,000 get sick by coming in contact with the effluent, that's the limit of acceptability."
Mount Holly is a small fish and within legal effluent requirements. Its facility treats an average of roughly 2 million gallons of wastewater each day. Charlotte processes roughly 81 million gallons.
"See there," Lisenby says, "where the river bank is worn down? That's a popular place for Hispanics to swim. Gaston County has so little public access to the river that this is where people come to swim. I've found entire families wading in the water and tried everything to get them out. But the only thing that works is to yell, 'Ca ca! There! Go!' "
Roberts, an international studies professor at UNCC, offers Lisenby the Spanish translation for "no swimming" — la natacioÌ'n se
prohibioÌ — but after silent consideration, it's agreed "Ca ca" makes a stronger point.
Mount Holly's discharge is what's called point source pollution; the source, though not marked by a sign, is licensed, monitored, and treated accordingly. Far more injurious is nonpoint source pollution, which can be anything, even a basketball, that washes off or from the land into the river or one of its creeks and tributaries. Pinpointing NPS is an inaccurate science, but we know this much: We all create it.
Across the 4,750-mile Catawba River basin, nature filters rainwater through soil, trees, grasses, roots, and rocks before releasing it into the river. Development in the basin that replaces earth with non-porous surfaces — concrete, asphalt, and roofing, for example — prevents water from filtering naturally.
See the chemical rainbows from oil leaks atop parking lots after a rain shower? That's headed into our water supply. Same goes for insecticides, fertilizers, and herbicides sprayed on your lawn; soap used to wash your dog or car in the driveway; eroding dirt from new home and commercial development construction sites; and animal waste scooped from yard to curb.
Storm-water runoff sweeps pollutants off their feet, filling our gutters, storm drains, pipes, and creeks with fast, furious, filthy water.
So, in essence, we're victims of our region's economic success. We develop our land to meet demand from a continuing influx of people. More people draw more water from the river and create more waste. It's as if we're asking the river to perform magic, to give us drinking water for 1.5 million people and also to take all of our refuge. Like an ill doctor working overtime, the river gives more of itself, despite its degrading health.
The Catawba River, of course, does not attend federal, state, or municipal planning meetings. It knows nothing of the expected population growth during the next fifteen years of an additional 700,000 people into its basin, already the state's most populated.
"We're at a critical stage in our growth, where we could out-tax our natural resources," says commissioner Roberts. "If we don't take measures, we'll reach a point where we can't sustain our economic development."
We don't discuss specific measures because we've reached the river just below the Mountain Island Lake Dam, where homes along Riverside Drive took a direct hit from the five-foot wall of water that surged over the spillway last September.
Hurricane Frances dumped roughly seventeen inches of rain over twenty-four hours in the mountains.
We idle through, silent, observing the destruction and cleanup. Hammers pound nails, power saws whine through plywood, Bobcats shuffle cinder blocks around. Workers are raising homes, some as much as fifteen feet off the ground.
"I can't believe they're rebuilding in a floodplain," Lisenby finally says.
The Catawba River rarely draws attention to itself; however, even good behavior has its limits. In the past seven years, the river's tempestuousness (acted out through historic rainfalls) and petulance (shown in record drought conditions) remind us there's no taming the source. Floods are more easily managed by the dams; however, droughts raise the inevitable question: Do we know the limit of our water supply? In a word, no.
Hence the importance of conservation, says Maeneen Klein, Charlotte-Mecklenburg Utilities' water conservation coordinator. "An absence of urgency should not imply an unlimited supply," she says. "Rainy seasons are Mother Nature's way of giving us the time to learn how to do it right, how to use water in the most efficient way, so that when droughts return, and they will, we will already know what to do."
Or, as a Philippine proverb puts it: Don't empty the water jar until the rain falls.
Fifty-six-year-old Bo Cash eases his Jeep Cherokee into the parking lot for the public boat ramp at Watermill Bridge, four miles upstream from Morganton. Here, the Catawba runs muddy but swift. "The river is perfectly clear for a mile below Lake James," says Cash. "Then Muddy Creek and Silver Creek flow in and both carry thousands of tons of silt from agriculture, natural runoff, and land abuse," he says, shaking his head.
"Everyone who's a landowner has an obligation to their neighbors downstream. But you'll find plenty of mountain farmers and landowners suspicious of anyone telling them what to do on their land. They pay little attention to the creeks and streams on their property, letting livestock graze in the water, for example."
A Morganton native and retired biology teacher, Cash runs Table Rock Angler, a full-service fly-fishing guide and retail operation, from the basement of his home off N.C. 181. He opened the business in 1990 but is yet to take his first paying client down the Catawba. (He guides the Watauga and South Holston rivers.) "That should happen after relicensing, but for now, the river is unfishable," he says. Trout spawn in the water, but the river has limited access. "In twelve miles of trout water, there are only two access points. It's pretty sad."
Cash serves on the North Carolina Foothills Advisory Group, one of the four regional stakeholder groups Duke Power assembled early in the relicensing process. The foothills contingent's primary relicensing concerns are regular water releases from the Lake James Dam, as well as increased public access to the seventeen-mile riverine section and to Lake James. Such changes will bring more paddlers and fishermen to the river, as well as more hikers and bicyclists who use Morganton's river greenway system, Cash says, while driving to the Bridgewater access upstream.
"If the Catawba downstream from Lake James is designated trout waters, it'll join South Mountain State Park as the closest fly-fishing river to Charlotte," he says. "Eco-dollars will help offset losses we've seen from the furniture and textile industries leaving town."
Duke Power is releasing water from the dam at Lake James. The water, a stunning emerald-green color, looks clear enough to drink, though the river's pace would sweep a cup from your hands.
Leaving the access site, we drive over the Lake James Dam. Far off across the water, Linville Gorge rises from the opposing shores, emptying the natural and scenic Linville River into Lake James from its narrow, twelve-mile V carved into the earth. I mention how the clear water, even on this cool March day, looks inviting for a swim, which sends Cash into a diatribe about Crescent Resources' "privatization" of Lake James. "See these no-parking signs?" he says of the ubiquitous posts. "Crescent uses those to keep people from swimming in the lake. Used to be you could park anywhere along the road to go swimming."
Public access to Lake James also included 565-acre Lake James State Park, a "grossly overtaxed facility," according to Cash; however, a settlement between Crescent Resources and Burke County resulted in Crescent selling 3,000 acres of shorefront land to the state for the park's expansion. Cash sat on the community task force formed to define development ordinances for Lake James.
"We didn't want Crescent's residential developments to harm the lake," he says, while driving me back to my car. "Our group, which included Realtors, conservationists, Duke employees, citizens, and Crescent, met for eight months and agreed tothirty development restrictions, such as lot size and buffer zones. On the final package, the only no vote was from Crescent Resources. Their rep got up and said, 'You've just rendered thousands of our acres useless.' Now, since when is wilderness 'useless?' "
The Catawba's official headwaters, the three underground springs that form the river, are on private land; however, just a short distance downstream, the river's impressive Catawba Falls and Upper Catawba Falls flow through the Pisgah National Forest. (Trailhead access to the falls; however, is on private land, so technically, you can't reach them without trespassing or securing the landowner's permission. I had a helicopter drop me off.)
It's late in the day when I reach the trailhead. The afternoon sun is arcing down and will soon set behind the surrounding summits. But I have not come this far in my river journey to exercise caution in the woods, particularly with a magazine deadline approaching. I set out on the three-mile, round-trip hike with a flashlight, waterproof matches, iodine tablets for clean water, and my checkbook, should I need to overdraw my account while paying for any rescue services.
The Catawba here is but a stream of its future self. The trail begins beside its clear, fast-flowing water barely six inches deep. Winding through dense stands of rhododendron and mountain laurel, you reach the first river crossing, which in drier seasons would be an easy skip across the rocks. It's March, the water runs high, and crossing involves stepping on top of several submerged, slippery stones. I weeble-wobble across and begin the gradual ascent on the right bank of the river, out of sight from the water but within earshot of its hiss, becoming louder now as natural white noise, somewhere through the trees to my left.
I pass a few hikers on my return, surprised to find someone setting out so late. The trail is muddy from recent rain and the air is cool, but the sun holds, so I continue. The trail reaches the remains of a dam built in the early twentieth century by Colonel Daniel Adams, an entrepreneur who tried to emulate James Duke's enterprises downstream. (He lacked funds, so when his two dams washed out, he moved on to other ventures.)
The trail keeps more or less to the river now, the riverbed crowded with boulders the size of Ford Explorers. At the base of the multilevel, 340-foot Catawba Falls, the cool mist is an antidote to the sweat I've worked up. Here, the river flows and falls, full of nature's beauty and power.
Time ticking, I continue on the trail for the Upper Falls. Soon the pitch becomes such that the only way to climb is by rope that some kind soul has anchored into rock with screws and caribiners. After the final thigh-burning assault on the muddy trail, I reach the secluded base of the seventy-foot Upper Catawba Falls, where the water spills hard and loud into a deep pool. This is as close as I'll get to the headwaters.
I made good time but I'm tired, perhaps a bit light-headed from the quick climb. No one is around, no one is likely to show up, and while I didn't bring a change of clothes, I'm eager for full immersion in the clear pool of virginal mountain water. Ideas like these left open to internal debate never materialize, so quickly, I undress and step gingerly across the slick rocks and carefully fall forward into the water at the base of the falls. I go under. I know that I am alive.
The headwaters present two ways of seeing the river: half full or half empty. Half empty if you find the place sad, given you know what waits downstream and resign yourself to accepting a polluted, carelessly developed future. Half full if you find the headwaters hopeful, by acknowledging the past, accepting the challenges ahead, and coming down the mountain resolved to make a difference.
Filled with hope, the half-full river beside me, I begin the descent to my car. It's nearly dark and a little chilly, but I follow the path with ease, as if in flow with the trail, smooth-like liquid.
The flow falters at the tricky stream crossing near the trailhead, where I discover the perils of a half-full river. Stepping again across the submerged stones, I slip, tap-dance, flail, and then fall into the riverbed, its cold water rushing past me now as though I'm a lost tourist in a throng of New York City pedestrians.
Do I now see the river as half empty? Naw. I just lost my footing and got soaked. It made for an uncomfortable ride home, though.
A couple weeks after Bill "the Ball Guy" Stokes fished his 10,000th ball from the Catawba River, the Katawba Valley Land Trust held a Saturday afternoon barbecue in Stokes' honor at Landsford Canal Park. The fifty-six-year-old electrical engineer took up paddling in 1998 and combined his new interest with a unique endeavor: retrieving basketballs, volleyballs, soccer, tennis, and even bowling balls from the river downstream from Rock Hill. (The balls most likely roll from Charlotte backyards into our creeks and then into the river.)
The party is full of folks who see the river as half full—weekend paddlers, park rangers Al James and Don Onnepo, wildlife photographers, conservationists—and an ample supply of outstanding 'cue and sweet tea. Stokes, an immensely likable man, is the reason for the gathering, but the underlying energy binding this crowd together is just a few yards from the gathering, flowing past at a good clip.
It's not merely the river that joins them, though; it's also a sense of shared accomplishment. Many of the individuals involved in preserving for perpetuity a remarkable 75 percent of the Catawba's pristine, thirty-mile, free-flowing section from Lake Wylie to S.C. 9 at Fishing Creek are here, relaxing, enjoying one another's company, telling river stories. The mood is upbeat. This is a can-do crew, and its members are not done yet.
Paul Gettys, retired senior planner for the Catawba Regional Council of Governments — a voluntary association of local governments from Chester, Lancaster, York, and Union counties—summarizes the river-conservation efforts. "In the early 1990s, we accepted that our river was in the path of Charlotte's and Rock Hill's continued urban growth," he says. "We formed a task force and began to study the river. No one had ever really done that."
The multiyear effort produced the comprehensive Catawba River Corridor Plan, which evaluated the river's health and suggested 175 initiatives to improve and keep it healthy. The most important initiative, conserving the thirty-mile riverine environment, became the group's primary focus, the implementation of which fell partly to Lindsay Pettus, founder and president of the Katawba Valley Land Trust.
It's a pleasure to meet the man, whose gentle, gracious phone manner — delivered with a genteel Southern accent — defies myexpectations. Pettus is one of our region's most-successful conservationists, so perhaps I'd expected more flash, aggression, impatience. In person, he's unassuming. He offers a warm handshake and asks if I'm enjoying the barbecue.
A real estate broker with an office in downtown Lancaster, Pettus accepts development, even welcomes it, yet believes we're smart enough to do it in an environmentally sensitive manner.
"We don't have slow growth," he says. "I understand that land values are going up and there's pressure to sell, pressure to buy. But there's plenty of land available, and together we need to pick which areas are going to be developed. I'd like to see us direct it away from fragile places, to preserve areas of natural space for recreation, science, education. Of course, we have to continue to grow, to feed, to clothe the American people. I'm not even saying there can't be manicured lawns. But we have to watch what runs into our water supply."
While the river divides plenty of camps—builders from environmentalists, landowners from sports enthusiasts, for example—Pettus appears able to bridge these divides. His efforts have earned him many honors, none of which he mentions. (Most recently, the South Carolina Wildlife Federation named him the 2003 Conservationist of the Year.)
"What this man has done for the Catawba River won't be fully appreciated for another fifty years," says longtime friend Dan Huntley.
Pettus, for his part, is simply grateful that conservation is increasingly entering public debate. "That we're talking about these issues means we can establish what the future use of our natural resources will be. My thought is we'd do well to remember that human life is sustainable due to a few inches of topsoil and the fact that it rains every now and again."
The bright, midday sun spills onto the outdoor patio tables at Brixx Pizza near SouthPark, where Angie Mattson and I sit, enjoying the warmth and our waters with lemon while waiting on lunch. Mattson is a young, energetic entrepreneur who cofounded, in her free time, Mecklenburg Regional Paddlers, an online organization for area flat- and white-water paddlers. Membership is free in the club (www.mrponline.org), which hosts monthly events with speakers and pools together weekend warriors for impromptu and planned flat-water and white-water trips.
"So many people are interested in discovering the outdoors around Charlotte, including the Catawba River," she says. "Most of them just need to know where to go." Mattson's enthusiasm is contagious. I sense surrounding diners leaning in to hear better, as if we're in an E. F. Hutton commercial, as she describes her favorite spots:
"Mountain Island Lake because it's so peaceful. There are so few boats. But the lower section of the Catawba is incredible, too. It's like you're not in Charlotte anymore, once you push off from the Lake Wylie Dam. We've seen osprey, heron, hawks, and two of the three times I've paddled it, we've seen bald eagles," says Mattson. "An occasional jet overhead reminds you where you are," she adds (which, as the eagle flies, is just eight miles from the airport). "But otherwise, it's like paddling pure backcountry."
Mattson says the region's serious paddlers are eagerly awaiting the planned restoration of water to the rocky streambed that gave the South Carolina town of Great Falls its name. One such paddler is Al James, manager of Landsford Canal State Park.
"That's going to be some of the best white water in the Carolinas," he says, recounting the wild, wooly rides the Class II through IV rapids gave paddlers during several "flow studies," when Duke Power tested water releases. With the exception of the flow studies and periodic high floods, the falls have been dry since 1907 when a canal diverted the river to a new hydropower facility. Great Falls, located just fifty-five miles from Charlotte, would become a major white-water destination on par with such mountain meccas as the Nantahala and Tuckaseegee rivers.
Emblematic of the relicensing negotiation process, Duke Power initially proposed six days a year of scheduled water releases at Great Falls, plus a minimum flow. The national whitewater association, American Whitewater, countered with a request for between twenty and twenty-eight planned releases a year.
Of the places I visit while traveling the river, Great Falls seems most in need of a rising tide. Bypassed by Interstate 77, the village has seen three large textile mills close in the past fifteen years. I drive through on a recent weekday, past abandoned, downtown storefront buildings and dozens of homes on the front porches of which sat adults staring, waiting.
Charlotte awaits its own white-water experience next spring with the opening of the 300-acre riverside U.S. National Whitewater Park just ten miles from the center city. An artificial river with adjustable rapids will complement climbing facilities, mountain-biking trails, canoe access to the Catawba River, and a thirty-seven-acre island for camping. More people on the river, seeing its beauty and thereby working to protect it, is excellent on the whole; however, there's potential for abuse, says paddler and Catawba Indian Pat Blue. "Everyone I take on the river is in awe of it. It's an experience everyone should have. But wherever you have public access, you also find beer cans, hotdog wrappers. I'd hate to see the river take more trash."
Regardless of Duke Power's relicensing concessions, more river public-access areas are assured. Several public and private landowners are planning canoe and kayak launch sites. Directly across the river from the white-water center, Mount Holly expects to build a mountain-bike trail system, as well as kayak/canoe put-in sites. Several North Carolina state agencies submitted requests during the relicensing process to expand 1,600-acre Lake Norman State Park by another 480 acres. Improvements would
include a second swimming beach. �
Though Donna Lisenby believes the river remains in grave danger — she cites studies showing the declining health of several Catawba reservoirs — I suspect she's primarily optimistic about the Catawba's future. She's forthright about decisions that face you and me as citizens of the river basin: "The future challenge of the river is at what point do we decide what the water's most important uses are — industrial, recreation, or municipal water services. We'll have to choose two of
the three because it can't be all of them."
Certain conflicts seem certain. Though most observers agree likely relicensing outcomes look promising for the environment, conservationists, and outdoor enthusiasts, the process continues through 2006. And Duke Power, Crescent Resources, private landowners, and commercial and residential development interests pack powerful punches in this region, still one of the nation's fastest-growing.
I'm heartened by something Catawba tribal elder Carson Blue said: "The Catawba is a tough river, what it's taken, what it can take. I was born right next to the river. I have a great love and respect for it. It's a peaceful place. Regardless of all the change, the river is always quietly moving. Just doing it's job." Carson and son Pat continue to paddle the river regularly, but the elder Blue now enjoys time just sitting along its banks with binoculars. "You'll see anything if you wait long enough. Eagles, otter, muskrats, white-tailed deer, wild turkey."
Looking at my watch on the Miss Rachel Carson, I see that it's nearly 6 p.m. My day on the Catawba with Riverkeeper Donna Lisenby is almost over. We've just returned Jennifer Roberts to the Belmont landing and Lisenby is idling away from the dock. The sunlight, so elusive during the day, breaks through the clouds and sets afire a ribbon of diamonds across the water's surface. She turns reflective.
"The Catawba is a great river," she says. "When I'm out here and see the sun like this, I give thanks for all the folks before me and what they've done for its waters. And I think of the people still living that I've been blessed to work with. Some of them are getting older. When they go, I'm going to have people sign a canoe paddle to include in their burials. I'll write on it, 'Keep the rivers of Heaven for me until I get there.' " I smile. Then I remind her that Hades is actually better known for its river. She booms a big laugh, "Yeah! And I might have more fun there, too!"
With that, she floors the Yamaha and we race downstream directly into the sparkling, dancing diamonds and the hopeful future of the Catawba River.
Charlotte native Malcolm Campbell is a writer and author of two adventure travel books. This is his first story for this magazine.