Catch On Opening Next Week in Bigger Space
Plaza Midwood seafood shop expects to open Tuesday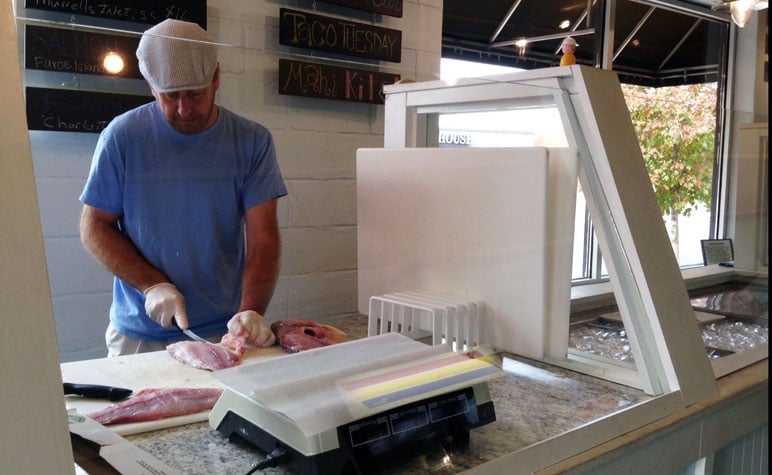 Catch On, a small seafood shop in Plaza Midwood, opened quietly in November 2014 on Commonwealth Avenue, behind the Peculiar Rabbit. Husband-and-wife owners Carlin Bitton Schussler and Sean Schussler bought seafood from the coast and brought it back to the store, where locals quickly discovered the difference freshness makes. Over time, the store regularly sold out of the items in its ice case. Now, Catch On is moving to a larger location.
The Schusslers are hoping to reopen Catch On in its new location, at 826 Hawthorne Ln., on Tuesday. The new space, a gray, brick building formerly home to Reaching Quiet Design, is about 50 percent larger than the old one. The fish counter from the old store has been reassembled in the new space, and Sean Schussler is busy at work building out the rest of the store. While the shop will likely open with only its fish counter stocked, expect many more local goods to make their way in during the coming weeks.
One part of the store will be reserved for refrigerated goods and take-and-bake meals, put together by local chefs such as Majid Amoorpour from Bistro La Bon and Lewis Donald of Reid's Fine Foods. For those who want to do all the cooking themselves, Schussler is also planning on bringing in local produce and meat to sell in the shop, as well as items from Beverly's Gourmet Foods, a local vegan and vegetarian meal supplier. He's also working on getting a license to sell local beers and a few wines to pair with the food they sell—a couple whites, a couple reds, all at a low price point. Schussler is calling the new Catch On a "groceraunt," a combination of grocery store and restaurant.
"It's gonna be grab a bottle, grab some fish, grab some veggies, grab a take-and-bake and you're outta here."
He's noticed how busy residents of the neighborhood are, he says, and wanted to create store where they can buy everything they need to have a fresh, local dinner close to home.
"The idea is to embrace the amount of people moving into the area that all have seemingly busy lives that want to be quick," he says.
Hopefully Schussler's construction is also quick and the store opens on time on Tuesday for Taco Tuesday, when the store sells taco kits. Catch On will keep its usual opening hour of 11 a.m., and it's a great time to buy seafood, with wahoo, snapper, mahi and more in season right now. As for what's next? Schussler is exploring an expansion of the store, and Montford area is high on the list.