Catch On Wants To Be Your Neighborhood Fish Market
And you should probably let them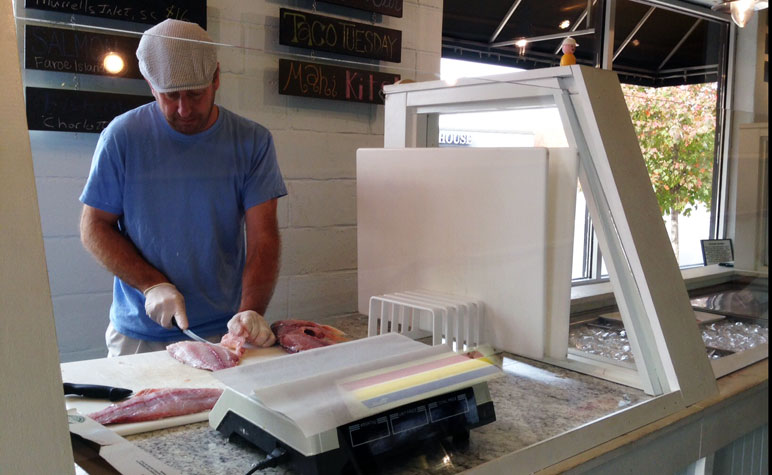 Sean Schussler slides his filet knife into the belly of a lane snapper behind the counter of Catch On in Plaza Midwood. He and his wife, Carlin, opened the store last year. They had the idea to go pick up seafood from the Carolina coast and bring it back to Charlotte, so they emailed neighbors to see who would be interested in buying from them. At first, they sold their fish out of a cooler in front of Common Market. They'd always sell out. They saw the demand and decided to act on it, leasing a space behind the Peculiar Rabbit and opening their market.
Sean's knife slips in past the fish's head, gliding along its ribcage. To his right, filets and whole fish sit on ice: salmon, swordfish, snapper, rainbow trout, tuna, wreckfish. To his left are smoked salmon, clams, scallops, and more shellfish. He expects to sell out today, just like he does every day. By the time the workday is over for most people, there isn't much left to pick from at Catch On. This early in the afternoon, though, it's still quite full.
"We used to like that," Sean says of the store selling out. Now, though, it's a gamble to order the right amount, and when he sells out, he didn't make the right bet. With rapidly growing sales, it's hard to predict how much seafood the neighborhood will buy.
Customers pop in to buy fish for dinner. One gentleman asks about the wreckfish, and Sean begins telling a story about the fish. It was recently discovered. There are only three fishermen who are licensed to catch it. It's found outside of Charleston. They're called wreckfish, because in the deep spot where the fish are found, the Charleston Bump, there are a lot of shipwrecks.
"We call it wreckfish because it wrecks our knives," Sean jokes.
Sean knows the story of each fish. He grew up in Philly and vacationed on the ocean at Pawley's Island, South Carolina. Today, he still has a boat down there, docked at Murrell's Inlet. Each week, he heads down to the docks, ordering the fish and arranging for it to be delivered up to Charlotte. It helps him learn more about the product he's selling, and make sure that it's caught sustainably and by fishermen he trusts.
Today's customer isn't that interested in the story. He decides to order something else.
Across from the fish counter, shelves are stocked with local items from Pasta & Provisions, Savory Spice Shop, Duke's Bread, Grateful Growers, Cloister Honey, and more. (Note to local vendors: Catch On is always looking for more items to add.)
It's here where you can truly see how much the shop has grown since opening. These shelves, now full of goods from local partners, used to be empty. Sean's phone buzzes. He explains that when he and Carlin took a tour of fish markets, one thing that stood out was how often the salespeople had to drop their conversationd with customers to answer the phone. At Catch On, all calls ring to Sean's pocket.
Since today is Taco Tuesday, his phone is ringing a lot, with people asking to reserve taco kits. For $16, you'll get a kit for six fish tacos. It's a collaboration with Three Amigos, a Mexican restaurant farther down Central Avenue that supplies the tortillas, and Savory Spice Shop, which makes the seasoning. When they first started making the kits last January, they started with 10. Today, they make 50, and are adding five percent each week to keep up with demand.
They're also starting to work with a chef to create take-and-bake meals, including fish, a starch, and a green, out of the kitchen at the Van Landingham estate. In early December, Catch On and Van Landingham will begin hosting neighborhood bring-your-own chair events on the property, with fire pits and oysters on the halfshell, along with an open bar. They already supply a few local restaurants with fish, including Bistro La Bon and The Fig Tree Restaurant.
Sean credits their success to he and Carlin's heavy involvement with the customers. He knows all of the regular customers by name, and tells me a little about each one as they walk out of the store.
"It helps us keep a beat on it," he says, as his phone rings again.
Catch On Seafood, 1801 Commonwealth Ave. (behind Peculiar Rabbit), 973-557-6383, facebook.com/catchonseafood