Charlotte Beer: Dump the Pumpkin
A roundup of autumnal brews that, thankfully, reject the dubious appeal of the pint-o'-lantern.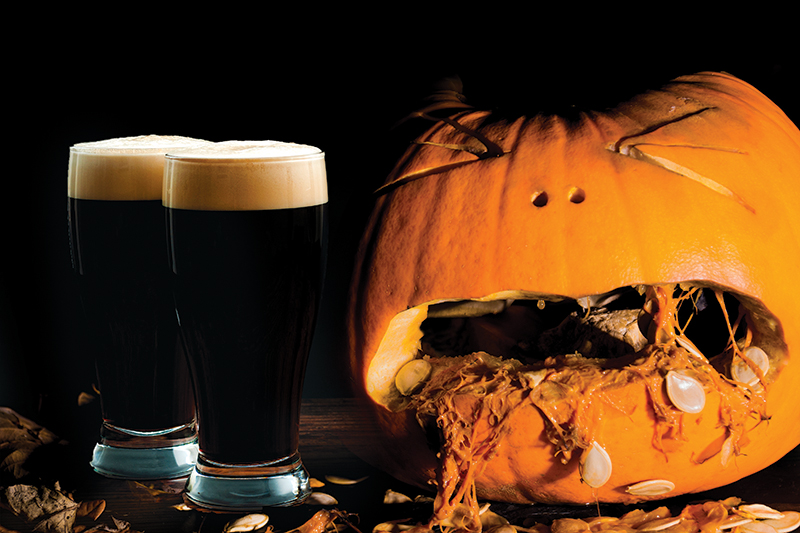 Not long ago, you could saunter through a crisp October day and not trip over pumpkin coffee, pumpkin muffins, pumpkin oat bars, pumpkin cookies, pumpkin popcorn, pumpkin nondairy creamer to pour into your pumpkin coffee, pumpkin ice cream, pumpkin Goldfish—Goldfish!—and, of course, pumpkin beer.
Many brewers brew and stock up on their pumpkin beers in advance of cooler weather. People love them, apparently. (Our publisher dotes on pumpkin beer. Like, genuinely adores the stuff. He starts drinking it in summer. I do not know what is wrong with him.) They are eager to register the subtleties that distinguish one pumpkin beer from … another pumpkin beer. I kid, of course. They all taste like cinnamon-infused pumpkin. Generally speaking—and I apologize for yelling—I DO NOT WANT MY BEER TO TASTE LIKE PUMPKIN. I want it to taste like beer.
I have strong feelings about this. I've found I can cope best with these feelings over a pint or tulip glass of dark beer, the kind that pairs with autumn like your favorite cardigan but steers clear of the pumpkin patch. Here are a few of my Charlotte-area favorites.
Bitchin Betty Brown Ale
Armored Cow Brewing Co.
It's not one of this fine, and sometimes overlooked, University City brewery's gluten-free specialties. But it's been one of Armored Cow's standards since its opening in 2019, and a few sips underscore the reason: It has the substance and flavor you want from a beer when the weather turns chilly. The alcohol content, 5.4%, is a bit higher than a light's but not an IPA-level slug to the jaw, and chocolate and honey malts contribute to a crackling-fire warmth in your core.
Dark Chocolate Sea Salt Stout
Ass Clown Brewing Co.
I wrote about local stouts a couple of years ago and failed to include this one. No disrespect intended. On a fall or early winter day that brings what I call "Tchaikovsky weather"—cold, gray, drizzly, the kind of wool-sweater day that makes you want to grow a beard—the right stout or porter can feel like a heated blanket. This beer's Himalayan sea salt opens a gateway to a bittersweet richness on the back end.
It's intended as a complement to food, explains Ass Clown owner Matt Glidden. The salt teases the taste buds to better register the sugars. I think of it as an ideal cold-weather sipper, but Glidden says patrons order it in summer, too. "For some reason, the Sea Salt sells just as well when it's 100 degrees," he tells me. "I think people just like what they like when they like it."
Lazy Bird Brown Ale

Birdsong Brewing Co.

This is one of the beers that laid the foundation for the elaborate cathedral of Charlotte craft beer, and it's won more awards than any other Birdsong offering. It's an American-style brown ale—midway between milder English brown ales, like Newcastle, and more robust English porters—with a pleasant bitterness balanced by roasted malt and slight citrus flavor from hops.

To my palate, it's great for autumn: a rich mahogany color with hints of chocolate and coffee and a manageable 5.5% ABV. Unlike many dark beers, it's sold year-round and surprisingly good on any page of the calendar. Co-owners Chris and Tara Goulet counted on this when they launched Birdsong in fall 2011 with two inaugural beers on tap, Lazy Bird and Free Will Pale Ale. They no longer brew Free Will. Lazy Bird, named after the final track on John Coltrane's 1958 album Blue Train, soars on.
Fat Boy Baltic Porter
The Olde Mecklenburg Brewery
How much darker could this beer get? None. None more dark. Here's a comment from a fan on Untappd that tidily sums up Fat Boy's appeal: "An absolute beauty of a beer. Delicious, dark maltiness. Sneakily easy drinking. Definitely a dangerous one." Its ABV is 8.3%. But it's smooth. You register notes of caramel, toffee, fruit, and chocolate, a siren song that leads you toward the rocks of the next day's hangover. Careful, friend.
Like Lazy Bird, Fat Boy is a foundational beer for one of Charlotte's O.G. breweries—well, the O.G. brewery, back when OMB was across the street in what's now Sugar Creek Brewing. It's named after original brewer Carey Savoy's Harley-Davidson, which he'd park outside in OMB's early years. Savoy's now the maintenance manager. Sadly, he no longer has the Harley. But see? Look how much cooler things get when you don't just carve but carve away the pumpkin.
GREG LACOUR is the editor.