Charlotte Bridge Home Helps Veterans Transition to Civilian Life
For veterans, life isn't as easy as expected when returning to American soil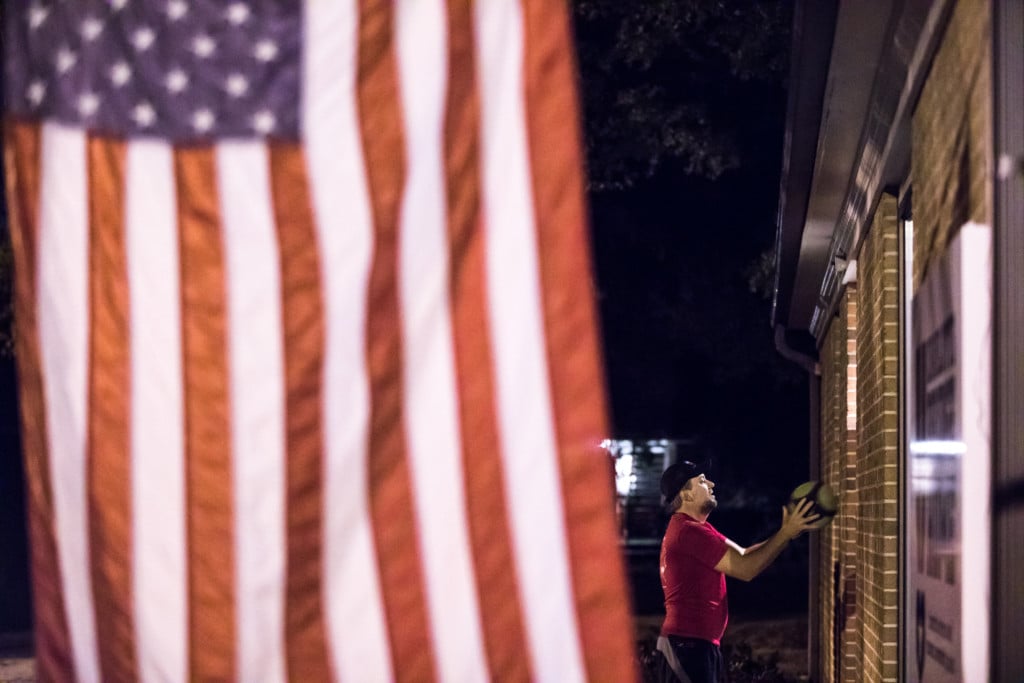 BRIAN TINKER ENTERED the military at 20, and spent much of the next two years in the 10th Mountain Division 2nd Battalion, dividing his time between Fort Drum, New York, and Afghanistan. At 22, he thought that leaving the military would be easy.
It wasn't.
"Being lower listed in the Army … You have your life laid out before you. You're told what time you line up in formation, what time you're going to be training, and even what you're wearing while you're doing it. So when you get out, you don't have anyone telling you what to do anymore. At first, it's cool, but after a while, it leaves you out there to hurt yourself. I didn't know what to do."
He had trouble finding work. How does one take infantry experience into the civilian world? He created his first résumé, but he admits it was terrible and didn't help him land a job. Résumés weren't part of military life.
He came across a newspaper story about Charlotte Bridge Home, an organization that helps vets transition to civilian life, and reached out. The group showed him how his military experience translated into valuable civilian skills, and coached him on creating a professional résumé with that experience. It introduced him to companies who hire veterans, invited him to networking events, and told him about class options at Central Piedmont Community College under the GI Bill. It empowered him with the knowledge and resources to build his post-military life. Soon, he was a full-time manufacturing employee and a part-time student.
When veterans leave the military, they must learn to navigate new professional and social systems. It's a time of uprooting personal lives, redefining professional paths, creating new social connections. For some, it can be overwhelming.
In the past two years, Charlotte Bridge Home (CBH) has supported nearly 2,500 local veterans through the transition from military to civilian life. It offers a tailored approach to each veteran's needs, whether those needs are for housing assistance, GI Bill information, or professional networking. The group meets with veterans one-on-one to learn about their particular situations, from homelessness to seeking higher education, and connects them with the services and people who can help. While CBH doesn't provide these services, it points veterans in the right direction and teaches them about the resources available to them.
"There are a lot of people who paint veterans in a victim light. But the majority of us joined (the military) to make a difference, whether (in) war or peacetime. We're motivated. To be treated like a victim is really tough," Brian says, affirming the education and empowerment approach at CBH.
Sometimes, the challenge is isolation. The military creates a highly supportive structure for service members and their families; civilian life has no equivalent. CBH connects vets to each other and to the community. Executive Director Blake Bourne says that he doesn't care if it's a church, a Crossfit gym, or CBH itself, he works to make sure each vet has a close network. The group holds monthly yoga classes, boot camps, runs, and socials. It hosts lunches and coffees, inviting all types of professional and social organizations throughout Charlotte, to help create these connections.
Bourne recalls a veteran he met who recently moved to Charlotte: "He told us he needs a job and someone to golf with. It may sound minor, but for him, having someone to golf with is a big deal. That stuff keeps us healthy, keeps us in check."
Bourne helped the vet find a job—and a golfing partner.
If you ask Brian Tinker what difference Charlotte Bridge Home made in his post-military life, he has a hard time pinning it down. Without that résumé and those classes, he wouldn't have gotten a job. Without that job, he couldn't have bought his first home for his family. He couldn't have created a successful business as a welder. He owes that success to CBH, so he returns to volunteer. He joins other vets in the group to perform service projects: They work with Habitat for Humanity to build homes for veterans; they build playgrounds for local neighborhoods. Even as a civilian, the sense of duty and unity persists.
"The people at Charlotte Bridge Home know my name. They know my wife's name. They know my kids' names and when their birthdays are," Brian says. "This is a very personal relationship."
Jen Tota McGivney is a writer in Charlotte. Connect with her at jennifer.mcgivney@gmail.com or @jen_mcgivney.
---
Veterans: Give More
Patriots Path
Patriots Path gives job support and networking opportunities to veterans looking for new professional options. The assistance goes beyond getting the job; it continues to ensure professional development throughout a veteran's career.
USO of North Carolina – Charlotte Center
Donating to the USO helps to support service members and their families, whether they are deployed abroad, serving stateside, or transitioning to civilian life. It offers support tailored to the unique needs of military families, including care for wounded veterans, spousal support, and social events.
Purple Heart Homes
There's no place like home. That's why this organization helps renovate houses so that disabled veterans can stay in their homes and lead independent lives.
This story has been updated from its original version.