Charlotte Chef Makes Mark on Charleston Wine + Food Festival
The Asbury's Chris Coleman serves "the best damn hoppin' john you've ever had"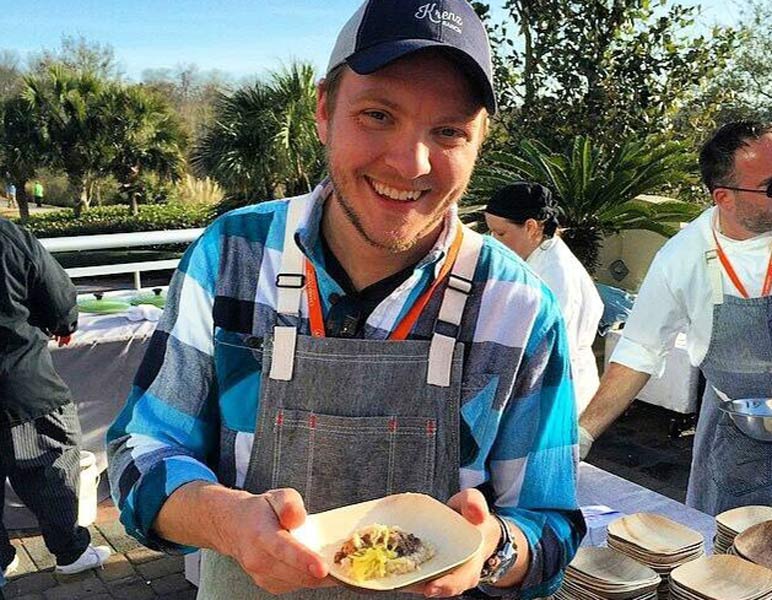 Chris Coleman, executive chef of The Asbury and one of two Charlotte chefs to attend the Charleston Wine + Food Festival this past weekend, had a minor miscommunication with festival staff. His sign in the Tasting Village stated he'd be serving The Asbury's Chicken + Dumplings, not the Hoppin' John he actually planned to prepare. So, Coleman made the edits himself with a marker, fixing the dish title and changing its description to "the best damn hoppin' john you've ever had."
Coleman's correction at the Charleston Wine + Food Festival. (Courtesy of Chris Coleman)
The Charleston Wine + Food Festival is one of the South's most prestigious culinary gatherings. This year's festival marked Coleman's first time as a participant, and he chose classic Southern cuisine to represent the Charlotte restaurant (and our city).
"The dish was pretty traditional," Coleman said of his Hoppin' John. "We took red peas and cooked them with some smoked pork (in this case, pigs' heads that were brined, smoked, and braised) and served over Anson Mills rice grits." Shredded fermented cabbage topped off the dish.
Coleman, a CPCC grad, was asked to attend the festival by Springer Mountain Farms, a humane, antibiotic-free poultry producer that honored Coleman with its "Celebrating the Chef" award in January. The farm supplies The Asbury with poultry, and lent its name to a popular dish on The Asbury's menu, the Springer Mountain Chicken + Dumplings. For a demo at the festival on Friday, Coleman used their chickens to create a liver mousse. He also cooked in the festival's closing event, Toasted.
The other Charlotte chef in attendance was 5Church's Jamie Lynch; 5Church will open an additional location in Charleston in the coming months.