Charlotte Pit Bulls Need Our Help
Velvet hippo. Wigglebutt. Land manatee. Whatever you call them, pit bulls need our help.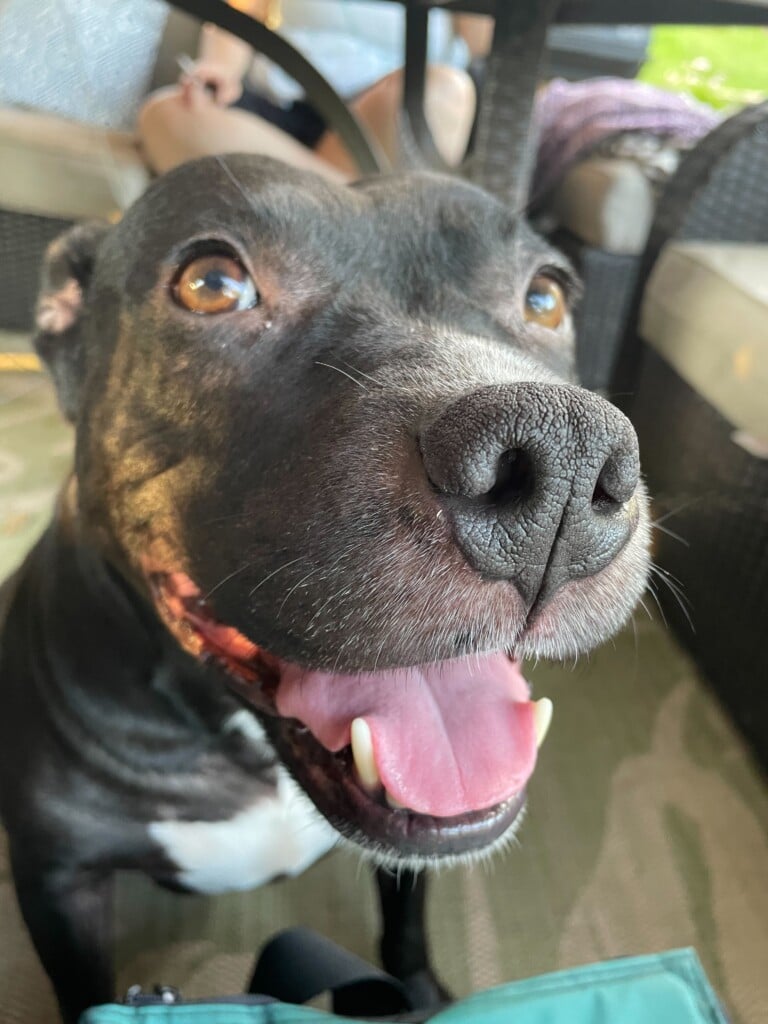 Elizabeth Welch, like many of us, welcomed new dogs home during the pandemic. As chief medical director at Stand for Animals Veterinary Clinic, Welch has cared for dogs of all breeds for more than 15 years. What dogs did she choose for her family with three children? Two rescue pit bulls, Riggs and Eleanor. She'd owned pit bulls before, and most of her co-workers at Stand for Animals have pitties, too.
"Pit bulls being labelled as aggressive has been sensationalized. Are there dogs that aren't nice? Absolutely. Are they all pit bulls? No," Welch says. "Pit bulls are definitely family dogs. They're active, high-energy, loyal."
The only creature more loyal than a pit bull is the one holding its leash. Team Pittie is a devoted crew. When we pass each other on walks, we give each other appreciative head nods (after we greet the dogs). I admit: I judge neighborhoods by how many pit bulls I see (head nod, Plaza Midwood).
It's a rough summer to be a pittie. Our homeless pet crisis is largely a homeless pit bull crisis, and it's getting worse. Adoptable dogs at Animal Care and Control are overwhelmingly pit bulls, victims of a stereotype. This summer, these dogs have fewer places to wait for homes. Shelter renovations have temporarily closed 50 dog runs; even before, the shelter had no room to accept dog surrenders. Team Pittie has work to do.
Animal rescue has three goals: Find homes for pets; support owners so they can keep pets at home, healthy and happy; and spay and neuter pets to prevent unwanted litters. A partnership between Artemis Cares, Stand for Animals, and AC&C is a master class in dog rescue. Artemis Cares is a half-million-dollar fund that supports pit bulls and their people. To encourage adoptions this summer at ACC, the fund gives people who adopt "Extended Stay Guests" (hard-to-adopt shelter residents, usually pitties) $50 gift cards to Stand for Animals. Next, it offers pit bull owners vouchers that cover hundreds of dollars of vet care for $25: spay/neutering, vaccines, heartworm testing, and preventative treatment. AC&C field officers distribute these vouchers in the community as well.
"We want to make it affordable for all populations, every demographic to own a pet," Welch says. "Just because someone has money doesn't mean they're the only ones who get to have that love of a pet."
Another loyal Team Pittie member (and best rescue name ever) is Pits & Giggles. This local group fosters homeless pregnant pit bulls, caring for mama and puppies until they're ready for adoption. Founder Amanda Forsythe's relationship with pitties began with skepticism. Forsythe grew up with toy poodles, and she went to the Humane Society of Charlotte eight years ago with three criteria for a family dog: low maintenance, snuggler, good with kids. They introduced her to a pit bull named Coriander.
"This dog would lay next to my son while he did his reading in the evenings," she says. "When he had trouble sleeping, she'd be his big spoon."
Since she started her rescue, Forsythe has had more than 100 adult pit bulls in her home—and countless puppies.
"They're absolute doll babies," she says. "I'm sitting with them in their kennel, helping them deliver their babies, touching the puppies they should be guarding. And they're so happy! They've got the best temperament."
I, too, came to pit bulls reluctantly. I spontaneously fostered a pit bull mix whose spirits had broken in the shelter. I almost returned her before she made it to my house. Here was a pit bull surrendered by its previous owner and passed over for weeks at the shelter— what was wrong with it? Was my foster dog a hellhound waiting to attack? Time revealed two errors. First, this "hellhound" was a timid lapdog scared of her own farts. Second, she wasn't my foster. She was home. Realizing what my prejudices almost cost my dog Phoebe—and what they cost dogs like her everyday—is why I'm Team Pittie.
This summer, AC&C and rescue groups need help. They need adopters and fosters. They need donations: money, supplies, even old towels and newspapers. They need people to share dog posts on social media.
And they need people to correct stereotypes that cost the lives of innocent dogs. This summer, Team Pittie needs you (head nod).