Charlotte Restaurant Designer Gives The Sense of Taste
Interior designer Carrie Frye on the psychology behind a restaurant's design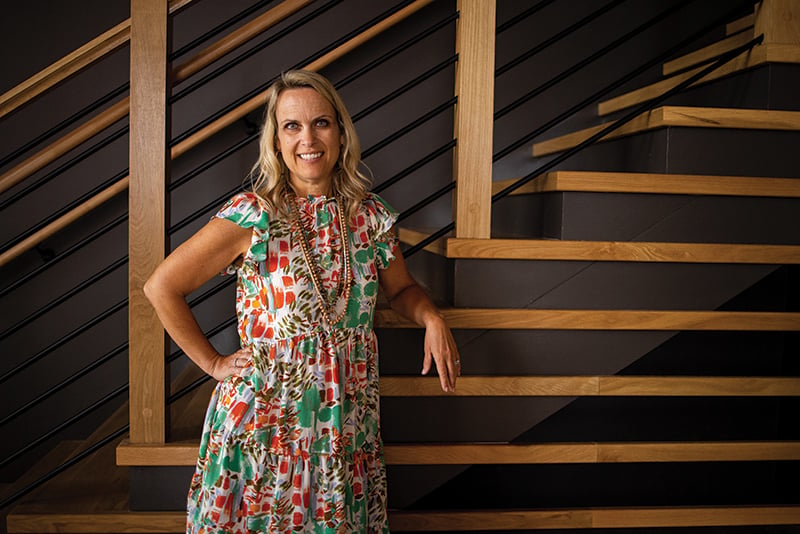 In my first year of art school, I took a class on color theory. We learned how certain colors can affect mood and behavior; in marketing, colors affect consumers' impressions of a brand. We associate green with tranquility and growth, which is why we often see it in branding for health care and financial services. Companies like Walmart, Oral-B, and Aquafina use blue because it suggests cleanliness and reliability. Fast-food brands favor warm, stimulating colors like red and yellow: Yellow grabs our attention, and red provokes our appetite.
Carrie Frye, who designed the interiors at Sea Level, La Belle Helene, Viva Chicken, The Crunkleton, and, most recently, Monday Night Garden Co., knows all about this. With every project, she considers what she calls "the third dimension," how guests experience the space. She says there's a reason for everything from the material on the bar stools to the wattage of the lights. By the time you've chosen where to eat, the restaurant has already determined everything you'll see, hear, taste, and smell there.
Many of Frye's clients lean toward blues and greens in decor because they're safe choices, but she often encourages them to incorporate warmer tones, too. "You want to be comfortable, right?" she says. "So you have the yellows and the golds to get you fired up and ready to eat and supplement them with cooler colors."
Green is a common choice in farm-to-table restaurants because it implies the food is fresh, but you'll often see it with red or orange to stimulate the appetite. A traditional steakhouse might soften its dark, moody aesthetic with neutral tones to attract more women. Hotel bars and restaurants usually have TVs to appeal to solo diners. When a wine bar has graffiti murals or Instagrammable backdrops, it wants a younger crowd.
Lighting and acoustics are integral to restaurants as well, and Frye says both are easy to fumble. The lights shouldn't be too dim: "You don't want people to have to hold their phone up to see their menu." And, she says, the faster the music, the faster people tend to eat. "If (the restaurant) wants to turn tables every 45 minutes, they're doing that. But bad acoustics can force people to eat faster and get out of there, too."
Seating is another careful balance of aesthetics and practicality. A place like Steak 48 wants guests to stay awhile and spend more money, so they invest in comfortable banquette seating. A fast-casual restaurant wants to get people in and out. "With chairs, we won't pick an uncomfortable chair," Frye says, "but it's also not too comfortable. It's all those little cues that tell you how fast the service will be, how long they want you to stay, and how they want you to feel."
A few days after we spoke in June, I attended the opening of Monday Night Garden Co. to experience Frye's "third dimension." The building is an eye-catching teal with yellow signs and red picnic tables out front. The glass garage doors reveal eggplant-colored interior walls and brass light fixtures that match the amber lagers on draft, and the smell of the wood-fired pizza hit me as soon as I walked into the taproom.
It's almost like they knew I was coming.
TAYLOR BOWLER is the lifestyle editor.