Charlotte Teens Take to the Concrete Over Climate Change
They skip school, loiter, and yell—all for a good cause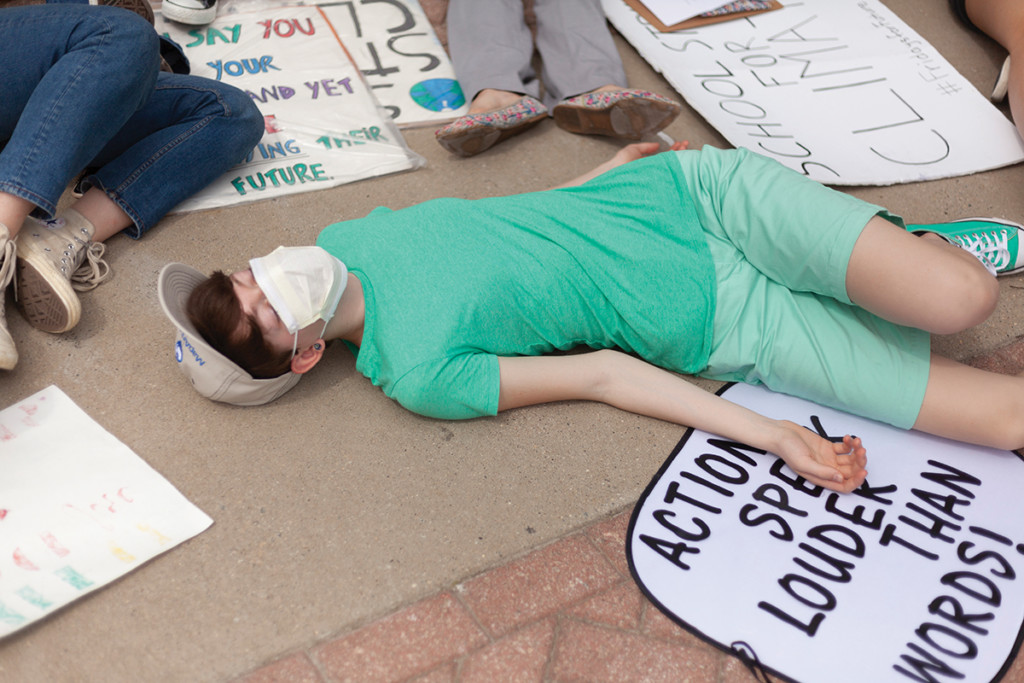 LUCIA PAULSEN, MARY ELLIS STEVENS, and KATE HARRISON, girls who haven't yet celebrated their 15th birthdays, stand in front of the Charlotte-Mecklenburg Government Center uptown on a Friday in early May. Around them, a group of about 20 others, mostly teenagers, support the North Carolina Youth Climate Strike, which the three girls have led since early this year. They're holding signs that say, "System change not climate change" and, "The oceans are rising and so are we," as Paulsen, Stevens, and Harrison pass around a microphone and call on city leaders to act against climate change—fast.
At 11 a.m., they put down their posters and microphones, cover their mouths with surgical masks, close their eyes, and lie on the concrete. Eleven minutes later, a timer rings, and the protestors stand to address the group again.
The elevens aren't random numbers. In October 2018, the UN Intergovernmental Panel on Climate Change released a report that stated policymakers have until 2030, only 11 years—hence the 11 minutes of the Youth Climate Strike's "die-in" protest—to enact changes to prevent the worst effects of climate change.
This particular Friday marks Stevens' 10th strike. She's an eighth-grader at Trinity Episcopal School and a rising freshman at Myers Park High School, and she has skipped school every Friday since February—not to hang out on the couch and watch TV but to demand policy changes from local elected officials. Her strikes count as unexcused absences, but her teachers are supportive so long as she makes up the work. "As a 14-year-old, I can't vote. I can't run for office," Stevens says to the group. "My one and only job is to go to school, so I disrupt the system, and I don't."
Paulsen and Harrison, both 13, are students at Metrolina Regional Scholars Academy and serve as the club's co-presidents; Stevens is vice president. The three are part of a global network of young activists who call for radical action to reverse the effects of climate change. Some Fridays, which the organization calls "Fridays for Future," Stevens sits alone outside the Government Center, rain or shine, usually in a T-shirt with the phrase, "Change begins here." Some days, friends like Paulsen and Harrison are able to join.
The group is much larger on this morning for the nationwide Youth Climate Strike event. The teenagers huddle together and lift their signs as Stevens continues to speak. "Young climate activists are told all the time that we are the future by the same people that got us into this mess, by adults that continue life as it is," she says. "Don't tell me I am the future. Go out and do whatever it takes to give me that future."