Charlotte vs. Raleigh: Arts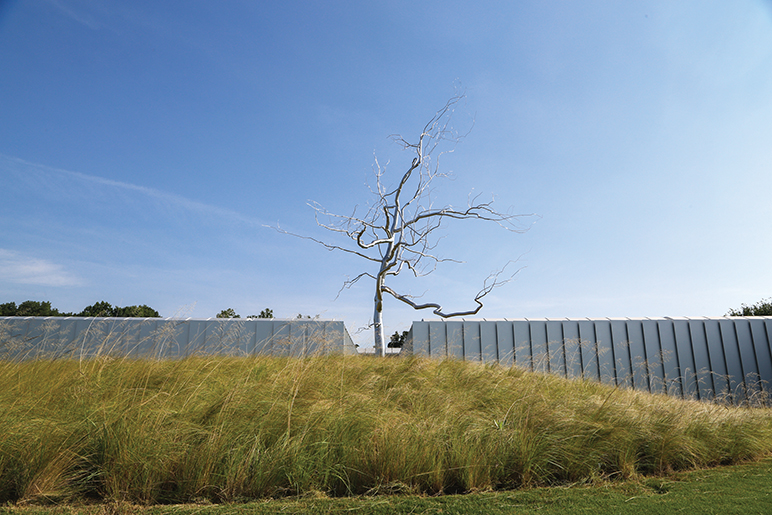 The Museum on a Hill
North Carolina's premier fine art institution resides in Raleigh, and its connections run to museums throughout the state
More than 40 galleries, multiple buildings, a 164-acre museum park full of public art—the North Carolina Museum of Art is impressive even before you enter the campus.
When it opened in 1956, the museum of art was the first museum in the country to be established with state funding. The East Building was built in 1967, after it had outgrown its original space in downtown Raleigh. The 127,000-square-foot West Building opened in 2010 and won awards for its environmentally conscious construction, open floor plan, and progressive skylighting. Inside, high ceilings allow for towering contemporary murals and installation pieces, and the white walls help create a place where you lose yourself.
Even outside, the museum calls out to visitors. An aerial view shows giant letters, sculptured with several materials. It spells out "PICTURE THIS," over two acres. The project, created by Barbara Kruger, Henry Smith-Miller, Laurie Hawkinson, and Nicholas Quennell, even makes use of the outside amphitheater for the letter "H."
"I feel that we're the big guy," says Larry Wheeler, the museum's director. "We're a state museum. We're here for everyone."
Take the upcoming exhibit The Worlds of M.C. Escher: Nature, Science, and Imagination (October 17-January 17, 2016). It's the most comprehensive Escher exhibit ever concocted, the museum says. For special exhibits such as this one—which is paired with Leonardo da Vinci's Codex Leicester and the Creative Mind—guests must buy a ticket. Otherwise, the museum is free, and it attracts about 300,000 visitors from all over every year. The place has helped light Raleigh's growing cultural community.
The museum of art has affiliations with museums throughout the state, including the Mint Museum in Charlotte. Wheeler says that although the arts scene may be changing in Charlotte, he's always had a particular impression of the city.
"Charlotte can build things," Wheeler says. "They can build stadiums, and museums, and towers. And they do. But it's about more than building things. It's how you use them. It's about the energy that you send out into the community. It's about what you invest in. I've always felt there was a gap there."
This story has been corrected from the print version.
---
WANT TO GO?
N.C. Museum of Art
2110 Blue Ridge Rd., Raleigh
919-839-6262
N.C. Museum of Natural Sciences
11 W. Jones St., Raleigh
919-707-9800
N.C. Museum of History
5 E. Edenton St., Raleigh
919-807-7900
---
CHARLOTTE VS. RALEIGH: ARTS BY THE NUMBERS
Mecklenburg County
Wake County
Total Economic Impact: $202.8 million

Total Economic Impact:

$166.2 million
Number of Jobs Created: 6,240

Number of Jobs Created:

6,601
Museum Legacy Year: 1936 (Mint Museum Randolph, oldest art museum in state)

Museum Legacy Year:

1879 (N.C. Museum of Natural Sciences, oldest science museum in state)
Museums with Dinosaur Bones: 0
Museums with Dinosaur Bones: 1
Museums With Big, Shiny Disco-Bird Standing On An Equally Shiny Disco-Perch: 1
Museums With Big, Shiny Disco-Bird Standing On An Equally Shiny Disco-Perch: 0
Highest Annual Attendance For Museums (2013): Discovery Place, NASCAR Hall of Fame, Mint Museum locations
Highest Annual Attendance For Museums (2013): N.C. Museum of Natural Sciences, Marbles Kids Museum, N.C. Museum of History
---
STARS OF CHARLOTTE
Romare Bearden
Bearden was an artist and writer who chronicled the African American experience and his early childhood in Charlotte. He was a painter, musician, collagist, and multimedia artist. (When he died in 1988, The New York Times said Bearden was "the nation's foremost collagist.") In 2013, the city of Charlotte, his original home, dedicated and named a park in his honor.
Brooklyn Decker
During the past few years, Decker went from being known primarily for her Sports Illustrated Swimsuit Issue modeling to becoming a Hollywood fixture. Her film credits include Battleship, the Adam Sandler movie Just Go With It, and What to Expect When You're Expecting. But don't believe the myth about her being discovered at a shopping mall here: Her career started with Charlotte-based agency Evolution Models.
K-Ci & JoJo
Were you in middle or high school around 1997? Then you danced awkwardly to the slow-jam "All My Life" at some point. Did K-Ci & JoJo ever do anything else? Sure, but those gorgeous harmonies in "All My Life" are enough.
Emily Maynard
She's not our only The Bachelor or The Bachelorette contestant, but she's certainly Charlotte's favorite. Her season was the first to be set in the South, and it had the town buzzing. She didn't find true love as a contestant, but she did eventually—she just gave birth to her second child. (Cue the "awwwwws.")
Ric Flair
WOOOOOOO!
STARS OF RALEIGH
David and Amy Sedaris
A double dose of North Carolina-bred talent. David is the famed humorist and essayist who authored works such as Me Talk Pretty One Day and Naked. Amy is a comic actress known for shows such as Strangers With Candy. Both talk openly about where they grew up. A quote from Me Talk Pretty One Day: "Say what you will about the South, but in North Carolina a hot dog is free to swing any way it wishes."
Clay Aiken
The singer, actor, and TV personality broke through with American Idol, setting up a pop and Broadway career. After an impressive run as Sir Robin in Monty Python's Spamalot, Aiken decided to try politics. He ran as a Democrat in North Carolina's Second Congressional District in 2014. He won the primary but lost in the general election.
Petey Pablo
Chances are, if you relocated to Charlotte as an adult, your U-Haul was bumping Pablo's "Raise Up" all the way into town. Then you had friends from back home sing it to you on the phone. And somehow, your parents heard the hip-hop song, and things got weirder from there. (Just me?) Either way, Pablo created an anthem for an entire state, and no one has forgotten it.
Michael C. Hall
The titular serial killer in the show Dexter spent his formative years in Raleigh. He even attended Ravenscroft School, the Episcopal prep school. He's had steady gigs in TV and film since Dexter ended in 2013.
Just Because: Kevin Nanney
He's a professional Super Smash Bros. video game player (yes, there is such a thing).
---
IS RALEIGH REALLY NORTH CAROLINA'S MUSIC CAPITAL?
It's tempting for a Charlottean to accept defeat when the folks at Visit Raleigh, the city's official tourism source, hit us with their numbers. They say there's music 365 days a year there. They claim 80-plus venues that feature music on a regular basis, "from small bars to lively restaurants to dedicated music halls." They say Raleigh is the music capital of North Carolina.
But if the number of businesses that have live music is the metric, we beg to differ. Charlotte has live music every day of the week, too. And as for the venues where that music is played, we stopped counting at 90. Click below to see all we've counted so far. Click again to collapse.
+ Places to See Live Music in Charlotte
1. The Evening Muse
2. The Chop Shop
3. Neighborhood Theatre
4. Amos' Southend
5. Tremont Music Hall
6. Ovens Auditorium
7. Time Warner Cable Arena
8. Petra's Piano Bar & Cabaret
9. Double Door Inn
10. Visulite Theatre
11. UpStage
12. Snug Harbor
13. Tommy's Pub (as of this issue)
14. Uptown Amphitheatre
15. PNC Music Pavilion
16. Bojangles' Coliseum
17. Wet Willie's
18. The Milestone
19. Texicali Taco & Tequila Bar
20. Puckett's
21. Phoenix
22. Knight Theater
23. McGlohon Theater
24. Booth Playhouse
25. Belk Theater
26. Stage Door Theater
27. Smokey Joe's Cafe
28. Charlotte Museum of History
29. Bechtler Museum of Modern Art
30. McColl Center of Innovation
31. The Ritz-Carlton, Charlotte
32. U.S. National Whitewater Center
33. The Harvey B. Gantt Center for African-American Arts + Culture
34. The Thirsty Beaver
35. The Fillmore
36. Coyote Joe's
37. Ed's Tavern
38. Grady Cole Center
39. Label
40. Symphony Park at SouthPark Mall
41. Tempo Charlotte
42. Tin Roof
43. NoDa Brewing Co.
44. Birdsong Brewing Co.
45. Howl at the Moon Charlotte
46. Automatic Slims
47. EpiCentre
48. Comet Grill
49. Cajun Queen Restaurant
50. Boudreaux's Louisiana Kitchen
51. Discovery Place
52. Fountain Plaza at N.C. Music Factory
53. Barreled At The Lift
54. Pizza Peel (Plaza Midwood)
55. Calvin Speakeasy
56. Central Piedmont Community College
57. The Rabbit Hole
58. Wine Vault
59. Blue Restaurant & Bar
60. Sullivan's Steakhouse
61. Wild Wing Cafe
62. Mickey & Mooch
63. Jack Beagle's
64. Sycamore Brewing
65. Sugar Creek Brewing Co.
66. Craft Tasting Room and Growler Shop
67. Triple C Brewing Co.
68. Romare Bearden Park
69. Lucky Lou's Tavern
70. School of Rock Charlotte
71. Delta's Restaurant
72. The King's Kitchen
73. Common Market: South End
74. Common Market: Plaza Midwood
75. Rooftop 210
76. Crown Station
77. Whisky River
78. Lunchbox Records
79. NoDa 101
80. Smelly Cat Coffeehouse
81. Thomas Street Tavern
82. Davidson Street Public House
83. Bootlegger's Saloon & Dance Hall
84. Mac's Speed Shop (South End)
85. Bradshaw Social House
86. Lure Oyster Bar
87. Brixx Pizza (Blakeney)
88. Ballantyne Village
89. Ri Ra Irish Pub
90. Kennedy's Premium Bar & Grill
---
JOKE FROM A CHARLOTTE COMEDIAN ABOUT RALEIGH
Blayr Nias: "Apparently you can't tell four jokes about race and slavery in a row in Raleigh. Three is their limit. Maybe even two during Black History Month. The women's and American studies majors will cry into their cruelty-free cotton handkerchiefs and lament my struggle as an African American woman in an oppressive society, instead of seeing the irony of having black people in Ancestry. com commercials. I mean, there are only so many variations on the results you can get. That nice white lady clicked a leaf and found her grandfather's draft card for [World War I]. I clicked a leaf and found receipts … for my family."
JOKE FROM A RALEIGH COMEDIAN ABOUT CHARLOTTE
Adam Cohen (a Charlotte native): "My theory is that Charlotte was so upset about Raleigh always being ranked as a better place to live, they got revenge by sending Pat McCrory to live here."
"When I grew up in Charlotte, we didn't have hip neighborhoods like NoDa; we'd just say, 'Over behind the Zayre.' "
---
WHERE DO THE BIG ACTS CHOOSE TO PLAY?
These six artists have produced the highest-grossing tours in the U.S. during the past 10 years. Have they chosen Charlotte, Raleigh, or both? Here, we note their most recent trips to each city, and declared one city a winner if it's hosted the superstar more recently than the other city.
AC/DC
Raleigh: Raleigh Entertainment and Sports Arena, 2001
Charlotte: Time Warner Cable Arena, 2008
VERDICT: Charlotte
U2
Raleigh: Carter– Finley Stadium, 2009
Charlotte: Charlotte Bobcats Arena, 2005
VERDICT: Raleigh
Madonna
Raleigh: N/A
Charlotte: Time Warner Cable Arena, 2012
VERDICT: Charlotte
Bruce Springsteen
Raleigh: PNC Arena, 2014
Charlotte: Time Warner Cable Arena, 2014
VERDICT: Tie (same tour)
Rolling Stones
Raleigh: CarterFinley Stadium, 2015
Charlotte: Charlotte Bobcats Arena, 2005
VERDICT: Raleigh
Roger Waters
Raleigh: PNC Arena, 2012
Charlotte: Time Warner Cable Arena, 2012
VERDICT: Tie (same tour)
---
This article appears in the September 2015 issue of Charlotte Magazine
Did you like what you read here? Subscribe to Charlotte Magazine »
---