Charlotte vs. Raleigh: Day Trips or Stay Trip?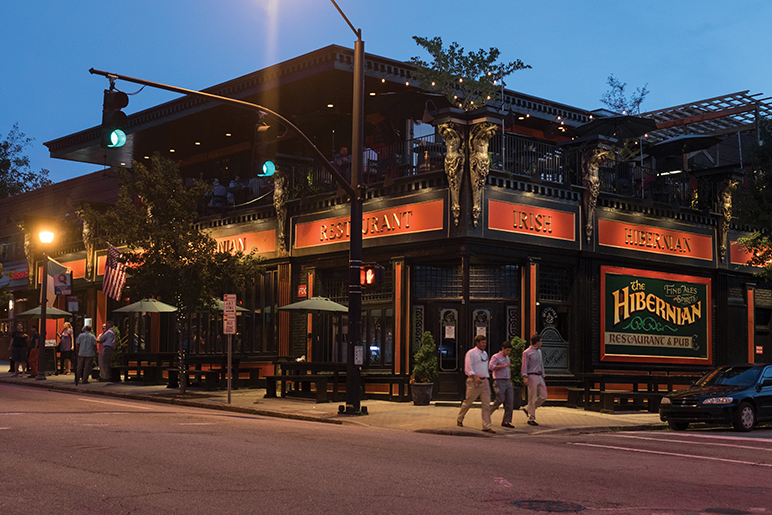 Three Hours or Three Minutes?
This month you can find familiar festivals, patios, and parties here, or head northeast to Raleigh for a new adventure or two
Charlotte: Festival in the Park
Now in its 51st year, Festival in the Park fills Freedom Park with three days of art, live music, and food. "September is kind of festival month in Charlotte," says Frank Whitney, a member of the festival's board of directors and son of festival founder Grant Whitney. "I'm proud that we can claim this and no one disputes it—we are the granddaddy of festivals in Charlotte." Last year, the festival drew 120,000 people over three days. Adults enjoy the juried art, and kids create their own masterpieces at easels set up just for them. As darkness falls, the tents light up around the lake, creating a picturesque scene that has become an iconic Charlotte image.
When: Sept. 25, 4 p.m.-9:30 p.m.; Sept. 26, 10 a.m.-9:30 p.m.; Sept. 27, 11 a.m.-6 p.m.
Where: Freedom Park, 1900 East Blvd.
Raleigh: World of Bluegrass
When a North Carolina city manages to recruit a music festival from Nashville, Tennessee, that's pretty impressive. Raleigh did just that in 2013, when it wooed the International Bluegrass Music Association's World of Bluegrass. The five-day event begins with a three-day business conference for industry professionals. That portion concludes with the Bluegrass Music Awards Show. "It's our form of the Grammys," says Paul Schiminger, executive director of IBMA.
The last two days bring the Wide Open Bluegrass festival. A free StreetFest includes five music stages, a dance tent, and the North Carolina Whole Hog Barbecue State Championship. The ticketed Main Stage event presents bluegrass stars, including headliners Alison Krauss & Union Station featuring Jerry Douglas. The Steep Canyon Rangers will also perform this year. Last year's festival attracted 180,000 people. "Once people give [bluegrass] a chance and spend some time with it, they see how fresh it is," Schiminger says. "Even with its tradition, it's a fresh sound."
When: World of Bluegrass (Sept. 29-Oct. 3); Wide Open Bluegrass (Oct. 2-3)
Where: Downtown Raleigh (Main Stage at Red Hat Amphitheater)
Double the Greek
On the same weekend this month, Charlotteans and Raleigh residents will eat baklava and dance to folk music in celebration of Greek culture. Charlotte's Yiasou Festival (Sept. 10-13) began in 1978 and takes place on the grounds of Holy Trinity Greek Orthodox Cathedral in Dilworth. The festival-style food outside is fun, but for authentic, home-style Greek eats, wait in the dining-room line for a platter. The Greek Festival in Raleigh (Sept. 11-13) began in 1982 and was started by Holy Trinity Greek Orthodox Church there. It's grown so large that it now fills the Jim Graham building at the North Carolina State Fairgrounds.
---
Nightlife Neighborhood Face-Off
Charlotte's Montford Drive/Park Road area vs. Raleigh's Glenwood South district
Where the locals go
Charlotte: Moosehead Grill for Uncle Donnie's wings.
Raleigh: The Rockford for an A.B.C. (apple, bacon, cheddar) sandwich.
How to arrive/depart
Charlotte: Little Sugar Creek Greenway runs behind Park Road Shopping Center. Charlotte Bcycle stations are located along the route.
Raleigh: The R-LINE, the free downtown circulator service that makes a loop every 15 minutes.
Pint of Guinness
Charlotte: Sir Edmond Halley's Restaurant & Freehouse, a dimly lit basement spot in Park Road Shopping Center that begs for a rainy day to hunker down inside. Trivia on Monday.
Raleigh: Hibernian Irish Pub, which has dark wood and a fireplace inside, but also has a second-story patio overlooking downtown. Trivia (or bingo) on Tuesday.
Oysters in a half-shell
Charlotte: RockSalt, behind Park Road Shopping Center, has been open for seven months. But sustainable seafood is its focus, so we have high hopes for its longevity.
Raleigh: 42nd St. Oyster Bar. In business since 1931. Enough said.
Overwhelming craft beer selection
Charlotte: Duckworth's Grill & Taphouse. The 60 taps change so often that the staff prints out a fresh beer list for each table every day.
Raleigh: Raleigh Beer Garden. It opened late this summer with more than 365 taps, shooting for a Guinness World Record.
Date-night spot
Charlotte: Good Food on Montford. A noreservations policy means time to linger on the patio over a cocktail. The tapas-style menu encourages sharing.
Raleigh: Plates Neighborhood Kitchen. A bottle of wine, two glasses, and a table on the patio.
---
This article appears in the September 2015 issue of Charlotte Magazine
Did you like what you read here? Subscribe to Charlotte Magazine »
---