Charlotte vs. Raleigh: Restaurants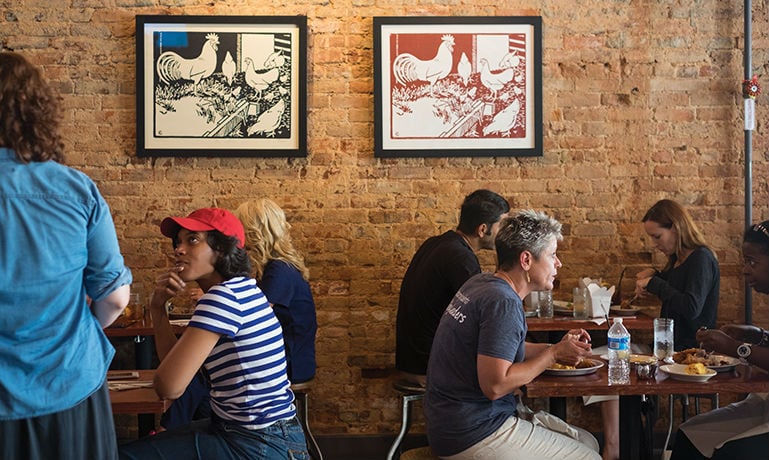 Where's Our James Beard Award?
WE'RE ALWAYS judging restaurants. On Twitter and Instagram, we rave or rant about an experience. Chefs can read reviews that we've typed while hidden behind our handles on Yelp and Google. But in the food world, there's one place every chef hopes to be judged: the James Beard Awards.
Raleigh has a James Beard Award-winning chef. Charlotte does not.
We have a lot of great chefs, but we don't have an Ashley Christensen. Her name is synonymous with Raleigh restaurants—one chef who owns seven concepts in the area. She started earning her city's admiration when she opened Poole's Diner in downtown in 2007. By the time she opened Death and Taxes, her latest eatery, this year in a former bank space, she had the love of her city. She was on the Food Network, competed on Iron Chef America, and has appeared in national magazines and The New York Times.
For years, her name has come up in most conversations about restaurants in Raleigh, and that's hard to ignore for those in charge of judging the Southeast for the most respected food awards in the country. In 2014, she earned a James Beard Award for Best Chef in the Southeast.
Christensen was too busy traveling to speak with us about her town's food scene and how she won a James Beard Award. I guess that's what happens when you reach that level of celebrity.
Instead, we spoke with Phil Vettel, a restaurant critic for the Chicago Tribune and Chairman of the James Beard Restaurant and Chef Awards Committee. He explained the rules for the James Beard Awards and what Charlotte chefs can do to win one. First: Follow Christensen's lead, and make a name for yourself beyond your restaurants.
"Anything you can do to make yourself more of a name, make yourself more visible or something like that, could help, particularly if you're in a tourist destination town to begin with," he says.
The voting committee members can vote only on restaurants they've personally visited, giving bigger cities and destinations an advantage, he explains. It takes more than just having good food in a city to win an award—it also takes a tourism push centered on food to get diners from across the country into town.
"You would like votes to be purely qualitative exercises, but the fact is you can't vote for places you haven't eaten at. And you can't be at the place unless you really want to go to the place," he says. "So maybe it starts with people thinking, 'Wow, this is a great place to visit.' If Charlotte's tourism board did some amazing job of just driving visitors to their town, absolutely the restaurants would benefit—both in terms of making real money, which is the object of this exercise, but also in building a reputation. Because you can't build reputations without people." — Kristen Wile
---
Top Chefs
CHARLOTTE

The Old Guard
Charlotte has always loved its steakhouses. But as restaurants like Carpe Diem, Barrington's, and Noble's began opening their doors, the city's palate began to change. The success of Barrington's, a 45-seat restaurant in SouthPark, proved that people here had a taste for independent, fine dining restaurants. The hard part, owner and chef Bruce Moffett says, was finding a consistent source of quality ingredients. "Navigating the food system here was really tough for me," he says, recalling providers who had only frozen seafood and minimum orders that totaled more than nightly sales. Charlotte chefs such as Tim Groody (now of Fork!) and Gene Briggs (of Blue) offered their advice, and Moffett stuck to his concept, though an empty restaurant made him wonder if he'd made a mistake. "I used to meet people, and would say, 'Oh, you've got to come try my restaurant,' " he says. "And I stopped doing that. It was a disaster. They wanted the sweet tea and wanted to know where the fried chicken was or something like that. Finally I figured out that the people that appreciate this type of space are going to find it, and the people that don't won't. So I stopped pushing." Next month, Barrington's will celebrate its 15th anniversary. —K.W.

RALEIGH

The Old Guard
Raleigh's population growth in the 1960s and '70s brought an opportunity for emerging chefs and their kitchens. Pioneers such as chef Walter Royal of the Angus Barn steakhouse started changing the city's culinary reputation, exploring fresh (and tasty) perspectives. Irregardless Café's Arthur Gordon took a green approach. Forty years ago, when Gordon opened the doors to his veggie-focused restaurant, diet trends were dramatically different. "The vegetarian market 40 years ago was so ahead of the curve," Gordon says. Today, he says issues such as diabetes, gluten allergies, and obesity provide more reasons to serve healthy, delicious meals. "A lot of chefs have traditionally used fat to carry flavor of the dish, but seasonings and spices are more important with plant-based dishes." Gordon hasn't changed his ways, and it's paid off—for him, and for the restaurants that followed. —Angelica Leith​

CHARLOTTE

The New Guard
When Frank Scibelli, owner of Midwood Smokehouse and Paco's Tacos & Tequlia, opened his first restaurant in 1992, it was Italian: Mama Ricotta's. Now he's considering a Middle Eastern concept, a sign that Charlotte's appetite is growing. And so is our restaurant scene: In 2014, restaurants such as The Asbury, littleSpoon, and Heritage opened. Moffett added a third restaurant, Stagioni, which serves Italian dishes such as an agnolotti pasta filled with duck and rabbit. And the openings haven't slowed down. This year, restaurants representing new cuisines are popping up, such as Ajbani Moroccan Restaurant and Comida, a Latin fusion concept in the former Penguin. RockSalt's muchanticipated opening brought a raw bar to Park Road, and when Futo Buta opened in South End, Charlotte was raving about ramen. A meat and potatoes town? Not anymore. —K.W.

RALEIGH

The New Guard
​When new restaurants, including The Stanbury and several owned by Ashley Christensen, began opening between 2007 and 2013, they changed the way people in Raleigh were eating. Christensen, in particular, has taken the idea of a modern Southern meal and turned it into a corporation of sorts. In her restaurants, Christensen fuses traditional comfort dishes with a contemporary, elegant flair. She first opened Poole's Diner in 2007, which takes its name and décor from one of downtown Raleigh's first restaurants. She has since gone on to win the 2014 James Beard award for Best Chef in the Southeast. Her latest ventures include a cooking classroom at the Bridge Club and commissary kitchen called the Aux, both of which opened last year. —A.L.

CHARLOTTE

The Avant-Garde
​It takes an adventurous palate to eat at Heirloom. Chef Clark Barlowe exclusively uses North Carolina ingredients, some of which are foraged—and you've likely never heard of them. In today's Charlotte, that's OK. Even farther outside of the city, you'll find impressive inventions in the kitchen. Joe and Katy Kindred have proven Davidson is ready for Kindred's bold menu. We're not going to spend hundreds of dollars on a tasting menu of tiny portions at a place like the famed French Laundry, Barlowe says, but we're getting there. "…If you hadn't had Greg [Zanitsch of Fig Tree] and Bruce [Moffett] and Tim [Groody] doing these things already and introducing people to these local foods and working with local farmers … then we wouldn't be able to do anything close to what we're doing." —K.W.

RALEIGH

The Avant-Garde
​The progress and upsurge of Raleigh restaurants has given chefs confidence to try bolder tastes. In 2001, Tasca Brava, the first tapas café that opened in the area, proved Raleigh was ready for a different concept. Chef Juan Samper says that cooking is artistic expression. He uses spice blends from around the world—a trend that's now growing in cities across the U.S. Samper's tapas menu boasts a variety of flavors in bite-sized portions, as if each piece is a miniature main course. It's a dish for the adventurous eater who isn't weary of abandoning stereotypical Southern cuisine. "The challenge with the cuisine is attracting customers," Samper says. "If you only ever eat the same kind of food, you're missing out on a whole new experience." —A.L.
---
Restaurant Smackdown
FRIED CHICKEN
Charlotte: Price's Chicken Coop
Go here if: You want a taste of classic fried chicken with classic sides: cole slaw, tots, hushpuppies, and a roll.
Raleigh: Beasley's Chicken + Honey
Go here if: You like expensive champagne with your honey-fried chicken, which you can order with gussied-up sides such as pimento mac-n-cheese custard.
Winner: Price's. We may be stereotyped as a town of bankers, but we still like our fried chicken greasy and salty.
---
COFFEE
Charlotte: Not Just Coffee
Go here if: You want great pour-over coffee, brewed just for you.
Raleigh: Joule Coffee & Table
Go here if: You like to be "productive" while working from a coffee shop. Productive at people-watching from the window seating, that is.
Winner: Tie. Both serve Counter Culture coffee out of Durham and make great latte art. Joule has a more hipster vibe than Atherton Market and 7th Street Public Market, though, so if you're hipster averse, NJC is your winner.
---
BBQ
Charlotte: Bill Spoon's Barbecue
Go here if: You're in Charlotte, but want to pretend you're in Raleigh. There's only Easternstyle barbecue here.
Raleigh: Clyde Cooper's Barbecue
Go here if: You'd like your unsweet tea served with a "bless your heart." At least someone understands the sacrifice of taking the sweet out of tea.
Winner: Clyde Cooper's. The sense of history (the original opened in the 1930s) and the staff's Southern genteelness keep the vinegar-induced pucker off your face.
---
DESSERT
Charlotte: Amélie's French Bakery & Café
Go here if: You want French desserts at any time of day.
Raleigh: Lucettegrace
Go here if: You need a pick-me-up. Bright colors and decadent desserts do the trick.
Winner: Amélie's. It's hard to compete with 24-hour service, even if LucetteGrace also has an incredible salted caramel brownie.
---
COCKTAILS
Charlotte: The Punch Room
Go here if: You want to feel like you're a part of the "in" crowd. Mixologist Bob Peters makes everyone feel that way.
Raleigh: Fox Liquor Bar
Go here if: You're looking for classic cocktails with a modern twist in yet another one of Ashley Christensen's places. This one is underneath Beasley's.
Winner: The Punch Room. Why spend time in a basement when you can be on the 15th floor of The Ritz?
---
HIP SPOT
Charlotte: Soul
Go here if: You want to make a night out of eating. Pass the time waiting for a table at a nearby bar, then spend hours ordering and eating small plates.
Raleigh: Stanbury
Go here if: You're looking for Soul, somewhere else. With stuffed birds on the walls and innovative small plates, it's like Soul's long-lost sibling.
Winner: Soul. There's something so good about a place that's so hard to get into. Here, it's the food.
---
CHOCOLATE
Charlotte: Secret Chocolatier
Go here if: You want some of the best chocolate in Charlotte.
Raleigh: Videri Chocolate Factory
Go here if: You want to learn. This bean-to-bar chocolatier has a museum-like display of how chocolate is made, and you can watch the process.
Winner: Videri. We can't think of a way to bend this in Charlotte's favor. You can't compete with bean-to-bar unless you have it. And we don't.
---
This article appears in the September 2015 issue of Charlotte Magazine
Did you like what you read here? Subscribe to Charlotte Magazine »
---