Charlotte Wedding Registry: Cottage Chic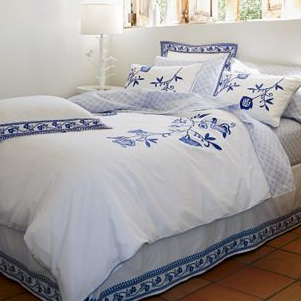 Snuggling up to your sweetie is one thing; snuggling up to your sweetie in insanely soft bedsheets (and I don't mean flannel or jersey knit, either) is another. Two things your bedsheets (like your engagement and marriage) should not be are boring and hard.
So, here's how to nip this issue in the bud (er, bed?) before you officially say I do. Stop by Cottage Chic on East Boulevard and check out their linens bridal registry.
Owners Julie Page Smith and designer Aynsley True Mahoney work with couples to design a bedding look based on their preferences, styles, and budgets. "Couples pick out what they want and we help them design a bed," says Smith. Fun prints and patterns from Serena & Lily, simple and soft linens from Pine Cone HIll,or beyond luxurious styles from Bella Notte are the offerings with Cottage Chic's bridal linen registry. All designs and choices can be customized with your monogram or names upon request. The design services are free and consultations can also be scheduled in your home.
"I hated registering when I got married," says Smith. "I would have loved the opportunity to create our own bed that matched our personalities."