Charlotte Wedding Venue: Duke Mansion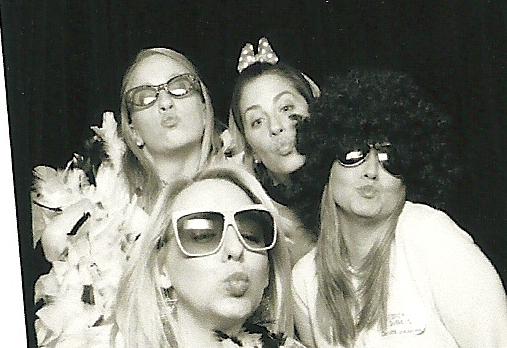 Last night we headed over to the Duke Mansion for its big event to celebrate that the Mansion will now be hosting weddings and receptions!
This is big news for Charlotte brides who have always dreamed of hosting a fete at one of Charlotte's prime historic locations. We scurried from room to room (of course, we stopped at the bar for some vino first) to see the options, gather some ideas, and mingle with the dozens of other Charlotte wedding professionals.
Art Zelenak from Shutterbooth was all set up with his photo booth in the first room we visited with a table full of props like hats, sunglasses, and feather boas. We had so much fun in the booth we took two rounds of photos!
Our favorite passed hors d'oeuvres? Louisiana Crawfish and Andouille Sausage Fritters with creole mustard that tasted like the most delicious hush puppies—ever. (We instructed the server to keep them coming in our direction. It's possible she knew our names by night's end.)
The entire event was set up like a real wedding reception with food stations, centerpieces by Crawford & Company Florist, a wedding cake by Cheesecakes, Etc.), a DJ and dance floor courtesy of Split Second Sound, and even a bride and groom!
While many guests hit the dance floor, Blake and I were busy sampling the food, natch. I can honestly say we spent almost the entire time at the Biscuit Bar (yeah, you read that right), which featured the cutest mini biscuits with delicious accompaniments like country sausage gravy, a pimiento cheese spread, cheese grits, bacon, and ham. Can you even blame us for lingering?
The only thing we missed out on sampling—the Southern Comfort Peach Fosters Bar. Sounds like heaven, no? Sauteed southern peaches, Southern Comfort and brown sugar sauce, white chocolate ice cream, toasted pecans, sweet whipped cream, and vanilla pound cake. That sentence was full of southern sweet deliciousness.
It was as if we truly were at a fabulous wedding. We can only imagine how amazing a real wedding will be at the Duke Mansion.
In addition to wedding ceremonies and receptions, the mansion will also host private breakfasts, bridal luncheons, and rehearsal dinners.
Duke Mansion, 400 Hermitage Rd., 704-714-4400, www.dukemansion.org