Charlotte Wedding Venue: The Urban Garden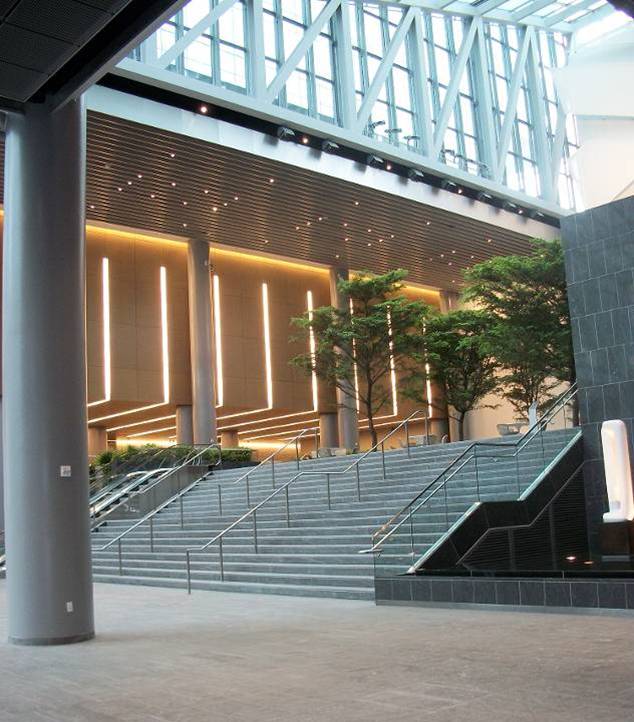 Last Monday, I had the pleasure of attending the Social Celebrations dinner at the new uptown event venue adjacent to the Ritz-Carlton Charlotte, the Urban Garden.
The Urban Garden is a new atrium uptown event space situated between the Ritz-Carlton Charlotte hotel and 1 Bank of America Center. The space is comprised of three levels—the Overlook, Upper Garden, and Lower Garden—and will host weddings, receptions, parties, and events for up to 800 people standing and about 620 people seated.
It's filled with natural light, neatly lined rows of trees, various levels (perfect for dividing up all of the "parts" of your party from cocktails to late night after party), and is air conditioned! I felt like I was outside without having to feel the outside heat so you can get the feel of an outside reception rain or shine.
While sipping on the hotel's signature cocktail, the Summer Thyme Lemonade—which is made with fresh squeezed lemonade, Absolute citron, and a sprig of Thyme from the hotel's herb garden on the roof—butlers passed hors d'oeuvres of proscuitto and risotto arrancini, spicy sesame tuna crudo, curried beef satay with cucumber raita, and duck confit spring rolls with peach barbecue sauce. And, yes, everything was as to-die-for delicious as it sounds.
When it was time to take our dinner seats, I took one look at the menu and couldn't wait to get to dessert. A local heirloom tomato and goat cheese tart for salad, an entreé of potato crusted sea bass with leek bread pudding, and for dessert (my favorite part of any meal) "Roasted Banana and Caramel Mousse Terrine" that was served with honey pecan ice cream made with honey that's produced from the bees on the roof of the hotel.
Some of my fellow dinner guests included Alyse Woodward of Alyse Woodward Events, Ivy Robinson and Jenna Schmitt of Ivy Robinson Weddings & Events, Dina Berg Blazek, Courtenay Matters and Heather Bryson of Carolina Wedding Design, Kristin Jackson and Maggie Koenig from Neiman Marcus Charlotte, Hade Johnson of Nordstrom, Kristin Vining of Kristin Vining Photography, and Tiffany Ratliff of Weddings and the City, among other elite Charlotte event planners.
Collaborate and work with the fab Catering Sales team (Heidi Novak, Kimberly Bachelder, and Timothy Maron) at the Ritz to create your desired event. Create the wedding of your dreams and include custom menus that you create with Ritz-Carlton chefs, work with the hotel's preferred vendors to choose gorgeous florals from Todd Murphy Events, table décor from Party Tables, and create your event design with Party Reflections Special Events.
How popular do you think this space is going to become for brides-to-be planning a Charlotte wedding?