Charlotte Wine & Food Moving To Romare Bearden Park
Staff hopes new location will lead to more visibility, higher attendance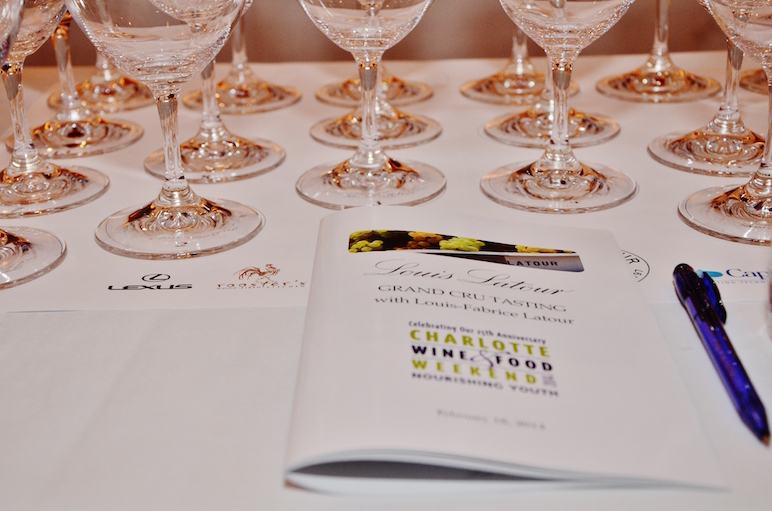 If you've been to Charlotte Wine & Food Weekend's off-year event, Big Bottles and Blues, expect some big changes at this year's 2016 festival. If you haven't been to the wine and auction event, here's a visual: rows and rows of distributors and winemakers in Founders' Hall pouring samples of reds, whites, roses, and a lot of swirling and sniffing glasses, with an auction taking place in the middle of it all.
It's a little intimidating for someone who doesn't know much about wine. So this year, Charlotte Wine & Food Weekend is making some big changes to get more people involved in its events.
Charlotte Wine & Food's new executive director, Dockery Clark, has decided to move the grand tasting event to Romare Bearden Park. She and the festival's marketing manager, Carson Yates, hope this will create a more inclusive event.
The grand tastings will take place on Friday, April 29 and Saturday, April 30. Yates says to expect more local food vendors than they've had in the past, as well as a few local breweries. She and Clark are working to get local restaurants involved, too, mixing restaurant tables in with the rows of wines from more than 40 wineries. There will be a sake tasting, for example, and Yates expects to pair the sake with a complementary bite, possibly ramen from South End restaurant Futo Buta.
"We're trying to be a little bit more creative about the whole tasting process," Yates says.
The large tent will be set up as the Charlotte Knights play a baseball game across the street at BB&T Ballpark, something Yates hopes will give the event more visibility and draw in more guests. In case of inclement weather, the tent will have side panels, keeping attendees dry. Tickets for the tastings (there are three times, and each will max out at 500 guests) can be purchased in advance here, but you can also walk up and buy one at the event. Yates says they hope to reach new audiences by being more visible.
The move from Founders Hall will allow for more flexibility in planning. The festival couldn't bring in outside catering there, preventing Big Bottles & Blues, the tasting and auction event, from showcasing much of Charlotte's food culture. The shift to Romare Bearden Park will let more local restaurants join in the festival. The live auction will now take place Friday evening, and the event's gala, previously on Saturday evening, will be wrapped in to Friday's event. If all goes well this year, they'll begin hold the event annually, instead of every other year.
"This year will be a good test of how this tent works," Yates says.
Wednesday's and Thursday's events will remain similar; Wednesday night remains an evening of in-home dinners cooked for donors and board members by celebrity chefs from around the South.
Thursday night brings wine dinners at more than a dozen restaurants around Charlotte, including Aria, Lumiere, Bonterra, Customshop, Ruth's Chris, Dressler's, Fahrenheit, The Fig Three, The Pumphouse, Napa, Upstream, and Zebra.
"We like to call it Charlotte's largest dinner party," Yates says of Thursday night's dinners. The $195 tickets are on sale now and going fast; dinners at Barrington's and Duke Mansion have already been bought out in full by corporate sponsors. There will also be an event at Kindred, but those tickets are not yet online because the winery has not been finalized.
There will also be other tasting events at Ruth's Chris in uptown on Saturday, including the weekend's most expensive ticket at $375 for a tasting of 10 100-point rated wines, the top number any wine is given.
Proceeds from the weekend's events go to five children's charities: Charlotte Concerts, Council for Children's Rights, Pat's Place, Safe Alliance, and Second Harvest Food Bank.