Charlottean of the Year 2014 (Philanthropy): Six Charities Worth Your Dollar
This is a generous city. A recent study in the Chronicle of Philanthropy ranked the Charlotte metro area ninth among large American cities for the percentage of income its residents give to charity. But how do you know where to give? Start here. These groups provide healthy food, mentoring, after-school tutoring, and help paying the bills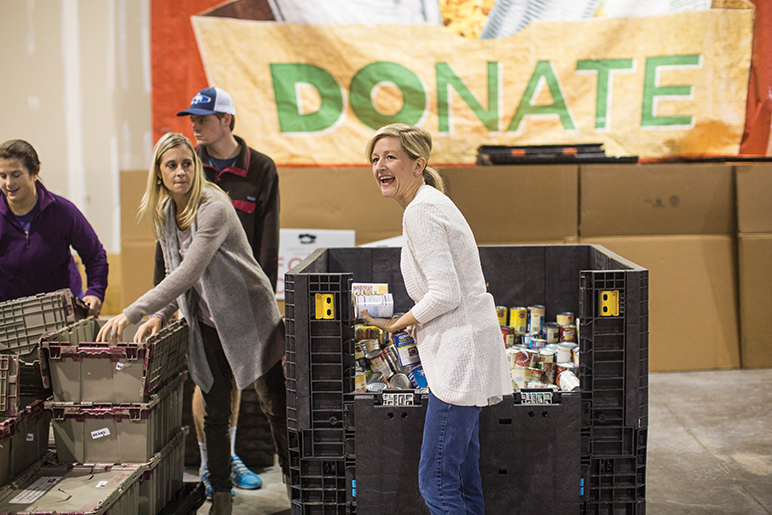 LOAVES & FISHES
What they do: Provide a week's worth of free, nutritionally balanced groceries to individuals and families in crisis situations.
Why you should donate: Last year, Loaves & Fishes provided 105,015 people with approximately 2.2 million pounds of groceries from 17 food pantries. The group did this with a full-time staff of eight employees.
Success story: Executive director Beverly Howard recalls two girls who were thrilled to see their mother with two boxes of Rice Krispies from the group's food pantry at Plaza United Methodist Church. One of the girls explained: "When we don't have any other food in the house, my daddy eats cereal for supper. And if there are two boxes, that means that Daddy can have his cereal and we can still make Rice Krispies treats for Christmas."
To volunteer or donate: Host a food drive, answer phones, or help with deliveries. You can also donate money because, Howard says, "Our trucks are not run on prayer; they're run on diesel." Backyard gardeners can also donate surplus from their harvests—homegrown produce is a welcome sight at the pantry. Call 704-523-4333 or visit loavesandfishes.org.
---
WOMEN INITIATING AND NURTURING GROWTH THROUGH SCHOLARSHIPS (WINGS)
What they do: Provide scholarships and mentoring to female college students who are at least 25 years old and pursuing their first degree. Adults returning to school face steep odds: It's hard to compete for scholarships against traditional students; it's even harder to manage schoolwork while juggling a job and a family. WINGS has helped 76 women graduate from college, awarded more than $475,000 in scholarships, and offered more than 15,000 hours of mentoring.
Success story: In 2010, when Lisa Brooks returned to school at age 40 to pursue a culinary degree at Central Piedmont Community College, WINGS paired her with former Duke Energy president Sandra Meyer as a mentor. Meyer introduced her to a business consultant, a lawyer, and a marketing agency. Brooks now runs Heart and Soul Personal Chef Service and credits her success to WINGS mentoring: "It's like having your own power team. Otherwise, the hours of consultation I received would've cost thousands of dollars."
What's next: WINGS is a scholarship program offered by Women Executives, an organization supporting the professional growth of female business leaders in Charlotte. The program will celebrate its 20th anniversary next year and has plans to increase its support to scholars and graduates.
To volunteer or donate: Financial contributions help fund scholarships. The organization also needs members of the business community to help with mentoring and other opportunities for WINGS scholars. Email wings@wecharlotte.org or visit wecharlotte.org.
---
ourBRIDGE
What They Do: Run an after-school program and community center for refugee and immigrant children in Plaza Midwood. "We talk a lot about the countries they came from, what their flag looks like, what kinds of foods they ate there," says founder and executive director Sil Ganzó. "We teach the kids that it's OK to be different, that we can all still be friends."
Why you should donate: Nearly 7,000 refugees have moved to Charlotte since 2000, including families from Nepal, Myanmar, and Iraq. ourBRIDGE aims to make the transition easier for the children in these families by providing emotional support and help with their homework and English-language skills.
What's next: Ganzó hopes to open a second center to serve the increasing numbers of refugee and immigrant families arriving in Charlotte.
To volunteer or donate: You can donate money or school supplies, as well as gift cards for low-cost bulk stores. A $20 gift card can cover the cost all of the kids' snacks for one week. Find more information at joinourbridge.org.
---
NORTH CAROLINA HEROES' FUND
What They Do: Support current and former members of the military who suffer financial hardships as a direct consequence of
their service.
Why you should donate: With severe backlogs at the U.S. Department of Veterans Affairs, it can take nearly a year for a new disability claim to be processed in North Carolina, according to the Center for Investigative Reporting. While they wait, veterans often need help paying bills, especially if they're unable to work or require a caretaker's assistance.
Success story: After serving overseas, a veteran asked for just one month of support before his VA benefits began. When he caught up on his bills, he returned to North Carolina Heroes' Fund as a volunteer and began working at a homeless shelter in Winston-Salem.
To volunteer or donate: Visit ncheroes.org or call 828-284-2858.
---
THE MITCHELL BAYS TURNER PEDIATRIC FUND
What they do: After losing their two-year-old son to cancer, Meg McElwain and Frank Turner III created Mitchell's Fund to advocate for and address the financial needs of pediatric patients and their families.
Why you should donate: "When a child is diagnosed [with an illness], it changes a family's ability to work and function in a normal setting," McElwain says. "We help with needs like mortgage payments, car payments, funeral costs."
Success story: A Charlotte girl entered a pediatric intensive care unit facing a host of life-threatening challenges: She was on a ventilator, had seizures, a tracheotomy, and pneumonia. Her parents wanted to stay at her bedside but couldn't afford to take unpaid leave from work. Mitchell's Fund supported them so they could stay with their daughter.
What's next: In September, Mitchell's Fund held its inaugural Prescription of Hope luncheon, part of an annual series discussing issues related to pediatric health. Next year's lunch will focus on pediatric mental illness.
To volunteer or donate: Donate at mitchellsfund.org. Mitchell's Fund also seeks corporate sponsors.
---
SUSTAIN CHARLOTTE
What they do: Advocate for the sustainable use of resources in Charlotte. By analyzing data about energy, land, transportation, food, air quality, waste, and water, they offer recommendations on how to improve.
What's next: Sustain Charlotte recently launched the Transportation Choices Alliance (movecharlottesmarter.org), which aims to improve the local transportation system and make it easier for more people to ride the light rail, take a bus, bike, and walk around the city. The goal is to reverse the trend of congested highways and suburban sprawl.
To volunteer or donate: Go to sustaincharlotte.org.