Charlottean of the Year 2014 (Volunteer): Rick McDermott
He gets up earlier than most other people. He goes to bed later than most other people. And in the hours in between, he spends his life giving to other people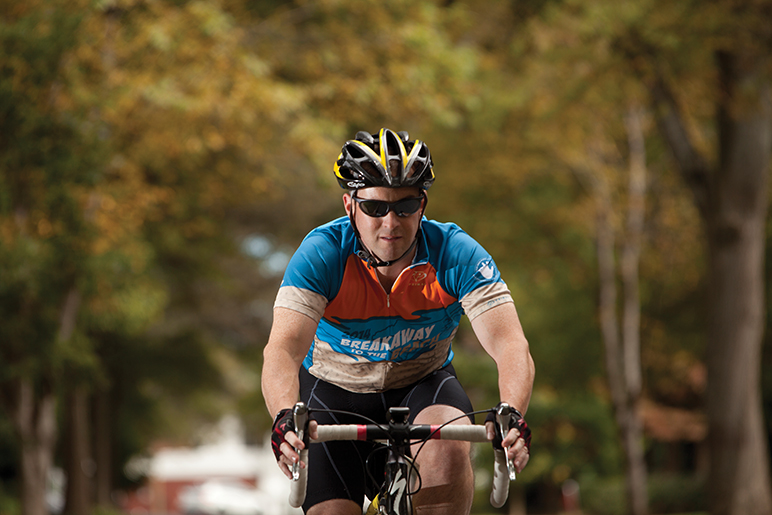 Rick McDermott wasn't a bicyclist, but there he was—head down, legs spinning, bumping along a two-lane road in rural Mecklenburg County, in yet-to-be-developed Ballan-tyne, during a 1995 multiple sclerosis charity ride.
McDermott, then 25 and fresh out of law school, was new to Charlotte. When he moved here, he knew that two of his sisters had symptoms often associated with MS. He immediately called the local chapter of the National MS Society and asked to get involved.
A few weeks later, he was cruising the circular course, breezing by farmland and fields with a handful of other people, many of whom had trained and fund-raised for months. For McDermott, it was largely a solitary ride. He didn't know anyone. He wasn't part of a cycling team.
He raised about $700 for the MS Society that year—more than any other rider.
But after the ride, and after he'd become involved with the organization, McDermott learned the doctors were wrong. His sisters were sick, but it was another neurological disorder and not multiple sclerosis.
"The connection I thought I had was all of the sudden not a connection," McDermott says now, "but at that point I was committed."
Without any personal reason to stay, McDermott stayed. In the nearly 20 years since he signed up for that first ride, he has raised about $125,000 for the MS Society, just through his involvement in Bike MS. In November 2013, the national charity inducted him into its National Volunteer Hall of Fame.
"To me, if you make the commitment, you need to stick with the commitment," he says.
***
THERE'S A QUOTE in the Gospel of Luke which says, "To whom much is given, much shall be required." McDermott learned it early on.
He grew up in Milwaukee and, later, New Orleans, the youngest of seven children. His parents, devout Catholics, sent him to a private Jesuit high school, and he went on to earn undergraduate and law degrees from Marquette, a Jesuit university. The faith-based curriculum included a focus on service—what McDermott calls "being a man for others."
When he moved to Charlotte two decades ago to begin a career in intellectual property law, he realized that he was fortunate to have grown up the way he did and to have a well-paying job right out of school.
"There was no reason I should just be enjoying that and not helping people who weren't as lucky in our community," says McDermott, who regularly attends mass at St. Peter Catholic Church uptown.
Over time, the 45-year-old attorney's charitable involvement has grown tremendously. He now serves on the board for The Relatives, a nonprofit organization that helps kids in crisis with everything from emergency shelter to job searches. He's involved as a leader with Equality NC, the gay rights advocacy organization. And he co-chairs the diversity committee for the law firm where he's worked for two decades, Alston & Bird. He teaches at the Charlotte School of Law as an adjunct professor and assists with pro bono cases for Legal Services of Southern Piedmont.
During a two-week period this fall, he rode 100 miles on his bicycle for the MS Society, flew to Wisconsin for an alumni ceremony at Marquette, went to Texas to receive an award with a team from Alston & Bird, and taught his intellectual property class at the law school.
He admits that he's driven to out-perform himself, whether that means beating last year's fundraising tally for the MS ride or recruiting more volunteers to one event or another.
"A lot of who I'm competitive with is myself," McDermott says. "A lot of it is internal. … I do kind of pressure myself to do what I can. I'll feel guilty if I'm not doing as much as I should be."
Over coffee one recent afternoon, just down the street from Alston & Bird's Trade and Tryon offices in Bank of America Plaza, McDermott deflects praise, saying the people in his life—his employer, his fellow volunteers, and his partner, Rob Willard—make it easy to stay involved. By participating in so many things since moving here, he's surrounded himself with people—and, in turn, those people push him to do more.
His days start early, often with a 5 a.m. spin class at the Dowd YMCA, and usually bleed into the evening. At work, McDermott jumps from meeting to meeting as he tends to various corporate clients. Sometimes that means going to hearings at the courthouse. Other days, like this one, are more casual. He shows up at Dean & DeLuca wearing jeans. He carries an iPad and iPhone, but lays them face down on the metal bistro table and doesn't pick them up again until it's time to leave.
He says Alston & Bird encourages volunteer service, even on company time. It's something he wishes more employers would consider.
"My days might be long at the office," he says, "but I'm not just practicing law while I'm there."
***
ALICE DEVRIES and her family bought a bungalow in Dilworth in 2006, the same year Mc­Dermott moved in next door. They quickly became friends.
Three years ago, deVries's then-13-year-old son, Gene, was preparing for his confirmation at Christ Episcopal Church. As part of the process, Gene had to pick a mentor. Typically, kids choose someone within the congregation. He wanted to pick McDermott. Because McDermott attends St. Peter Catholic, Gene had to get special permission from his minister.
The two volunteered together, including one night when they served dinner to kids at The Relatives' crisis center. McDermott talked to Gene about faith and the role confirmation plays in a Christian's life.
On confirmation day, the two posed for a picture outside Christ Episcopal—both in their navy blazers and ties, McDermott's smile wide as a proud uncle's.
"Just like everything, Rick took it seriously," deVries says. "It wasn't just a one-time commitment for him."
McDermott brings the same attentiveness to everything he does, deVries says. She also served on the board of The Relatives with McDermott for six years.
"He is incredibly busy," she says. "But he does not appear [to be] or make you feel like he's busy when he's with you."
She's not the only one who sees it. People line up to heap praise upon McDermott.
"Rick isn't someone who's on your board just for the name," says Brennon Graham, executive director of The Relatives. "Rick is all action."
"He is relentless," says Jennifer Lee, an executive with the National MS Society who has known McDermott for more than 15 years. "Just relentless in everything he does for people with MS. He raises huge amounts of money for the organization, which itself makes him a superstar."
Nonprofit groups love people such as McDermott. He understands the dual role volunteer leaders must play: soliciting dollars while drawing others into the organization's work.
Kathleen Hogan-Garrett was a special event fundraising coordinator for the MS Society at the time when McDermott first joined. They worked together for years on the cause, and as McDermott continued to join more charities, he kept pulling Hogan-Garrett along with him.
He got her family involved in the Charlotte Children's Choir.
And The Relatives.
And Equality NC.
Hogan-Garrett says she wouldn't be connected to any of those organizations if McDermott hadn't asked. "He has no qualms about asking," she says.
"He will invite anybody and everybody he knows.
"The payback for him is all the relationships. Look at all these people he cares about here in Charlotte, way far away from his roots."
***
IN MID-OCTOBER, McDermott climbed back onto his bicycle to crank out another 100 miles for a MS charity ride at Sunset Beach. He wore a red-and-blue jersey and pedaled a black-and-red specialized bike—much better gear than he had for that first event almost two decades ago.
The crowd at the beach was bigger, too. Spectators lined up along the streets at the start and finish lines, clapping and cheering, waving neon posters with handwritten messages. They were loud.
When McDermott first joined the MS Society, medicine was struggling to understand how to fight multiple sclerosis. It wasn't until the early to mid-1990s that pharmaceutical companies were able to develop several medications that could impede the underlying disease process in MS.
Now, there are better, stronger medications. In a small way, the money McDermott has raised during his almost two decades as a volunteer contributed to that. "We've seen dramatic advances in how we care for people with MS," he says, "but there's still no cure."
He uses that as motivation. He pushes hard.
"The expectation that we're going to reach a cure soon keeps me going," he says.
Like the medicine, McDermott's legs are stronger today, beneficiaries of those spin classes at the YMCA and evening road rides when the weather is warm.
McDermott pedaled across the start line at Sunset Beach, slowly gathering speed. As he pulled away from the cheering crowd, toward the long, flat course, other riders surrounded him. They were part of his 35-member team.
After 20 years of giving, he no longer rides alone.
Adam Rhew is a regular contributor to this magazine. Email him at adam.rhew@gmail.com, or reach him on Twitter: @AdamRhew.