Charlottean Wins Lifetime Achievement Award in Textiles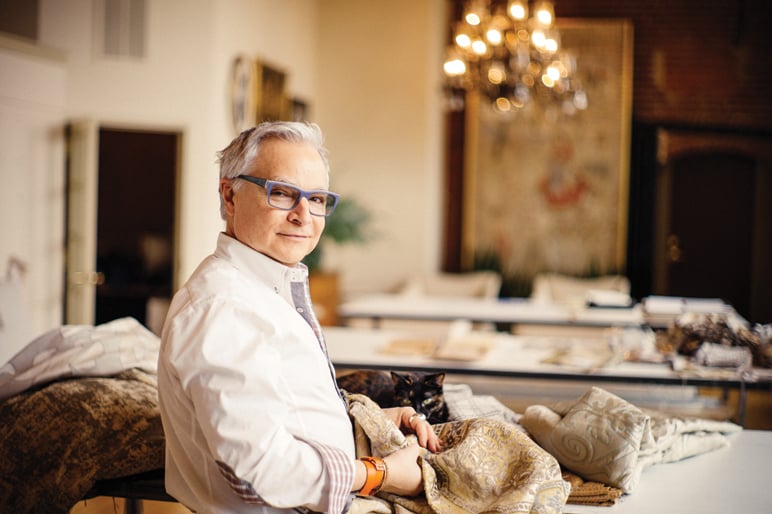 WESLEY MANCINI'S FABRICS are sold as bedding, upholstery, and curtains in stores all over Charlotte—and worldwide—but you'll rarely see his name attached to them. This year, Mancini is getting some of the recognition he deserves as winner of the inaugural International Textile Market Association's Lifetime Achievement Award.
The association promotes workers in the textile craft and helps foster a fair working environment in the industry. It hosts the Showtime Market twice a year, during spring and winter, in High Point, where members can exhibit their designs to buyers. Mancini was announced as the winner of the first lifetime achievement award at the Showtime gala in December. Though he had enough notice to give a winner's speech at the event, the honor came as a surprise.
"People come in and look at the line and say, 'Oh, it's the best line you've ever done, it's the best line of the season,' and it goes in one ear and out the other," Mancini says. "Everyone says it's a great line. I just figure they tell that to everybody."
Each line of fabric goes through a meticulous process of design, from initial sketches to color drawings and computer scans that are edited thread by thread. In an age when many patterns are created by computers, Mancini's work yields fabrics that hold interest in color, texture, and craftsmanship. He has been in the textile design industry since 1977, giving him more insights into the craft with each season. It's knowledge he doesn't want to stop gaining.
"I love designing and it's a passion of mine; it's what I wanted to be when I grew up," he says. "And I'm fortunate to be able to do what it is I love to do. I love creating new things, and I think once you stop, well, then you're kind of dead. Not really dead, but you're over. And I'm not ready to be over."