Charlotteans of the Year 2015: Jeff Gordon
In a 23-year career, the NASCAR legend not only gained acceptance, he's become one of our city's most prominent citizens, helping raise millions for children's cancer research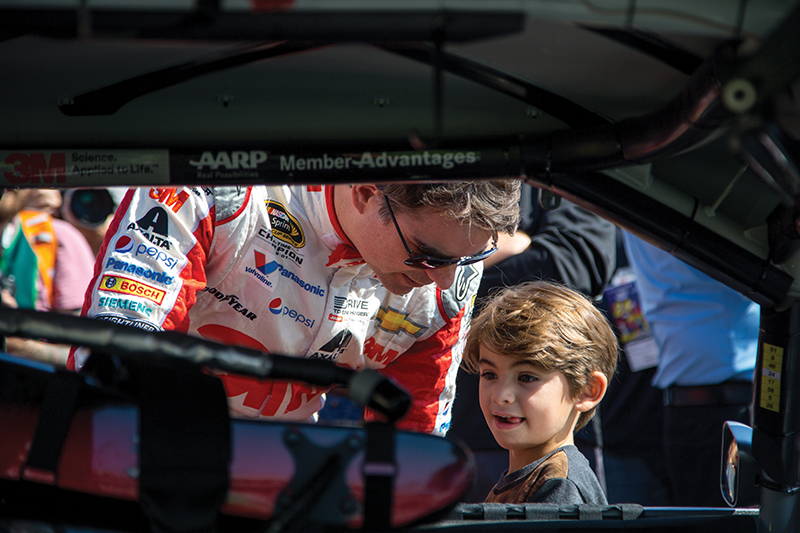 WAS IT REALLY SO long ago that Jeff Gordon showed up in North Carolina with wild talent and that bad mustache, thinking a racecar driver from California via Indiana could make it in NASCAR? Hard to believe the so-called "Wonder Boy" became the sport's ironman this year, setting a record in September for consecutive starts, a streak of nearly 800 races that began in 1992.
Gordon became the outsider who helped build NASCAR beyond its traditional Southern base to become a national sport, and he's retiring this year after his 24th season in the No. 24 car. Someday, though, he would like to be remembered as much for the Jeff Gordon Children's Foundation.
"While most people think racing is his legacy, he really wanted his foundation to be the legacy that his children knew of and he felt really good about," says Trish Kriger, executive director of the foundation, which focuses on research, treatment, and support for children battling cancer. "This is a lifetime commitment."
---

2015 Charlotteans of the Year Award Luncheon
December 18, 2015
11:30 a.m. – 1:30 p.m.
Tickets on sale now!

---
In 2006, the foundation's $1.5 million grant helped build the Jeff Gordon Children's Hospital at Carolinas HealthCare System NorthEast in Concord. Gordon has funded research at Riley Hospital for Children/Indiana University's Wells Center for Pediatric Research, given to families in need at Ronald McDonald House in Charlotte and elsewhere, and has supported cancer care in Rwanda. In the foundation's annual Corvette Raffle fundraiser, Gordon gave away an $84,000 Corvette Stingray in October and raised nearly $740,000. The money helps pay for the foundation's grant funding throughout the year.
The driver often pays quiet visits to children battling cancer, doing so without the cameras that otherwise chronicle his high-profile life.
"I wouldn't be doing it if I didn't feel like we were making an impact," he says. "But if you think I feel like we're making enough of an impact, absolutely not. I can't do that alone. That's why what we do is not just fundraising, but we try to do as much awareness campaigns as well, to try to get more people involved and understand what we're doing."
Viv Bernstein is a writer based in Charlotte and a regular contributor to The New York Times, covering sports and news. You can follow her on Twitter: @viv_bernstein.
---
This article appears in the December 2015 issue of Charlotte Magazine
Did you like what you read here? Subscribe to Charlotte Magazine »
---