Charlotteans of the Year 2016: Charlie Comero
In a year when the LGBTQ community was at the center of Charlotte's civic life like never before, no one's voice was heard louder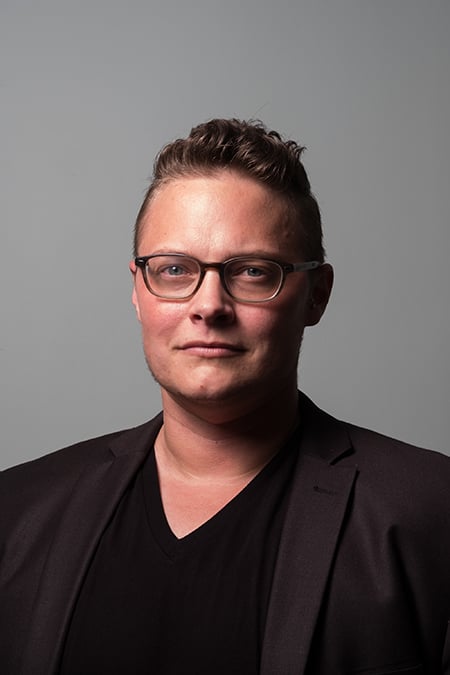 CHARLIE CAME OUT in high school, when he was known as "she," at about the same time a beloved male teacher did. The teacher caught hell. Sick of the harassment, he resigned from his job and died of a heart attack six months later, at age 32. Charlie believes the stress killed him. Charlie felt stress, too, and guilt. People in the small town in western Michigan thought Charlie was going through a phase when she came out as gay. More than 20 years later, Charlie remembers feeling that people weren't seeing him. Then again, it took him years to see himself.
CHARLIE'S PARENTS WERE TEENAGERS when he was born. His biological father ran off when he learned Charlie's mother was pregnant. As a 6-year-old girl, Charlie first caught the sense that she was different. (Charlie was known by another name then.) Coming out as a gay woman helped some, but over time it felt more and more like a half-step. "It just felt like I wasn't living life in an honest way," he says now. The breadth of the possibilities revealed itself gradually. Seven years ago, at 29, she announced on Facebook that she was now a "he," and that his name was now "Charlie." He hated his old name.
HE MOVED TO CHARLOTTE IN 2012 when he was with Teach for America. It was one of 11 cities he'd picked as places where he'd like to live and work. "I just liked it," he says. "I liked the energy."
CHARLIE BEGAN A PHYSICAL and hormonal transition in early 2015. He uses male pronouns but doesn't, in the strictest sense, consider himself male. He identifies as non-binary, neither fully male nor fully female. This throws people off. They respond with love, confusion, hate, resistance, threats of violence, laughter, offers of prayer, acceptance. It's troublesome and perplexing to them, not him. Charlie sees his non-binary status as "basically putting my middle finger up to the binary system we live in." Who's fully anything?
WHEN THE CHARLOTTE CITY COUNCIL passed ordinance changes in February that opened public restrooms and other places to transgender people, Charlie, of course, celebrated. He heard rumblings about state legislators overturning the city's provisions, but he didn't think they'd actually do it.
A MONTH LATER, just before the legislature overturned it and then some, Charlie was part of a group in Raleigh to speak to the state senate on the proposed House Bill 2. Just before they were about to speak, they learned that the senate would allow only five of them to talk. The group conferred to pick the speakers who felt most compelled to speak. Charlie helped pick the order. He wound up sixth in line. He thought about that on the way home, exhausted and frightened. He'd become invisible again.
CHARLIE HAD ALREADY STARTED a nonprofit to counsel transgender people, who are at high risk for suicide. Now, he printed out cards to hand out in women's bathrooms:
"My name is Charlie.
I'm following the law that was passed on
March 23rd. I am a transgender man who would
rather be using the men's room right now.
This is likely uncomfortable for both of us.
Please contact your legislature
and tell them you oppose HB2."
THAT GOT ATTENTION. Charlie granted interviews to BuzzFeed, Mother Jones, CNN, TV and radio stations in the United Kingdom and Australia. He'd post on Facebook and watch the shares and likes multiply. "I think the cards and the story of their absurd necessity brings to light the experiences of the transgender community," he said in one interview, "and in doing so, reminds people that we're humans, too."
HE'S SPOKEN AT TOWN HALL MEETINGS, panel discussions, at meetings for PFLAG, the country's largest nonprofit focusing on the health and well-being of LGBTQ people, and continues to.
HE CAME TO THE PHOTO SHOOT for this Charlottean of the Year portrait carrying a sign that read, "Only when black lives matter will all lives matter." He says he wants people to know that white people hold those signs, too. Charlie was at the front of the line during the protests in Charlotte this fall. "A huge part of my work is around black lives," he says. "My heart's calling me toward that work. White people should start showing up, come join us, and see for themselves that the reason we do this is, it's all about love." There's another reason he carries the sign: He knows that when people think of transgender citizens, they tend to think of white people first. After all that time fighting for his voice to be heard, he's uncomfortable with being honored like this. "There's a lot of trans people of color doing amazing things."
NOT LONG AGO, a young girl, maybe eight or nine, approached him at yoga and asked, "Are you a girl or a boy?"
"What do you think?"
The girl replied immediately, "Both!"
"You're right!"
"I know!" the girl said, and she walked away, and that was that. Charlie excused himself for a minute "and happy-cried."
People see him now.
GREG LACOUR is a contributing editor for this magazine. Read his political coverage and other commentary in "The Buzz" section of www.charlottemagazine.com.