Charlotteans of the Year 2017: Vic the Chili Man
When he's not slinging hot dogs to uptown bankers, the food vendor raises money to help kids with a debilitating condition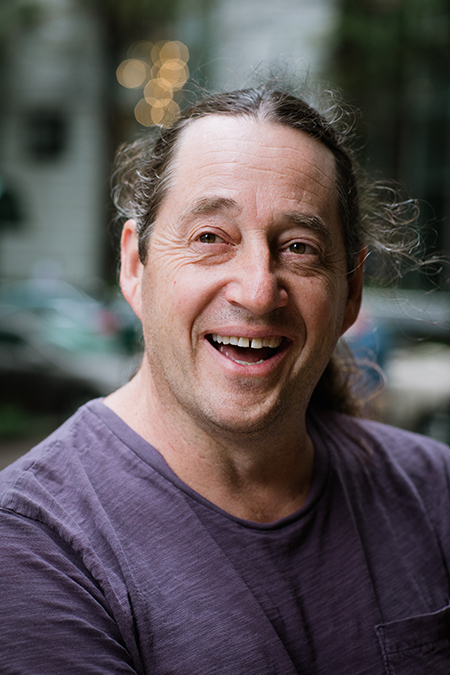 VIC THE CHILI MAN doesn't slow down. At 11 a.m. on weekdays, a line forms on Tryon Street in uptown for his chili dogs, hot dogs, and brats. Today, like every weekday, as he loads the hot dogs with chili and toppings, he makes jokes and tells stories, hands constantly in motion with tongs, spoons, hot dogs, and credit cards.
It's October now, toward the end of Vic the Chili Man's season. In late November, he'll close up his cart until February.
"When I close in November, all these guys think I'm at home eating bon bons watching my serials," Werany jokes, nodding to the guy in business casual at the front of the line.
Werany may close down his chili business for the winter, but in the few months he's off, he's still working, spending more than 60 hours a week on a nonprofit he founded called SHRED, short for Skaters Helping Realize Extraordinary Dreams.
SHRED began as a single event called SHRED for Gabe. Werany's former next-door neighbor, Gabe, now 8, has the most severe form of spina bifida, which means his spinal cord was visible outside his body at birth. He needed surgery the day after he was born and is paralyzed from the waist down. The only form of treatment, with stem cells, isn't approved in the United States, so Gabe's parents travel to China and Mexico to get their son help. With support from family, they spent $30,000 on his first treatment, Gabe's mom, Kristin, says. The second was $16,900. They were $7,000 short for the third treatment, and when Werany learned of their struggle, he asked them if he could create a fundraiser to help with the bills.
"No one makes that much money," Gabe's parents told him.
"Yeah, they do," Werany contended. "When you're me, that stuff happens."
Werany concedes he may not have much modesty, but his ability to handle the facets of a large event, his organizational skills, and network from the chili cart made him confident he could make a difference. Closing down for the winter gave him the time.
"If I were this guy," he says, pointing his tongs to the man in the front of the chili cart line, "I couldn't go, 'Hey, Bank of America.'" The guy shakes his head. "Or Wells Fargo." Werany has the wrong bank again, but he continues anyway, still making the hot dogs. "Or whatever it is, 'I need to take two months off.' They'd be like, 'Yeah, good luck, see you next job.' So the availability of time is a huge factor."
Another enabling factor is his wife, Tara, the sole breadwinner for the family while Werany puts together the charity event, and the person who deals with his crazy ideas and enables his dreams. His first SHRED five years ago was a skateboarding day, with raffles, skate contests, music, and food. The Weranys are a skateboarding family, so it seemed like a natural fit. The event brought in $2,500. The following year, Werany added a second beneficiary: Gabe's friend Luke, another boy with spina bifida. The third SHRED saw the addition of the art show, which brought in $5,500, and has since become the focus of the event.
Katie Labbon, a chili cart regular for 12 years, painted two skateboards for the first SHRED art show in 2015, and has painted even more in the years since. Being part of SHRED has helped her realize there's more to her crazy friend than making jokes and selling hot dogs.
"I had only seen the nut ball that I had seen on the street, the guy who tells crazy borderline crude stories and everybody loves him," Labbon says with a laugh. "It wasn't a nonprofit (yet). He just did this because it was the right thing to do and it helped these families that he chose to help."
From its dozens of artists to attendees, the chili cart has helped Werany grow a network of support for SHRED, with prizes coming from customers such as Cam Newton and former Panther Mike Tolbert.
Werany says he's become addicted to the feeling of handing over the profits to families who need the money, and wants to teach his kids how to give back as much as they can, even if they're helping charities instead of creating them. The 2018 event, on January 27 at Unknown Brewing, will include an artisan market for the second year, in addition to the auction and raffles, as Werany continues to grow SHRED.
"He always wants more," Gabe's mom says. "I think if we raised a million dollars, he would still be disappointed."
As the proceeds have grown, Werany has added two more beneficiaries and the nonprofit has become an official 501(c)(3) organization. Yet in many ways, it's still just as it started: A next-door neighbor, a condition without a cure, and a man who knew he could make a difference, so he did.