Charlotte's 25 Best Restaurants—2013
From French fare to Southern comfort, inventive to classic, these are Charlotte's best restaurants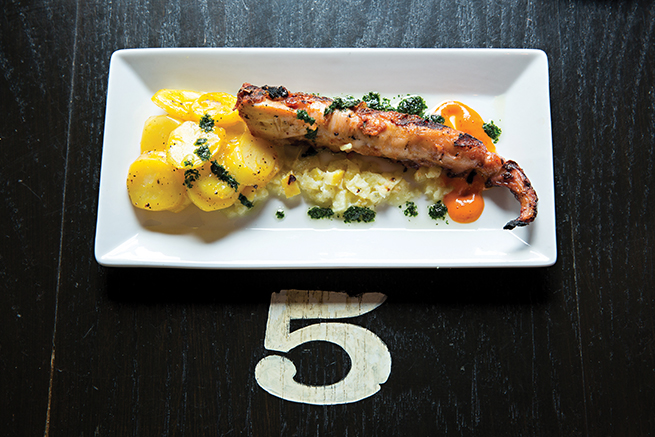 It hasn't been a flashy year for the city's restaurant scene. It hasn't been packed with showy restaurant openings, but the competition has gotten a bit more heated as professional kitchens across the city have quietly fine-tuned their craft. Some longtime favorites have been reinvigorated. Several high-profile chefs have moved to new spots. And a few newcomers are showing signs that they have lasting appeal. But after several months of research and countless lunches and dinners all over the Charlotte area, we're ready to say it: These 25 restaurants are the best in Charlotte. We've ranked the top 10 and put the rest in alphabetical order. They vary by location, size, scope, and style—but each is worth making a reservation.
---
Beautiful simplicity: peppercorn-crusted ostrich filet over French green lentils, braised bok choy, and soy demi-glace.
1. The Fig Tree Restaurant
1601 E. 7th St.
704-332-3322
charlottefigtree.com
In a city that can be surprisingly loyal to landmark restaurants—surprising because in almost every other way, Charlotte favors shiny and new—Fig Tree is an outlier. Since opening in the Lucas House in 2005, the restaurant has managed to pull off a rare feat: It keeps getting better. Sara and Greg Zanitsch spent a year renovating the 1913 craftsman bungalow before serving the first meal, and that sense of unhurried perfectionism still translates to all aspects of the dining experience. Fig Tree does not appear to have ever cared about the restaurant scene around it. Rarely do trendy finishes, such as flavored foams, make it onto the seasonal menu—although that isn't to say the food here doesn't feel inventive. Instead, there's an emphasis on quality of ingredients and execution, which makes the difference. Even a plate of humble (but expertly prepared) roasted chicken here may well turn out to be one of the best meals you've ever had.
Don't Miss: The restaurant's petite downstairs bar, where the service is just as attentive as it is throughout the dining rooms.

---
Each plate at Barrington's, like this slow-braised beef short rib with horseradish and cauliflower puree and roasted broccoli, feels thoughtful and deliberate.
2.Barrington's Restaurant
7822 Fairview Rd.
704-364-5755
barringtonsrestaurant.com
The place has only 45 seats. It's not easy to find. It doesn't have an extensive wine list—or much of a bar. There's often a wait, even with a reservation. And yet, this tiny, upscale bistro Bruce Moffett opened in 2000 with his brother, Kerry, is one of the best dining experiences in town. Moffett has become a master at turning the restaurant's size into an advantage. Cooking for a smaller crowd gives the James Beard Award-nominated chef a chance to spend more time on prep and execution. Most seats have a view of the kitchen, and although many professional kitchens are frenzied, Barrington's is often quiet and calm. Each dish that emerges seems to have been prepared with a deliberate, measured touch.
Don't Miss: The menu changes seasonally, but seafood is always flawless, and pasta dishes, such as gnocchi and rigatoni, rarely disappoint.

---
Dishes like this classic, slow-braised osso buco make Luce a standout.
3.Luce
214 N. Tryon St., Ste. J
704-344-9222
conterestaurantgroup.com/luce
Augusto Conte's lavish uptown restaurant—the most stylish of his five European-inspired eateries—gleams with Murano glass and marble. Even the restaurant's name means "light" in Italian. But don't let the décor distract you from the most elegant Italian cuisine in the city. It's a transcendent dining experience. Antipasti ranges from delicate beef tenderloin carpaccio to hearty meatballs over creamy polenta. Entrées include several classics, including slow-braised, Milano-style osso buco over risotto, along with more imaginative dishes such as sweet, pan-roasted salmon with an orange cardamom glaze. And then there are the fresh, daily-made pastas: Buttery gnocchi and tender pappardelle are standouts.
Don't Miss: Luce is a destination for lunch, when many of the dishes on the dinner menu are offered at slightly reduced prices.
---
The simple dining room doesn't distract from the main event: the food.
4.Customshop
1601 Elizabeth Ave.
704-333-3396
customshopfood.com
It's hard to believe Customshop is the first solo effort of owner/executive chef (and Charlotte native) Trey Wilson. The restaurant, which Wilson describes as a "modern Roman trattoria," has exposed brick, plenty of candlelight, and other charming details, including an antique charcuterie slicer. (The restaurant's house-made charcuterie means that slicer gets a lot of use.) In addition to enjoying produce from local farmers, diners here frequently nosh on vegetables and herbs from the 2,000-square-foot garden in Wilson's own backyard. Nearly every dish is slow-cooked in the sous vide method—the better to show off those fresh ingredients—and there's rarely a misstep on the menu.
Don't Miss: The menu changes seasonally, but recent highlights include fork-tender grilled BBQ octopus with lemon jam and Calabrian pepper aioli, served alongside a fingerling potato salad.
---
Dishes at Zebra always have a lot going on, like this pan-roasted black grouper, surrounded by turnip purée, pecan truffle 'coins', wilted kale, and a preserved orange-apple frisée and truffle salad.
5.Zebra
4521 Sharon Rd.
704-442-9525
zebrarestaurant.net
Everything about Zebra is dramatic. The décor is bold, mostly black and white. The award-winning wine list is massive, with more than 900 selections. It's the only restaurant on this top 10 list that serves breakfast, lunch, and dinner—and the only restaurant in the city that serves a soufflé of the day (available for lunch and dinner). But this kind of showiness is chef/owner Jim Alexander's specialty, and his reverential yet approachable take on contemporary French fine dining is what has made—and kept—his restaurant a favorite with the city's well-heeled crowd. Where else can you count on a menu including Dover sole amandine and several dishes that prominently feature foie gras alongside North Carolina rainbow trout?
Don't Miss: They may be easy to dismiss, but don't overlook the soups, particularly the multilayered truffled mushroom foie gras soup.

---
The interior is fresh, open, and bright.
6.Carpe Diem
1535 Elizabeth Ave.
704-377-7976
carpediemrestaurant.com
It's easy to take Carpe Diem for granted. The restaurant, owned by sisters Tricia Maddrey and Bonnie Warford, will celebrate its 25th anniversary next year, but still it stands out for its steady excellence in a city full of newer, flashier restaurants. Settle into a seat at the large, ornate bar or sink into a chair in the chic dining room, and take in the mahogany doors and art nouveau woodwork. Then open the menu and rediscover what has made and kept this restaurant a favorite. Signature dishes, such as the buttermilk fried chicken breast, served with Yukon gold mashed potatoes and sautéed spinach with shallot-black pepper gravy, are as good as ever. And staffers work hard to be attentive and enthusiastic, but unobtrusive.
Don't Miss: The vegetarian-friendly entrées. Even the most dedicated meat-lovers will appreciate dishes like a vegetable tart with house-made ricotta cheese or the mushroom Bolognese with house-made tagliatelle.

---
Spitfire-roasted pork shoulders in action.
7.Rooster's Wood-Fired Kitchen
6601 Morrison Blvd.
704-366-8688
150 N. College St.
704-370-7667
roosterskitchen.com
With a casual, rustic setting and the alluring scent of a wood-fired oven permeating the dining room, Rooster's is chef and restaurateur Jim Noble's masterpiece. The Rooster's trademark—a bright, open display kitchen surrounded by the dining room—gives diners prime views of the action. Watch as chefs prepare spitfire-roasted meats (all of which are butchered in-house) and handmade pizzas in hickory-wood-burning ovens, or take a seat in a booth away from the action. Both locations offer the same ultimate draw: a menu that's innately Southern, with French, Italian, and Spanish influences, led by talented executive chefs Joe Kindred (uptown) and Phil Barnes (SouthPark).
Don't Miss: A meal at Rooster's with a group—especially a group that likes to share. Sides like pan-fried corn and fire-roasted beets are served family-style, but every dish on the extensive menu can be shared.

---
Rabbit saddle with bacon, carrot, horseradish, beech mushrooms, and melted leeks.
8.Halcyon
500 S. Tryon St.
704-910-0865
halcyonflavors.com
Perched inside the Mint Museum uptown with views of Tryon Street and The Green, Halcyon somehow seems at once earthy and stylish. A spa-like dining room with bird's-nest chandeliers and soothing shades of blue creates a calming atmosphere. Even the departure this summer of executive chef Marc Jacksina, who helped launch the restaurant, hasn't thrown off the eatery's rhythm. Former sous chef Jim Stouffer has taken the helm, fusing the restaurant's original focus on Southern-inspired fare with a new emphasis on Old World cuisine and techniques. The combination produces dishes such as oxtail, served with a sweet potato puree, turnips, carrots, and foraged mushrooms, and the Poultry Junction chicken, served over risotto and succotash.
Don't Miss: Mixologist Maggie Ruppert's clever cocktails, like The Rocket, which pairs Cardinal Gin from King's Mountain with arugula, cracked black pepper, Lillet Blanc, and tonic.

---
Hawaiian big-eye tuna with toasted sesame ponzu, edamame, crispy sushi rice cake, and pickled vegetable salad.
9.Upstream
6902 Phillips Place Ct.
704-556-7730
harpersgroup.com/upstream.asp
The menu of this SouthPark darling reads like an encyclopedia of Pacific Rim seafood. But Upstream is more than one note. It also mixes in some Southern bistro favorites with Pacific Rim-inspired finishes. Take, for instance, the pecan-crusted Carolina mountain trout, served with a Fuyu persimmon puree. And with a standout sushi and raw bar selection, the food here delivers. Sit inside the restaurant, amid pristine white tablecloths and understated maritime décor, and you might forget, just for a moment, that you're in landlocked Charlotte. For a more casual experience, head to the restaurant's redesigned bar, where you can order off the full menu.
Don't Miss: The desserts, which also get an Asian flair, such as the honey semifreddo with yuzu curd, hazelnuts, Thai basil, and bee pollen.

---
Les Moules Frites, steamed mussels prepared with Pernod, shallots, and fresh herbs, served with French fries.
10.Terra
545-B Providence Rd.
704-332-1886
terracharlotte.com
This petite restaurant may not have the look of a modern bistro—with outdated, pale-peach walls and lighting that's just a tad too bright—but Thierry Garconnet's eatery has a contemporary spirit. Terra's streamlined, well-curated menu is a refined, classic mix of French and Italian cuisines. It's well worth another look. Standouts include a delicate braised veal short rib atop a mound of creamy polenta, and the classic duck confit, served with a tangy mustard sauce alongside roasted fingerling potatoes and a bright arugula salad. Reservations aren't usually a requirement on weeknights, but it's a good idea to plan ahead for a weekend evening.
Don't Miss: Another French classic—mussels and fries—is offered all-you-can-eat style on Tuesdays for just $18.
Click "Next" to see the next 15 restaurants.
5Church
127 N. Tryon St., Ste. 8
704-919-1322
Since bursting onto the scene in 2012, just in time to capitalize on the Democratic National Convention, 5Church has held its own. It reigns as the best example of the city's recent influx of venues that seamlessly mesh restaurant with bar.
Come for: The experience. 5Church's swanky décor, edgy atmosphere, and creative dishes from executive chef Jamie Lynch draw a crowd that wants to see and be seen.
Don't miss: Pierogies. The filling changes seasonally, but the result never disappoints.
---
Aria
100 N. Tryon St.
704-919-1322
Restaurateur Pierre Bader has shuffled his restaurants roster several times over the years, but he's held on to Aria since opening it in 2010, and for good reason—it's his best.
Come for: Simple Italian comfort food that sometimes has a bit of a Southern accent.
Don't miss: Reserve the chef's table for special occasions. It seats eight and is the best table in the house.
---
Bistro La Bon
1322 Central Ave.
704-333-4646
Executive chef and owner Majid Amoorpour saw potential in this humble strip-mall location in Plaza Midwood. He's created a destination; when you dine here, it's easy to forget that the world outside even exists.
Come for: Global flavor combinations that are hard to find elsewhere, such as the crispy avocado and asparagus small plate, paired with a tamarind and sweet chili balsamic glaze.
Don't miss: Sunday brunch, which has its own well-earned reputation for pastries, chocolate waffles, and a buffet (house-smoked salmon and Swedish meatballs with lingonberry sauce are frequent offerings).
---
Blue Restaurant & Bar
206 N. College St.
704-927-2583
The menu here spans the globe—Italy, France, Greece, North Africa, and Morocco are all represented. Executive chef Gene Briggs swaps out the specials four times a year, giving you plenty of time to come back and try a few of them before the next menu comes out.
Come for: A meal when family is in from out-of-town. This menu is a crowd-pleaser.
Don't miss: Arancini (risotto balls stuffed with pancetta, sweet onions, and mozzarella with a sweet tomato sauce), fragrant chicken tagine, and, recently, pan-seared jumbo scallops and oxtail ragu—an interesting take on traditional surf and turf.
---
Fern
1323 Central Ave.
704-377-1825
The Mother Earth Group took a risk opening a vegetarian restaurant in a city that's packed with burger joints and steakhouses. But Fern has proven to be a great fit for Plaza Midwood—and with dishes like the recent sweet potato Reuben, made with shaved sweet potato "pastrami," it continues to win over both vegetarians and omnivores.
What to get: If you're not adventurous enough for beer-battered tofu or miso-glazed tempeh, start with the OM Burger (toppings vary seasonally) or one of the flatbreads, made with 200-year-old sourdough starter from Duke's Bread.
---
Gallery Restaurant
10000 Ballantyne Commons Pkwy.
(Inside The Ballantyne Hotel)
704-248-4100
Hotel restaurants are often plagued with mediocrity and inflated prices. Gallery is an exception. Here, quality holds up to prices, and dishes like seared flounder with roasted purple sweet potatoes and caramelized onion puree are worth a drive to south Charlotte.
Come for: A romantic date night.
Don't miss: The desserts. Selections from executive pastry chef Keli Fayard are exquisite, from s'mores crème brûlée to house-made ice creams in flavors like espresso almond and dark milk chocolate.
---
Georges Brasserie
4620 Piedmont Row Dr.
980-219-7409
With vivid red booths, oversized mirrors, and striking vintage French posters and photographs, it's easy to enjoy dining at Georges Brasserie. But the décor is only half the story at this graceful French spot.
Come for: Traditional French fare such as escargot, five preparations of mussels, and bouillabaisse.
Don't miss: The raw bar, which offers oysters, clams, shrimp, lobster, and three sizes of sampler plates.
---
Good Food on Montford
1701 Montford Dr.
704-525-0881
The second concept from the Moffett brothers, Good Food is younger brother Kerry's playground. But this is no Barrington's lite—its focus on creative small plates has a much more playful side than its formal sibling.
Come for: The experience. Good Food is a great date-night destination, a place to share dishes like a confit lamb belly with beluga lentils and roasted tomatoes or roasted shrimp arepas with red cabbage slaw.
Stay for: The mixology. Recent selections on the seasonal cocktail menu include the Fig Bourbon Smash, pairing Bulleit Rye Whiskey with orange bitters, brown sugar simple syrup, lemon juice, and a muddled fig.
---
Harvest Moon Grille
235 N. Tryon St.
704-342-1193
Once the driving force of the local food movement, Harvest Moon has matured into a restaurant that now simply leads by example. Founding chef and pork farmer Cassie Parsons recently left to start some new ventures (including a USDA-inspected meat-processing facility for local farmers), but the restaurant hasn't swayed from its commitment to the farm-to-fork model.
Come for: Dishes like the Harvest Moon cassoulet, made with smoked chicken, goose confit, braised rabbit, and house-cured meats—almost all of which was sourced within 100 miles.
Did you know? Harvest Moon started out as a bright-orange food truck before transforming into a brick-and-mortar restaurant.
---
Malabar Spanish Cuisine
214 N. Tryon St., Ste. 3
704-344-8878
By now, diners who were disappointed by the closing of Augusto Conte's Coco Osteria have no doubt been won over by the fragrant dishes emerging from the kitchen of its Spanish tapas replacement. (It doesn't hurt that many of Coco's most popular dishes are still available across the Hearst Tower plaza at Luce.)
Come for: Authentic Spanish dishes, including four types of paella—but be warned, each takes 35 minutes to prepare.
If only: The restaurant were a bit larger. On nights and weekends, there can be a wait, even with reservations, and when it's full, it can feel crowded.
---
McNinch House Restaurant
511 N. Church St.
704-332-6159
In some ways, the McNinch House is a relic—and not just because it's housed in a late-1800s Victorian. It can be romantic, with hushed candlelit dining rooms and classical music. The food is solid, but if you're looking for inventiveness or creativity, you won't find it here. Instead, simple dishes, elaborately presented, reign.
Come for: The setting. It's a treat to dine in such a magnificently restored Victorian, and the formal-to-a-fault service makes you feel a bit like royalty.
The details: McNinch House offers only prix fixe menus. Choose from five, seven, and nine courses—but be sure to share any food allergies or preferences when you call to make your reservation.
---
Passion8 Bistro
3415 Hwy. 51, Fort Mill
803-802-7455
Passion8 has plans to drop the "Bistro" and move to Elizabeth Avenue in 2014. In the meantime, however, the restaurant still resides in a former brothel (no kidding) and is worth a visit. Knowledgeable servers know the names and locations of the local farms that supply fresh produce and are great at helping indecisive diners navigate the constantly changing menu.
Come for: Wine and cocktails (designated drivers recommended). The wine list, while small, includes hard-to-find wines (a recent wine flight included a few excellent Lebanese wines), while an inventive specialty cocktails list will please discriminating palates.
Don't skip: Signing up for the restaurant's email list so you won't miss out on special dinners like Dining in the Dark, the restaurant's recent Halloween event that presented a three-course meal to blindfolded diners.
---
Toscana
6401 Morrison Blvd.
704-367-1808
Focusing on authenticity and service, Augusto Conte's first Charlotte restaurant opened in 1998 and remains one of the city's best options for an authentic Tuscan meal.
Come for: Great al fresco dining in the restaurant's expansive courtyard at Specialty Shops on the Park.
Don't miss: Grilled portobello with tomatoes, goat cheese, and Tuscan fries; lasagna with Bolognese sauce and béchamel.
---
Vivace
1100 Metropolitan Ave., Ste. 100
704-370-7755
When it opened in 2009, Vivace had a great thing going: skyline views, a sophisticated menu, and a contemporary interior. It slipped a bit after the newness wore off, but a reinvigorated menu and approach in 2012 thrust the Midtown eatery back into its early glory as one of the best restaurants in town.
Come for: Brick-oven pizzas—the prosciutto, fig, Gorgonzola, and arugula is a standout—plus starters like potato gnocchi with braised pig cheeks, smoked Parmesan, roasted carrots, and a soft egg and pan-roasted scallops with caramelized Brussels sprouts, guanciale, root vegetables, and salsify.
Pro tip: Get here in time for sunset to see great views from the patio overlooking the greenway.
---
Wolfgang Puck Pizza Bar
6706-C Phillips Place Ct.
704-295-0101
For a restaurant that focuses on something as ubiquitous as pizza to make this list, it must be doing something right. Wolfgang Puck Pizza Bar's signature items are its creative toppings, such as chicken and broccolini with caramelized onions, chilies, and roasted tomatoes. The rustic setting is both family-friendly and chic.
Come for: The pizzas, of course, but also for dishes like grilled Italian sausage with polenta and pepper jam and ravioli with ricotta cheese, pine nuts, basil, and a tomato cream sauce.
Did you know? The house-made pizza dough, created specifically for this restaurant, takes nine days to mature, including two pre-fermentation steps to give it a sourdough-like depth of flavor.
Click "Next" to read about our Chef of the Year.

Chef of the Year:
Joe Kindred, Rooster's Wood-Fired Kitchen
Chef Joe Kindred got hooked on a career in the food-and-beverage industry when he was 14 and washing dishes at a Lake Norman café. Less than a year later he was promoted to kitchen manager—and it's been up from there ever since.
After winning a scholarship to attend Johnson & Wales University in Charleston, he became the first intern of renowned Charlotte chef Jim Noble. It was a good pairing; Kindred has spent more than a decade working for Noble. He left just twice, to gain experience working at Tru restaurant in Chicago and Delfina Pizzeria in San Francisco, both of which won James Beard awards while he was in the kitchen. Now, Kindred has returned to Charlotte to serve as executive chef at Rooster's uptown, which he helped open in February 2012.
"Working in San Francisco, I really learned what farm to table meant," he says. "I would collect mushrooms by hand and we always tried to use the meat of an entire animal." At Rooster's, Kindred does the butchering himself and challenges his team to use each animal from snout to tail. "It's about respect for the animal and changing the menu often to reflect what's fresh and available," he says. "One night we may use the chops, another the tenderloins. We'll use scraps to make homemade salami."
At Rooster's, Kindred has also cemented a reputation for house-made pasta. He brought his own recipes to Rooster's, and he has added more Italian-inspired dishes to the menu. "On a given night we probably have four fresh pastas on the menu," he says.
Kindred talks about food with passion and precision. The clientele of the uptown Rooster's tends to be slightly more adventurous than those who eat at the SouthPark location, and
Kindred enjoys having the ability to add inventive chalkboard specials like Vietnamese banh mi and North African dishes to the restaurant's signature European-influenced Southern fare. — Hannah Taylor