Charlotte's 25 Best Restaurants
From French fare to Southern comfort, steaks to Thai, inventive to classic, these are Charlotte's best restaurants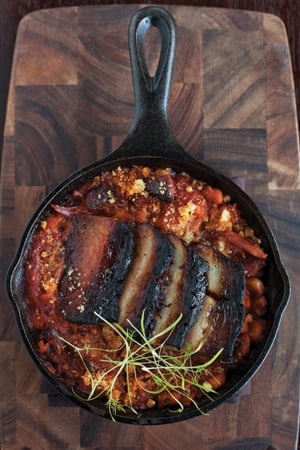 For our 2016 list of Charlotte's 50 Best Restaurants,
CLICK HERE.
Note: For more great coverage of Charlotte's restaurants, check out our Restaurants Guide and Food + Drink section.
2011 List Below
For a town that tends to focus on the new and shiny, Charlotte is relatively loyal when it comes to its restaurants. While some of the spots on this list have only recently arrived on the scene, others have been fine-dining staples for years and continue to have dining rooms—and kitchens—that bustle. These restaurants were chosen partially because of their service and value, but most importantly based on their ambience and food. Each excels.
100 N. Tryon St.
704-376-8800
ariacharlotte.com
Pierre Bader is perhaps uptown's most prolific restaurateur, with three up and running now and another on the way, not to mention the handful that have come and gone. Aria may be his biggest hit. He didn't overthink this one: Simple Italian comfort cuisine done really well in a hip, urban setting.
Come for: The experience. With its warm, modern interior and views of the busy Trade Street sidewalk, Aria offers an ideal center city night out.
Don't miss: The caramelized gnocchi app, the wild mushroom pizza, the roasted butternut squash ravioli, the Niman Ranch Pork Loin, and, well, let's just stop there. For now.
For something different: Reserve the chef's table, which seats eight and is practically in the kitchen.
What to drink: Bader is a wine geek, and this carefully edited Italian list is excellent. For a quiet drink: Steal away to the upstairs lounge. —Richard Thurmond
---
7822 Fairview Rd.
704-364-5755
barringtonsrestaurant.com
Despite its eleven-year reign as one of the city's best upscale restaurants, this intimate bistro-style spot in SouthPark may be the coziest and most unassuming in town.
While you wait: (Because you will wait even if you have reservations. With seating for only forty-five, it's a tight squeeze most nights.) Settle in at the small bar for a glass of wine from the predictably excellent list.
What to get: The house-made rigatoni tossed with Italian sausage is cooked perfectly al dente before being tossed in a sweet marsala spiked with a spicy tomato sauce. Topped with flakes of fresh Parmesan, this is casual comfort food with a decidedly sophisticated twist.
If only: The dessert menu were as creative and delicious as the appetizers and entrées. If you're desperate, the Ben & Jerry's around the corner may be just as good an option for satiating a sweet tooth.
---
210 N. Church St.
704-332-7212
eatatbasil.com
It's sleek, modern, and consistently filled with the city's most fashionable crowd. With its open kitchen, red velvet accents, and airy space, this upscale Thai restaurant is as sophisticated as they come.
Don't skip: Making reservations on the weekends. While the bar is filled with a trendy see-and-be-seen crowd, it's often too full to even order a drink on a busy night and the wait for a table can be long.
Start with: The exceedingly fresh basil spring roll. It's served cool with vibrant flavors of herbs and vegetables.
What to get: The pad thai features delicate noodles tightly wound around tender chicken and shrimp. This may be street food in Thailand, but its presentation and taste soars above that here—as it should for $16 a plate. Did you know: The owners, who are brothers, are originally from Cambodia but were refugees in Thailand in the 1970s.
---
1322 Central Ave.
704-333-4646
bistrolabon.com
Not too many restaurants in the same strip center as a Family Dollar make it onto "Best" lists, but this Plaza Midwood spot is full of surprises. Inside, it's quiet, with high ceilings, modern art, and arched windows with views of uptown. And in the kitchen, chef and owner Majid Amoorpour is creating robust comfort food in gourmet fashion for a menu that changes daily.
Inside tip: The breads, gnocchi, and pastries are all house made. Order them.
Get your greens: The salads here come crisp and lightly tossed in inventive house-made dressings like lemon dill and creamy ginger. And options like the cold smoked salmon salad with tender and lightly salty salmon are large enough for a meal on their own.
What to get: The sumptuous duck breast rests on a creamy parsnip puree and English peas.
Whom to take: The kids! (Bet you didn't see that coming.) Despite its French name and upscale cuisine, this is a kid-friendly spot with a diverse children's menu and a Sunday brunch buffet perfect for enjoying with the family.
---
Fifth and College
704-927-2583
bluecharlotte.com
France. Italy. Morocco. North Africa. Spain. Greece. Chef Gene Briggs continues to bring the very best of the Mediterranean to uptown Charlotte with this elegant restaurant. Once known for its cocktail hours and big-spending banker crowd, the restaurant has settled into its status as a favorite of longtime Charlotteans and visitors looking for a twist on the ordinary.
Drink up: They're serious about the martinis here, and while the fruity and sweet ones are alluring, the well-made dirty martini, with blue-cheese-stuffed olives, pairs well with the menu's salty appetizers like lightly fried calamari and olives.
What to get: Slow-roasted lamb shank simmers in an aggressively seasoned blend of apricots, dates, carrots, chickpeas, saffron potatoes, and squash in the lamb tagine.
Did you know: Blue offers a late-night alternative bar food on the weekends. Gourmet offerings like crisp arrancini or olive tapenade with warm pitas are served until midnight.
---
201 E. Trade St.
704-547-2244
bltrestaurants.com
It's just as sophisticated and urbane as you'd expect from a French-bistro-meets-steakhouse located off the Ritz-Carlton's lobby. With posh cocktails, rich French fare, and steakhouse offerings, this uptown restaurant courts all appetites.
Freebie we'd pay for: The steakhouse's famed poppers are crusty hunks of bread stuffed with melted Gruyère cheese. Breaking them open and smearing creamy butter on the dense, steaming bread is an experience to be relished.
What's new: The swanky spot recently added sidewalk seating just off its College Street entrance, making it a top contender for best people watching in the city. Drink up: The Rosemary Margarita, made with Herradura Silver tequila, may just be the restaurant's best use of herbs.
Don't skip: The sides. Mashed potatoes are infused with a fiery jalapeño. Creamed spinach offers a hint of sweet nutmeg. And smoky Brussels sprouts seared with bacon are nothing like the ones you picked around on your plate as a kid.
---
1525 Elizabeth Ave.
704-377-7976
carpediemrestaurant.com
The art nouveau décor may be Parisian, but the food is distinctly American at this Elizabeth restaurant run by two sisters. The dishes here—many of which have been on the menu since 1989—are reliably delicious and served with style.
Get your greens: On the warm goat cheese salad, a longtime favorite here, the tangy cheese is coated with a hazelnut crust and rests on mixed greens lightly tossed in a semisweet apricot jalapeño vinaigrette.
What to get: The crispy and golden buttermilk fried chicken paired with creamy Yukon mashed potatoes has been one of the restaurant's best sellers for years for a good reason. It's the kind of soothing Southern comfort food that needs no improving.
Go when: The scallops featuring a light vanilla essence served atop a luscious almond risotto are on the menu.
Inside tip: The desserts are made here from scratch daily and it's difficult to pick one of the sugary confections that's not mouthwateringly good. But if you have to choose, select the decadent peach and raspberry cobbler with vanilla ice cream.
---
311 East Blvd.
704-333-0063,
copperrestaurant.com
While the city's ethnic food scene has drastically improved since Copper's arrival in 2006, this elegant Dilworth restaurant continues to set the standard for upscale Indian food with a modern twist. Dining rooms in vibrant reds with interesting art offer views of East Boulevard and evoke a sense of romance. Plating at Copper is an art form in itself with interesting geometric arrangements and angular serving dishes, designed to delight the diner.
Whom to bring: Your vegetarian friends. With unusual choices like makai kofta (spinach and corn dumplings), veggie lovers can indulge without missing out on flavor.
Don't skip: The chicken tikka masala—no matter how adventurous you're feeling. This traditional chicken dish arrives bathed in a perfectly spiced velvety sauce.
Slow down: On the complimentary warm naan bread served with mint, mango chutney, and raita dipping sauces. It's good, but not worth filling up on when there are multiple courses to enjoy.
Drink up: The wine list here is more European than Indian with more than fifty bottles, each chosen with the cuisine in mind and all served in Riedel stemware. What to get: If it's the exotic you crave, masala lamb chops in a peppery achaari curry sauce are enlivened with intricate combinations of spice and served with vegetable biryani.
---
4310 Sharon Rd.
704-365-1922
thecowfish.com
The guys behind this bizarre concept are visionaries. Sure, when you tell people about it who haven't been yet, they're skeptical. And if you mention the word burgushi, a furrowing of the brow usually occurs. But this business is thriving, and once you've tasted one of the juicy burgers, a roll of the innovative sushi, or even some of that burgushi, you'll understand why. It's a casual spot with playful music and artwork with a clientele as diverse as its extensive menu. And on most nights, if you visit, you'll be lining up alongside those folks just crossing your fingers for a table.
When to go: If you want to be seated quickly? Maybe in the middle of the afternoon? Or the minute they open? This place has been packed from its first week, and while reservations are available, they're limited.
Don't skip: The deconstructed crab rangoon dip. It's the dense cream-cheese-based filling you find in traditional crab rangoon, served alongside crispy wontons for dipping. It's tantalizingly good.
What to get: If you're not adventurous enough for the burgushi rolls (rice rolls filled with burger ingredients), at least try one of the bento boxes, which allows you to sample a mini-burger alongside a sushi roll and side items.
---
1601 Elizabeth Ave.
704-333-3396
customshopfood.com
Owner and chef Trey Wilson's Elizabeth Avenue take on a Roman trattoria continues to lure food lovers and wine connoisseurs. Pillowy house-made ricotta gnocchi, flavor-enhancing sous vide preparation of local vegetables, and a carefully selected wine list to rival any in town are just a few of the reasons why.
While you wait: Order the charcuterie—it's sliced at the bar—and soak in the 110-year-old building's exposed brick walls and delightfully warm space.
Inside tip: The seafood offerings vary weekly. Go when the scallops are on the menu. These tantalizingly plump shellfish are grilled to perfection and served with seasonal accompaniments like fresh squash succotash.
Save room for: The apple, walnut, and caramel bread pudding, served steaming hot and topped with quickly melting vanilla ice cream.
---
4725 Piedmont Row Dr.
704-552-5502
delfriscos.com
In a town where steakhouses have traditionally ruled, this SouthPark staple is king. A sweeping staircase, dramatically dim lighting, and an excess of mahogany make this gorgeous steakhouse the most elegant in town. And while its grandeur may evoke nostalgia for the city's boom days of dining, Del Frisco's retains its status as a place to spot the city's most powerful with steak knives in hand.
What to get: The filet, rib eye, prime strip, or porterhouse. This menu is a beef lover's dream, and beautifully marbled slabs of meat are perfectly cooked and simply served.
Don't skip: The first course. The fried calamari comes in a slightly spicy Asian glaze and the steak tartare is served in a cool mound alongside slivers of crisp potato chips.
Best bargain: On Sunday nights Del Frisco's offers its Restaurant Week menu—and therefore the chance to sample without breaking the bank—with three courses for just $30.
---
1601 E. Seventh St.
704-332-3322
charlottefigtree.com
Owners Sara Scheidler and Greg Zanitsch (who also serves as chef) have brought stability to this beautiful old Craftsman bungalow, which had been a series of restaurants before Fig Tree opened almost seven years ago. If anything, this elegant spot has become better with time.
Don't miss: The menu is seasonal, but if you see the delicate Apple Beggar's Purse, which is a puff pastry stuffed with savory sautéed apples, onions, Gorgonzola, and walnuts, order it.
Chop it up: On the latest menu, you can't go wrong with any of the generously portioned chops: lamb with a crust of rosemary and bread crumbs, Gorgonzola-stuffed pork, grilled elk, or grilled veal with shrimp.
What to drink: Wine! This is one of the best lists in town—well chosen and surprisingly affordable. Whom to bring: Your significant other.
Save room for: The absolutely perfect warm beignets, served with cinnamon crème anglais and coffee gelato. No time for a meal? Pop in for a glass of wine and an app at the cozy downstairs bar, one of the best-kept secrets in town. —R. T.
---
2410 Park Rd.
704-631-9103
fransfillingstation.com
Chef and owner Fran Scibelli has created the kind of low-key neighborhood joint that feels like it's been there for years even though this Dilworth spot is still relatively new. Whether you're in the mood to indulge (hello, bacon-wrapped tater tots) or want simple, healthful fare, you'll find it in this casual sun-splashed dining room.
Don't miss: Pan-fried sweet corn nuggets offer a crispy exterior yielding to the moist crunch of the corn and pair perfectly with the cool goat cheese ranch dip.
Did you know: Fran used to run the now-closed Metropolitan Bakery, and her skills with bread have only improved. If a dish includes bread, you can bet it's house made—and tasty.
Best bargain: Wednesday nights feature half-priced bottles of wine and include an appealing selection. When to go: Friday is South of the Border night. When it comes to satisfying a craving for pork carnitas and margaritas, Fran's rivals any Mexican spot in town.
---
1701 Montford Drive
704-525-0881
goodfoodonmontford.com
Lucky for us, Bruce Moffett was not satisfied with running Barrington's, long one of the best restaurants in the city. He and his brother Kerry wanted a place where they could get more creative in the kitchen, so they gave us Good Food. We've been thanking them ever since.
Don't miss: The menu changes often, so go soon to ensure you get the seared scallops in a sweet potato, bacon, and apple-raisin chutney. Also? The five-spice pork belly on a steamed bun will be one of the city's best dishes until the unfortunate day it leaves the menu. Want to go big? The menu here is mainly small plates, but the entrée-size braised beef short rib is a standout.
Note from a beer geek: Duck Rabbit Milk Stout on draft? Yes. Served in a frosty glass? No. Nice touch: The patio lounge offers a touch of sophistication to the otherwise-fratty Montford Drive scene.
Start with: The mint julep, made with house-smoked bourbon. End with: The decadent ganache hot chocolate, spiked with vanilla vodka, warm spices, and chilies. —R. T.
---
500 S. Tryon St.
704-910-0865
halcyonflavors.com
The name may be over the top, but this restaurant just off the entrance to uptown's Mint Museum flawlessly pulls off earthy and chic at once. Chef Marc Jacksina gets creative in the kitchen with locally sourced dishes, while contemporary décor lends itself to upscale business lunches and stylish date nights.
What to get: Delicate house-made crepes are re-created seasonally and generously stuffed with fillings like creamy sweet potato and house ricotta.
Drink this: House mixologist Maggie Pierce's English Garden Gin puts a new and improved spin on iced tea with Earl Grey brewed with lavender, mixed with Tanqueray and served over ice with lemon.
Bargain beat: Halcyon's "Grazing" menu offers small, reasonably priced plates perfect for sharing before the theater or after the museum tour. Nibble through exquisite and often local cheeses on the cheese board, which changes daily.
Inside tip: Don't skip the bread. The butter is house made and is infused with inventive flavors like pumpkin or saffron.
235 N. Tryon St.
704-342-1193
harvestmoongrille.com
In the most unorthodox of ways, this simple uptown restaurant has led the local food movement. From a farmers market stand, to a food cart, to an unlikely location off the lobby of a historic hotel, chef and proprietor Cassie Parsons has brought her locally raised goods to Charlotte. Here, the décor isn't fancy and the dishes are simple. But fresh flavors shine through to create delicious dishes.
Don't skip: The pork. It's all from Parsons' Lincoln County farm and is featured in many of the menu's best dishes. When to go: Lunchtime is busy with uptown workers and dinner offers a convivial atmosphere, but breakfast, which is served daily, features freshly baked biscuits with the city's best pork sausage.
Did you know: Almost everything on the menu comes from independently owned farms within 100 miles of Charlotte.
---
1812 South Blvd.
704-332-8830
thelibertycharlotte.com
When longtime local restaurant guys Matthew Pera and Tom Condron announced they'd be opening a gastropub in South End, good things could be anticipated. When they announced they'd serve nineteen craft beers on tap and another sixty by the bottle, good things were a given. But what's become clear since the Liberty's opening is that while beer may be important here, food is the focus. With a menu ranging from soft pretzels to seared scallops, the dishes vary greatly, but are consistently delicious.
While you wait: Soak in the vintage beer posters lining the wall of the bar area as you sip on a locally brewed beer and munch on the light and puffy crisps of the barbecue pork rinds.
What to get: You needn't be an anglophile to fall for the English Fish & Chips. They're prepared by an Englishman (Condron), and served with malt vinegar and hot, crispy fries. They go down especially easy with a pint from one of those nineteen taps.
If only: The servers didn't try so hard to push the burger at lunch. Yes, it is delicious and densely flavored, but the menu offers plenty of better options.
---
214 N. Tryon St.
704-334-9222
luceristorante.net
The host greets you with an Italian accent. With its Murano lights and Venetian plaster, the interior appears to have been snatched from a side street in Rome. And the food? It's flawlessly prepared by Italian Chef Gabriele Grigolon, and tastes as authentically northern Italian as it comes on this side of the Atlantic. Don't skip: The bread. Not for the fresh, crusty concoction itself, but for its olive oil and cannelloni bean accompaniment.
What to get: The buttera pasta features house-made tubular pasta tossed with succulent Italian sausage and sweet peas and smothered in a smooth tomato cream sauce.
The service: Could be the best in town. Servers are charming and helpful, and food consistently arrives with perfect timing and just the right amount of flourish.
When to go: During the week, a two-course lunch is offered for $11.95 and includes most of the pastas as well as meat and seafood offerings. And if you can find a patio table, you'll have plenty of people watching opportunities next to the always-busy entrance of Hearst Tower.
---
1911 Central Ave.
704-376-2242
luludinewine.com
The best seats at this stylishly relaxed Plaza Midwood bungalow are on the shady patio, where on a sunny afternoon you'll find the same relaxed pace as a Parisian sidewalk cafe. On cooler evenings, cozy up next to the fireplace and indulge in the bistro's lavish French fare.
Don't miss: The pomme frites are fresh cut daily and served hot and crispy alongside pungent dips like garlic lemon or goat cheese aioli. What to get: Served with crusty bread for soaking, the tender and plump mussels are drenched in savory sauces.
When to go: Sure, this is a great spot for an intimate date night, but Lulu bustles during its weekend brunch when families and friends pile in for dishes like crème brûlée French toast or eggs Florentine alongside fresh mimosas.
---
511 N. Church St.
704-332-6159
mcninchhouserestaurant.com
You're unlikely to find a more romantic spot in town than this historic Victorian-style home in Fourth Ward. Multicourse dinners are served in hushed candle-lit rooms as classical music softly plays and servers present dishes on fine china. In a place where women are presented with single-stem red roses as parting gifts, this is a dining experience from another era. When it comes to romantic occasions—and carefully constructed meals—it continues to reign as the city's best.
Did you know: For years the only menu here was seven courses. Recently though the restaurant began offering four different menu variations on price-fixed menus—and the chance for those not wishing for a financial hangover the next morning the chance to indulge.
Inside tip: When you call for your reservation (which is mandatory), you'll have the opportunity to share any food allergies or preferences to prepare the restaurant for your arrival.
Time your visit: For a night when the roasted Maple Leaf Farms duck breast with duck confit ragout is on the menu. Topped in a cider-rosemary reduction and served with white cheddar grits, this cool-weather comfort food is executed perfectly.
What to get: While it's expensive, the Chef's Tasting ($109) features ten to twelve expertly chosen—and certain to be memorable—courses by Chef Chris Coleman.
---
3415 Hwy. 51, Fort Mill
803-802-7455
passion8bistro.com
You can be forgiven if you've yet to navigate the industrial area of Fort Mill that hides this four-year-old welcoming restaurant, run by Luca and Jessica Annunziata—but not for long. Jessica runs the front with friendly fervor, and Luca's the chef. He works with more than fifteen local farms to source his menu, which he changes every day.
Expect the unexpected: Farmers will call Luca with what they have, and he'll incorporate it into a dish. The result is often produce you won't find at any other local restaurant.
Don't miss: The menu changes so frequently, it's hard to recommend a single dish. But this fall, Chef Luca has come up with a luscious butternut squash gnocchi that's offset deliciously by crispy pancetta, local chestnuts, and a wild mushroom crema.
Don't trust the GPS: Call ahead for directions.
Customer always wins: The one dish they can't remove or alter is the calamari, served with a sweet jalapeño butter. They tried once and regulars howled.
Look around: Passion8 is located in an old house, and the décor is, um, eclectic. Aim to sit in the front room if you can. Bring a DD: The bar serves up tasty—and stiff—artisanal cocktails. —R. T.
---
6601 Morrison Blvd.
704-366-8688
roosterskitchen.com
Chef Jim Noble may have garnered most of his attention this year from his new nonprofit venture uptown, the Kings Kitchen, but this rustic SouthPark restaurant, with its a la carte offerings and boisterous open kitchen, remains his best in town.
Whom to bring: Someone who doesn't mind sharing. Vegetables come family style and you'll want to order house favorites like the fragrant pan fried corn or bright green garden peas.
Don't miss: The BBQ chicken is fall-off-the-bone tender, and Noble's passion for barbecue is reflected in the tangy house-made sauce.
Inside tip: Sign up for Roosters' email newsletter, which frequently gives details on the restaurant's impressive wine dinners and seasonal offerings.
---
1404 W. Morehead St.
704-334-0098, 704-334-0098
savoronmorehead.com
Despite the fact that this cozy spot on West Morehead is packed most days for lunch and most nights for dinner, it still feels like a well-kept secret. But this restaurant, run by Johnson & Wales grads, is responsible for some of Charlotte's tastiest food.
Don't be fooled: Menu items are written simply, but that belies the amount of flavor in standout Southern-inspired dishes like the grits with shrimp and sausage gravy and the Beef Short Ribs.
Don't miss: Sweet Tea Brined Grilled Pork Tenderloin, topped with peach chutney and served with Cheesy Grits and Drunken Collards. It's Southern and it's fantastic.
If you're in the mood for a burger: You won't be disappointed. Both the eight-ounce ground sirloin burger and the delightful hot mess that is the Adam Bomb (Cajun-rubbed with grilled tomatoes, pepper jack cheese, and roasted red pepper and caramelized onion aioli) are among the city's best.
End with: Savor is perhaps best known for its desserts, with the silky banana pudding and the cobbler (flavor changes but pray for blackberry) as standouts. —R. T.
---
1500-B Central Ave.
704-348-1848
soulgastrolounge.com
With its pulsing nightclub vibe, DJ spinning into the late hours, and always-packed bar, this might not be where you'd expect to find some of the city's best dishes. But Chef Jason Pound's small plates outshine most of those at the city's swankiest spots.
Don't plan: On this being a quick bite. Soul doesn't take reservations, and seating is hard to find—especially considering that most patrons prefer to linger over multiple tapas courses.
Drink this: Absinthe—it's legal stateside now—is served in the classic Czech method, with a liquor-drenched sugar cube set on fire until it melts into the drink. The emerald-green drink offers a robust taste, but it's the presentation that makes it worth the order.
What to get: The sushi comes in fiery jalapeño-spiked varieties like the Soul Roll and features delectable slivers of the fresh fish.
Inside tip: Order the pork belly tacos as soon as you arrive. Made with tender chunks of pork in a sweet Asian glaze and topped with cool watermelon salsa, these tacos are so tasty they often sell out early in the dinner hour.
---
4521 Sharon Rd.
704-442-9525
zebrarestaurant.net
Chef and owner Jim Alexander's French restaurant only continues to get better with age. With a nightly tasting menu, a wine list featuring more than 900 bottles, and savvy servers whose warmth tempts you to invite them to pull up a seat, it seems unlikely to slow down any time soon. Here you'll find contemporary seafood dishes with bright, fresh flavors alongside traditional French fare.
Inside tip: Despite its upscale nature, Zebra is open for breakfast, which means you can enjoy the kitchen's skills and elegant ambience with lower priced-items like omelets and waffles.
Don't skip: The foie gras. It shows up in various dishes throughout the menu and Alexander has its preparation down to a luscious art form.
What to get: The signature angel hair basket features beef tenderloin, lobster, shrimp, and scallops all nestled in a crisp golden tangle of angel hair pasta. While it tends to be messy, it's a creative—and delectable—take on surf-and-turf.
Freebie we'd pay for: Zebra subs the usual after-dinner mints with the check for a small taste of the day's dessert, for example miniature slices from a moist pistachio cake.