Charlotte's Edison Nation is Behind Perfect Bacon Bowl
More than 2 million boxes sold since November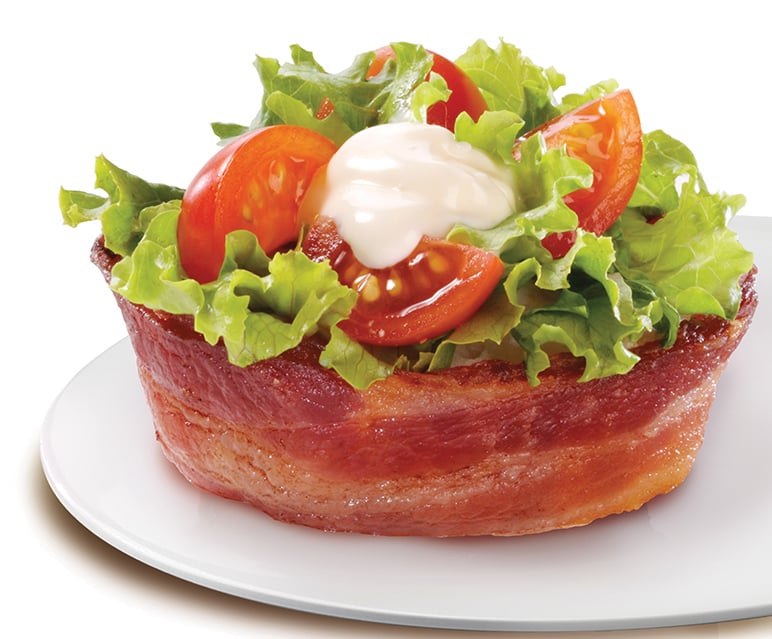 Two years ago, Thom Jensen was cooking breakfast for his family, attempting to make a "bacon turtle," a meal in which he wraps bacon around other food. While weaving the strips of bacon together, he wondered if they might work better in the shape of a bowl. "I put bacon on some upside-down muffin pans and cooked it, and it baked right through the muffin pans," he remembers. "So I tried tin foil, and the grease got everywhere."
Jensen, who lives in Salt Lake City, Utah, works as a research histologist for a hospital but considers himself a "serial inventor." He says he searched online and found plenty of recipes for serving food in or on bacon but no product designed for that purpose.
So he submitted his idea—a pan that shapes bacon into bowls—to Edison Nation, a Charlotte-based company that helps people turn their inventions into marketable products. Jensen had submitted ideas before but hadn't had much luck getting past the company's various approval stages.
The bacon bowl was different. It stood out during one of Edison's live product searches for its "As Seen on TV" division. "Each quarter we'll have between 750 and 2,000 ideas submitted to us," says Todd Stancombe, president of Edison Nation. "We have to take that group of ideas and narrow down to about 50 … and then down to six."
For about a year, staffers at Edison Nation worked on the product's design, development, testing, and marketing research. To make the Perfect Bacon Bowl, they chose a thermoset plastic material created by a manufacturer in rural Mississippi. "It could take high temperatures—you could put it in the oven, the microwave, and the toaster oven," Stancombe says.
Next, Edison filmed a two-minute commercial around Charlotte, with staff members acting out the roles—young men and women chomping on crispy bacon bowls in kitchens and on patios. During the Thanksgiving and Christmas holidays, the ad seemed to appear in every commercial break.
"What you saw probably, over the course of three weeks, was about $3 million spent [on marketing] during those prime holiday weeks," says Anna Curry, director of Edison Nation ASOTV. "It was everywhere, and that was what we wanted."
David Letterman called the bowl "why the rest of the world hates us," and Arsenio Hall endorsed it. "I made chili and put it in the bowl," Hall said on his late-night show. "And then you just eat the damn bowl."
Media outlets also weighed in. "For bacon enthusiasts, this edible invention is user- and palate-friendly," Good Housekeeping said. Good Morning America touted its "endless possibilities." NBC Washington had a viewer test it, and he complained that it was "time-consuming."
More than 2 million boxes of the Perfect Bacon Bowl have been sold since November, Edison Nation says. The TV special was $10 for a set of four bacon bowl molds; since February a box of two molds has been sold at major retailers for $10.99.
Jensen will earn 7.5 percent royalties annually for the next 10 years. He says he's expecting his first big check early next year—further evidence of his invention's popularity.
"The first time I made it for my daughter—who hardly ever gets out of bed on a Saturday morning—I cooked a bacon bowl with hash browns in it and an over-easy egg on top," he says. "She got all excited, and it woke her up."
Check out the promo below.