Here Are 6 Spots Serving Tasty Empanadas in Charlotte
These are the turnovers you need to try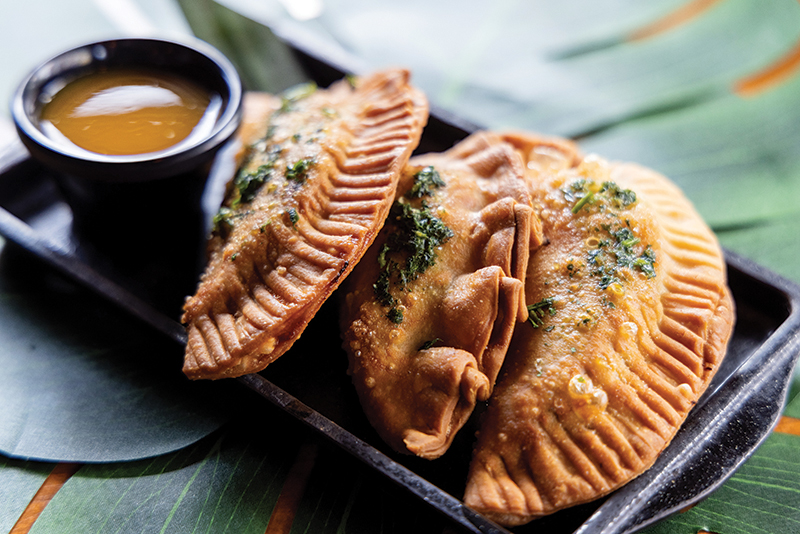 Los Paisas Restaurant
8318 Pineville-Matthews Rd., Ste. 702
This Colombian spot has the distinction of serving the lowest-priced empanadas on the list (at just $1), which is due to the style of empanadas: a snack-sized treat with a cornmeal exterior and beef filling. For the full experience, you should dip them in the Colombian-style ají or the chimichurri. It's quite the versatile menu item, whether you want to load up on them to make a meal or just have one or two on the side.

Roy's Kitchen & Patio
3112 N Davidson St.
These empanadas ($8) come in three different flavors (beef, chicken, chickpea) with three dipping sauces (jerk, tamarind, habanero). These four-bite fried turnovers are all packed with delicious Caribbean seasoning, but the chickpea variety is the sleeper on the menu—so don't discount it as the obligatory vegetarian option.

Sabor
Multiple locations
The empanadas at Sabor come in ground beef, shredded chicken, grilled veggies, chorizo, or barbacoa at $3.95 each. These small turnovers pack a big punch, as solid add-ons to any meal from the Latin street food concept. Take-home DIY kits from Sabor make four empanadas and two arepas, with proteins and a frying oil add-on chosen when ordering.

Manolo's Bakery
4405 Central Ave., Ste. C
Manolo's is known for the desserts, but the spot also has a robust "Hot Foods" menu.  This beloved bakery has a wide array of empanadas: Salvadorian (plantain-filled), Colombian (chicken or beef), guava and cheese, ham and cheese, pineapple, strawberry, cheese, and more. They range between $1.21 to $1.58 in price. 
Felix Empanadas
Optimist Hall, 1115 N. Brevard St.
Options include pulled pork chorizo; steak; chicken; bacon, date, and goat cheese; pepperoni pizza; and cheese pizza—and don't forget a few Nutella banana 'nadas for dessert. The steak and chicken varieties are simplest, with seasoned meat and vegetables folded into a golden, flaky, handheld pocket with a braided edge using a method called repulgue. Have a few mouths to feed? Spring for the dozen empanadas for $35 (individual empanadas cost $3.50; he sells six for $19 and three for $10).

La Caseta
Camp North End, 1801 N. Graham St., Ste. 101
This empanada is one of the most flavorful on the list. The Latin street food recreates entrees from different countries, and this one comes from Argentina. The empanadas at La Caseta are crispy and stuffed with egg, olives, chopped steak, onions, peppers, and spices, with some Chimichurri sauce on the side.