Charlotte's top spots for engagement photo sessions
After the ring is on your finger and you've pinned down the day you'll say "I do," it's time to schedule an engagement session.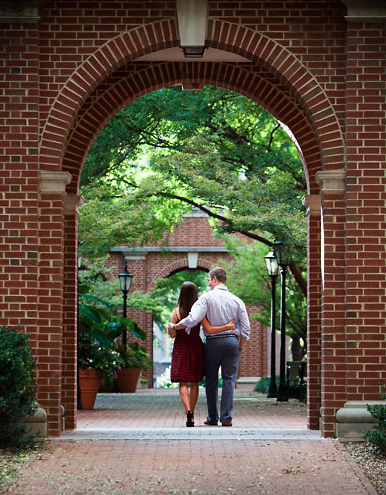 One of my childhood best friends recently got engaged (congratulations Haley!) and, after much deliberation, finally secured a date for the big day. It's her special moment that inspired our latest post.
After the ring is on your finger and you've pinned down the day you'll say "I do," it's time to schedule an engagement session.
It's an often-overlooked piece of the engagement process, but a photography session with you and your husband-to-be will be one of the most cherished pieces of your new life together. We've seen couples opt out of professional photos before to save money only to regret having missed an opportunity to capture their relationship and every day life together. It's worth forking over a few dollars to have a collection of pictures that you'll treasure forever.
And once the big day is over, you'll be thankful you have pictures of you and your spouse in normal, everyday clothes to frame around your house instead of a stack of a thousand formal portraits of you in a wedding gown (yes, we know they could all be framed but it's best to stick to your favorite few).
If you've made the leap and hired an engagement photographer, the first question he or she will ask is, "Where do you want your shoot to take place?" Clueless? We've picked out a few of our favorite spots in Charlotte perfect for capturing your special moment. Get creative! Not all pictures have to be on a blanket in a field.
Uptown Charlotte – We're obsessed with this oh-so-chic shoot by Kristin Vining. She captured the couple looking effortlessly romantic in a big-city way through a series of fun shots Uptown. Have your groom-to-be don a casual linen suit and pair with your favorite fit-and-flare dress. Have a blast skirting around Uptown through the one-way streets and stopping in front of the countless gothic style churches to snap a few shots. You'll feel like Carrie Bradshaw and end up with an array of unique, creative moments.

Kristin Vining Photography
Waxhaw – Drive 45 minutes south of the city and you'll feel like you're in a different time zone as you approach downtown Waxhaw – the gem of Union County. If you and your fiancé are seeking a casual, country feel for your pictures then look no further. Downtown Waxhaw has everything you need for small town glamour, including a rail road track that runs through the center of town, an adorable pedestrian bridge and countless quaint shops and restaurants. Looking for something even more rustic? Leave downtown and you've got an array of farms and fields that make the perfect backdrop.

Valerie Lynn Photography
McGill Rose Garden – Romance, romance, romance. Over 1,000 lushious roses, plants and herbs make up this eclectic garden in the First Ward. When you combine the natural beauty with sculptures, garden art and iron benches it becomes a natural oasis perfect for engagement sessions. If you and your fiancé are looking for a location that's classic, timeless and full of color, you've come to the right place. Spring and summer are best for optimal color as the flora is in it's prime but we've seen lovely fall shoots come out of McGill as well.

Blue Sky Photography
Lake Norman – We feel like this one's a given and almost hesitate to even list it but if you're new to the Charlotte area or haven't ventured out to the lake in a while, there are countless spots perfect for photos. If you're looking for something rustic and natural, take off your shoes and wade in the edges of the water. Want something preppy? Visit the manicured grounds of the Peninsula Club.

The Schultzes