Chasing Jerald Melberg, Charlotte's Wild, Wondrous Art Collector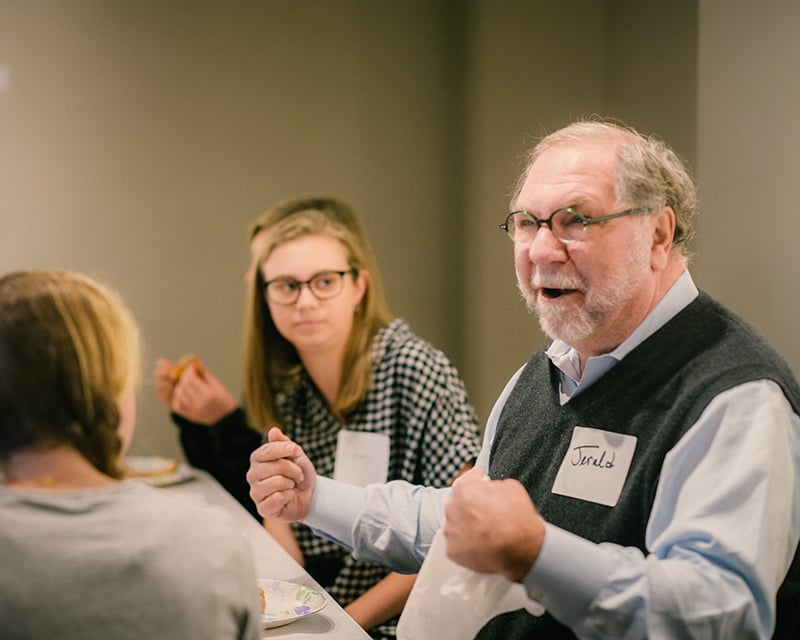 WHEN FAMOUS ARTISTS Romare Bearden, the Charlotte-born collagist for whom the uptown park is named, and Wolf Kahn, a renowned landscape painter, heard that Jerald Melberg planned to open a gallery, they waited for their friend to ask if he could represent them. Of course, Melberg asked, and of course, they said yes. So when the Jerald Melberg Gallery opened 33 years ago in uptown, it had internationally-known works hanging on its walls.
The names got bigger from there. In 1984, Melberg traveled to Geneva to select Picassos from the family's collection to sell here. "Picasso in Charlotte" became the first Pablo Picasso solo exhibition in the state. About a decade ago, the Robert Motherwell Foundation made the Melberg gallery its Southern dealer. And Melberg was asked to be a part of the government program Art in Embassies, loaning work to the U.S. State Department for display around the world.
Stepping through the pristine glass doors into Jerald Melberg Gallery to interview him in late December, I know none of this. I know only of his importance to the arts community in Charlotte, and how little I understand it.
Inside, the gallery has sleek, dark floors that reflect the brilliantly lit pieces of art. Abstract pieces have my mind searching for words I can't quite find. As nerves and shame collide over my lack of knowledge about the art, I hear a big, brilliant voice coming from a hallway behind me. It sounds learned, but also welcoming.
Jerald Melberg invites me to sit down in the room where he shows art from his collection to prospective buyers, and he takes a seat on the far end of a black leather couch he's worn out. He offers me a cup of coffee; I decline. I place my recorder on the table in front of him, giving my reporter's spiel about on and off the record. The 68-year-old with a strip of bald covered by well-placed gray strands on the top of his head, round glasses, and a belly to match, looks at the recorder.
"The hills are alive," he interrupts, with the kind of deep, gutsy singing I've never heard in such a small room, "with the sound of music."
I laugh and shake off thoughts that this man, perhaps the most influential person in art in this city, may judge me for not knowing more about his beloved field. Just in case, I start with a simple question.
"Where did you grow up?"
"I haven't yet."
***
MELBERG JOKES that he spent his formative years in Lake Wobegon, the fictional town in Garrison Keillor's A Prairie Home Companion. It takes a moment to learn the truth behind the joke.
"I take what I do very seriously," he says. "But … there's not a day we don't laugh. I think that's important. A degree of humor is necessary in all parts of life. Is it because if you don't laugh, you'll cry? I don't know. It's because I think we all, to be decent, well-adjusted human beings, and to be decent to one another, have to be willing to laugh at ourselves."
His real hometown is Anoka, Minnesota, the town Keillor based his stories on. It's the Halloween Capital of the World; kids get the day off from school and march in the town's Halloween parade down Main Street. Roy Rogers was once the grand marshal. "You do know who that is?" Melberg asks, as I've failed his quizzes on every artist so far. This guy, I have heard of.
Those days shaped him, Melberg says. He started his own events with the neighborhood kids. They once staged a zoo and charged the kids' parents to come see a collection of the area's finest animals—the families' dogs and cats. Another year, they put on a play.
"I'd like to think that even during my formative years, I was entrepreneurial," he says, then pauses and turns to one of his employees. "A six-syllable word before 11 a.m.—that is serious! Almost didn't know what to do when I finished one hand."
His love of art came later, when Melberg married his first wife, an artist, in the late 1960s. He helped her stretch and frame canvases, then worked to sell them in Greenville, South Carolina. A local gallery owner was looking for someone to run his place and called Melberg. That job led to a position as an assistant at the Greenville County Museum, then director of the Anderson Arts Center in Anderson, South Carolina.
When Charlotte's Mint Museum on Randolph Road was looking for a new curator in the late '70s, Melberg was one of 52 applicants. Three of them were interviewed, and Melberg got the job.
"Still, to this day, as I sit here, I have no idea how or why they hired me, but they did," Melberg says.
In his first seven years at the Mint, he put on expositions such as a Romare Bearden retrospective, a Larry Rivers exhibition from the Hirshhorn Collection, and an Ida Kohlmeyer display. Then, when the Randolph Road Mint made plans to close for an expansion, Melberg decided that he and Charlotte were ready for a fine art gallery. He opened in 1983, at a time when Melberg says there was only one other gallery in town.
He raised $85,000 to open the gallery—and paid back his investors in six months, $14 to every $10 he was given. Notable figures such as Harvey Gantt came to the opening.
Not long after that, two men wandered into the gallery. One of them was interested in a certain piece but hadn't purchased art before. The pair left, and a few days later, Melberg gave the man a call. The painting he liked was the only one that hadn't been sold, Melberg told the man.
The man bought the painting from Melberg that afternoon, and the two of them went across the street for a beer to celebrate. It was the start of a lifelong friendship. The man became a voracious collector. A Picasso fan, he traveled with Melberg to Geneva to select the Picassos that would come to Charlotte for the 1984 exhibition. His interest helped ease the financial burden of hosting such a show; the family required a large, guaranteed commission. "Picasso in Charlotte" ended up selling seven figures in works, and helped give Jerald Melberg Gallery a name in the worldwide art scene. Melberg calls the man, whose name he didn't want to be included in this story, one of his dearest friends, and says he remained so until the gentleman died.
"Sometimes, things happen through hard work, and marketing, and people getting to know who you are," Melberg says. "Sometimes, things happen completely out of the blue. Serendipitously. Six-syllable word!"
That was the case with Robert Motherwell, another heavy-hitting name in the art world. More than a decade ago, a friend visited the Jerald Melberg Gallery for a gathering one night, and while there, made a comment about a Motherwell work leaning up against the wall. That friend was best friends with the president of the Robert Motherwell Foundation, and not long after that, Jerald Melberg Gallery became a representative for the foundation.
***
AT 89 YEARS OLD, Wolf Kahn, one of the most sought-after landscape artists in the world, has worked with Melberg longer than anyone the gallery represents. Galleries swoon over his name. Kahn's memory is becoming spotty with old age, but he recalls one story with vivid detail.
In the early days of owning his own business, Melberg drove a van to New York to visit Kahn's studio and select new artwork for his gallery. He parked the van in a secure garage on 56th Street, but when he came out, he discovered that someone had broken into it and stolen more than a dozen paintings. Kahn remembers what Melberg did next. "He paid me for all of those paintings that were lost, even though he wasn't insured, which I thought was being quite proper, but more than most galleries would (do)," Kahn recalls.
To Melberg, there was no other option.
"It was the thing to do," he says, eyebrows furrowed and voice raised. "It wasn't right or wrong. That's just what you do."
There's no joking when it comes to Melberg's artists.
The gesture, which took years to complete, made an impression on Kahn, who now calls Melberg his lifeline to the South. Kahn has nice things to say about the entire Jerald Melberg Gallery, from the details—every piece is labeled and photographed and sales are recorded immediately for both the gallery and the artist—to the staff, which includes Melberg's wife, Mary. Kahn has worked with Melberg for more than 30 years now.
For Kahn's 75th birthday, Melberg hosted a dinner party at Jerald Melberg Gallery and asked male guests to help with a prank. He sent each of them a bright orange necktie, Kahn's signature. Every one of the men showed up wearing one, except for Kahn. He was wearing a teal tie.
It's another memory that sticks out to Kahn, a moment that shows how Melberg is personally invested in his artists. Tom McNickle, a Pennsylvania-based artist who has been working with Jerald Melberg Gallery for nearly 30 years, recalls a surprise party at the gallery for his 10th solo exhibition there. Friends from Pennsylvania and Charlotte alike were there to celebrate him.
"It's highly unusual in the art business, I think, for a dealer and the artists to become personal friends, because you usually think of this conflict between the artist and the dealer," McNickle says. "And that's never really existed, because I'm perfectly happy letting Jerald do what he does as a dealer. He's more than happy to let me do what I do as an artist."
***
"THIS IS DARTH VADER coming to you from the far side of the moon. Do not respond to this message. We are sending subliminal signals to your brain as you listen."
I've set my recorder on Melberg's desk, and he's decided to have a little fun with it again.
I want to ask him about his legacy, though. First, I ask where he's been traveling. He'd postponed this interview for several weeks, telling me, "I'm in New York," or, "I'm in Palm Beach," or, "I'm in Washington."
He tells me about art fairs, which he attends several times a year, where buyers gather and gallery owners hope to present the right pieces from their holdings. He tells me about the people who try to bargain for a discount, arguing against the curator getting his fair share. Melberg tells me he doesn't like to use his VIC card at Harris Teeter, because he wants to pay his. We talk Wolf Kahn and Romare Bearden, and finally, about his legacy.
"If anything, I'd like to be remembered as knowing what I'm doing, being fair, having the correct knowledge and expertise to convey to my clients, to have taken the visual arts in Charlotte to a different level," Melberg tells me one Friday afternoon in January. As we speak, the works of Raul Diaz, an Argentinian whose paintings on carved wood inspire a desire to journey, are being photographed for the gallery's records. I'd arrived at 2 p.m., and two-and-a-half hours later, just before the Diaz opening reception, I leave with a promise to return on Monday.
When I do, three folding tables covered with paper are set up with chairs in the middle of the gallery. About a dozen students from Charlotte Country Day School will visit to listen to Melberg speak about another legacy.
About 30 years ago, the Charlotte Sister City Committee asked Melberg to help arrange an art exhibit with artists from a sister city in Peru, called Arequipa. He traveled to the city to pick up paintings, which he removed from frames and transported back to Charlotte in two rolls as his checked baggage.
He wasn't anticipating the guilt that came along with them. It was his first up-close experience with true poverty.
"I would walk around the gallery and, out loud, I would say, 'What am I doing? Trying to sell these pieces of canvas that somebody slopped some paint on, when these kids have carrot soup every day?' "
Three or four years later, as Melberg and a group from Charlotte toured the sister city, they stopped at a school built by parents of the students, to be part of a ceremony renaming the school in their honor. Inside the stacked stone building with a tin roof were rows of stone seats, where the kids sat in three-hour shifts with a piece of wood on their laps. The kids left their pencils behind to share with the students in the next shift. Melberg asked everyone in the tour group for money, and he bought pencils and paper for the students. It didn't stop there.
Melberg has led a rebirth of the Charlotte School, using his connections in art to raise funds for improvements. He also gives proceeds of sales in his gallery to the school. Now, the school has been rebuilt, with a technical high school, cafeteria, kitchen, running water, soccer fields, and a library. This month, Melberg will travel there with students from Charlotte County Day School, and with help from Charlotte engineer Dick McCracken, they'll build and install solar panels to power the buildings. Between the technical school and projects such as this, Melberg hopes the kids are learning the skills to have opportunities beyond their parents'.
"We're trying to break the cycle," he says.
This, he says, is his most important legacy.
***
MELBERG JOKES that he strong-arms some of the collectors into donating.
McCracken's first purchase from the gallery was a Wolf Kahn pastel—he and his wife, Yvonne, liked the gray and orange colors in it. They've since added Motherwells and Romare Beardens to their art collection. Now, he's helping with the solar panel installation at a school in Arequipa.
"Jerald is, in the art world, he has been so kind to the community and the museums, that he's got a community around him that supports his initiatives," McCracken says.
Even artists aren't exempt from Melberg's requests for help. Kahn provided a significant donation to help get the kids running water, without any fight; McNickle has been to the school himself—actions that go beyond a simple artist-dealer relationship.
"I'm not a dealer who jumps on something that's real hot, tries to sell it, then abandons it when it gets cold," Melberg says. "I support my artists. … Several of them have been with me since the inception of the gallery, many with me for 20 to 25 years."
That support is not lost on them.
"He has total respect and regard for the art," McNickle says. "He does not sell it like a piece of furniture; he really sells art as art."
Kristen Wile is senior editor for this magazine and editor of Charlotte Home + Garden. Reach her at kristen.wile@charlottemagazine.com or on social media: @kristenwile on Twitter and @kristen_wile on Instagram.