Chefs, kids cook together for charity dinner
Educate Your Palate will benefit Classroom Central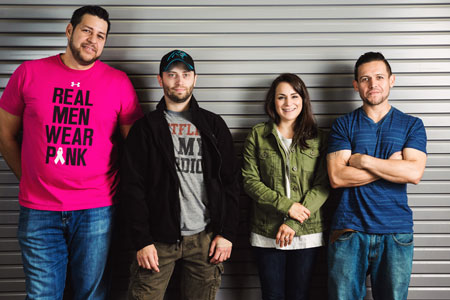 As kids, we tend to see what a family member or role model does and adapt that for our future careers. I wanted to be an orthodontist, like my dad (we didn't have any journalists in the family). Doctors, lawyers, police officers, veterinarians—these are careers kids often come into contact with. But chefs? They're home too late, at their restaurants too much to be the type of person kids meet. Thanks to the Food Network, kids are realizing their passion for food at a young age. As we know, though, what you see on TV isn't always a realistic example of a career.
This Thursday, as a fundraiser for Classroom Central, four area chefs will pair with eight aspiring cooks ranging from third to 12th grade and serve dishes to a crowd of adults. The event is called "Educate Your Palate," and proceeds will go toward the purchase of school supplies for kids in poverty. (Tickets are $125; buy yours here).
But the kids cooking in the event are getting a lot out of it, too. The event has allowed them to spend time in professional kitchens of some of the city's best restaurants, with real life chefs.
Andres Pico, executive sous chef at Customshop, worked with kids in the past as executive chef at Pine Island Country Club. He was happy to give his time to work with children again, especially for a good cause. And he's impressed with the talent his chefs-to-be already had.
"They're way ahead of where I was at that age," he says. "They know exactly what they want to do with their lives. They talked about how skilled they are already. One of them was like, 'I make risotto. I'm really good at it.' The other one makes macaroons. I was blown away."
Pico, who is Ecuadorian, and his chefs will serve a shrimp ceviche at Thursday's event. He wanted to share his heritage with the kids, too. And risotto won't be left out—Pico planned a lunch where three of them made risotto and bread.
Chef Zack Renner, executive chef at the Uptown Rooster's, helped one of his chefs, sixth-grader Jasmine, cook a pasta dinner for her family at the restaurants to help her get a better feel for what it's like to cook in a professional kitchen. For Educate Your Palate, along with 10th-grader Kiarra, they'll make a crème puff with squash filling and pumpkin marshmallow.
Chef Oscar La Fuente and his junior chefs are cooking meatballs with a house-smoked bacon and a chocolate mole sauce. They'll make them in the restaurant's kitchen together. But La Fuente hopes the kids will learn that there's a lot more to being a chef than cooking.
"I want them to get a true experience of how a kitchen is run," he says. "I don't want to sell them something that the Food Network sells. I want them to experience the hard parts, and I want them to see yes, when you're at my level, you don't deal with just cooking, but you deal with broken equipment and all of those things that go toward the daily operation."
The kids got an exercise in the business of food, too, by talking about how much the food costs of the meatballs are, and how much they could sell them for.
Chef Alyssa Gorelick—the namesake of Chef Alyssa's Kitchen, which offers cooking classes in South End's Atherton Market—wasn't a stranger to one of her chefs. Third-grader Evy took part in her kids' cooking classes over the summer, and found out about the application for the event on Chef Alyssa's Kitchen's Instagram account. The kid chefs had to apply and be selected to take part in the event; part of the application was submitting a recipe idea. The winners were then randomly assigned to chefs, and Evy ended up with Chef Alyssa. Their other chef, Madelynn, in ninth grade, is starting to think about college. Alyssa has been a resource for Madelynn, but also her mom, who isn't quite sure what advice to give an aspiring chef.
"(Madelynn's) just seeking out any opportunity she can, to go to CPCC find programs so she can start to learn," Gorelick says. "And her mom was asking me, as she's getting closer to figuring out college and stuff like that, what my path was … what she should be doing, the best way to get to her goals if she wants to be a chef. I think it's a great tool for the kids and their parents to figure out what the business is like and what they really want out of it."
Beyond helping inspire kids to aspire to be chefs in our city, the $125 ticket, which includes cocktails, beer, and wine, will go towards helping the more than 100,000 kids in poverty in six school districts in the area, including Charlotte-Mecklenburg Schools. There will also be a silent auction. The event goes from 6 p.m. to 9:30 p.m. at Discovery Place. Buy tickets here.