Chefs Share The Most Heartfelt Meals They've Cooked
Specifically, ones they've cooked for loved ones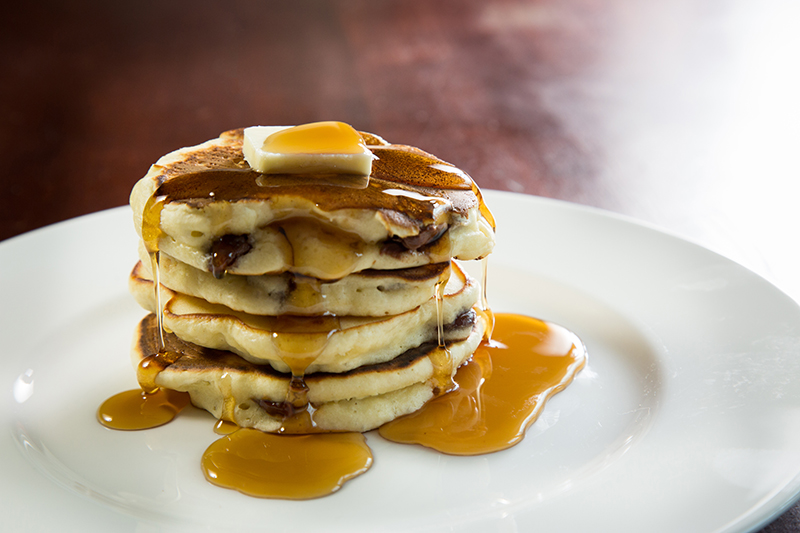 Jossie Perlmutter
Pastry chef at The Asbury
Her meal: Breakfast in bed for her boyfriend, Tim, of chocolate chip pancakes with a sugared strawberry topping and a side of breakfast sausage.
Why it matters: "Sunday mornings sometimes he sleeps in, so I'll try to wake him up with chocolate chip pancakes on occasion. It always makes him happy. … Sunday is our day, because it's the only day we both have off."
---
Thomas Marlow
Executive chef at Mimosa Grill
His meal: A simple steak for his girlfriend, Allie.
Why it mattered: "Just coming home early, unexpectedly, and having two nice steaks, and preparing them exactly how she would like them to be—real simple. When I look back and think of the really nice times that we've had together, it's really just simple stuff, because we're both super-busy. We're both young, we're both trying to make the best of our careers, and just coming home and cooking a filet on the grill with blue cheese on it and grilling asparagus and roasted potatoes, and really taking that time to connect, really helps us."
---
Cody Suddreth
Executive chef, King's Kitchen
His meal: Southern comfort food for his European wife, who grew up in Lyon, France.
Why it mattered: "When I first met her, we were kind of introducing our cultures to each other—her European culture, and my American, Southern culture. I cooked her collard greens and peas and barbecue and livermush. … Lyon is [a good] comparison to the South, and maybe Atlanta. They use everything they can use to cook food, and waste not, want not, down there in Lyon. It's the same way in the South. For her, she really felt like she was at home with me."
---
Trey Wilson
Owner/executive chef at Customshop
His meal: Pit-roasted deer and pig, served with vegetables picked Thanksgiving morning at his girlfriend's 110-acre family farm in Charleston. Wilson's two sons; his beekeeper girlfriend, Michelle Graham; her father, Don; Customshop Sous Chef Andres Pico; and Chef Victor Soler with Delectables by Holly helped gather the ingredients.
Why it mattered: "[Andres and Victor]—one's from Puerto Rico and one's from Ecuador, so they don't have any family here. So every holiday, they come with me and we do a fun thing. … We all went out and picked our food for the day, basically. … [My girlfriend's father] had some collards, he's doing broccoli, and he's doing all different kinds of potatoes. We had everything right there."
---
Blake Hartwick
Executive chef at Bonterra
His meal: A surprise 70th birthday dinner for his mom this past Thanksgiving that included mushroom and sausage bread pudding, smoked and glazed ham, green beans, brussels sprouts, and personal chocolate cakes—all cooked in an hour and a half.
Why it mattered: "My dad's like, 'How are you going to do this, son?' And I'm like, 'Dad, this is nothing, trust me.'… I've done a thousand caterings, I can do it, just believe in me. It was really cool, the short amount of time, plus my four-and-a-half-year-old daughter [Katelyn] being with me. She really likes to help. … [My mother] didn't step foot in the kitchen at all. That was the most important thing, because it was Thanksgiving and it was her birthday. … When she walked in, it startled her, then she got emotional."
---
This article appears in the February 2016 issue of Charlotte Magazine
Did you like what you read here? Subscribe to Charlotte Magazine »
---