Cheryl Luckett's Furniture Collection Celebrates Southern Sisterhood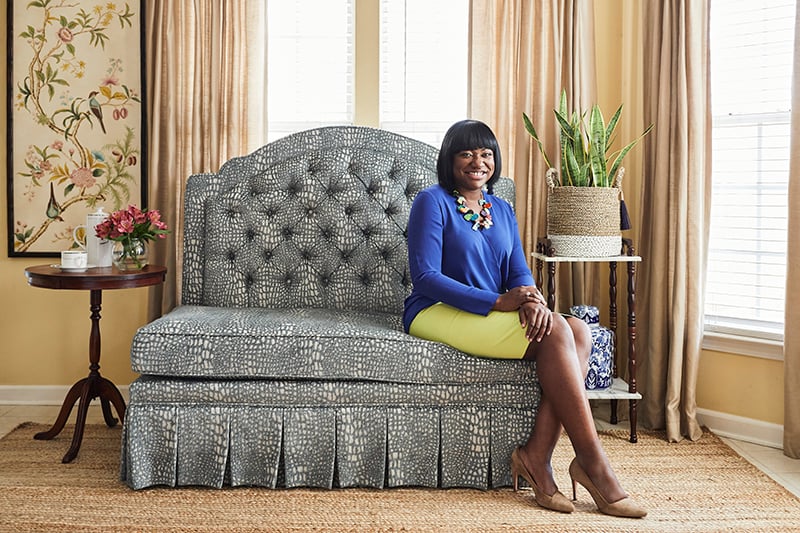 CHERYL LUCKETT'S FURNITURE reads like a diary. Each of the five pieces she designed for The Belle collection is a chapter inspired by the people and places she has known throughout her life in the South.
The Ivy is a French-inspired settee that points to her membership in Alpha Kappa Alpha, the oldest black female sorority. The Cumberland settee is named for the Cumberland's fertile shore at Tennessee State University in Nashville, where she fell in love with design. The Magnolia banquette is a tribute to her home state of Mississippi, the Park table references the name of her church in Charlotte, and the Anderson banquette pays homage to her maternal grandparents and the Sunday afternoons her family spent gathered around the table for post-worship feasts.
The Belle by Cheryl Luckett collection, which debuted at High Point Market last fall, presents Luckett's bold color choices—fuchsia, turquoise, chartreuse—and an array of patterns from florals and geometrics to animal prints. The presentation is unapologetically opulent, but the silhouettes are timeless. "These pieces are very versatile, and they can be customized," she says. "You can remove the skirts, or add or remove tufts to change the look. The designer has a lot of leeway to create their own piece."
A native of Gulfport, Mississippi, Luckett says the grandeur of life in the South always inspired her. Prospective students at Tennessee State would pass through her dorm room, awarded "Best Decorated," during campus tours. Still, it took another two decades before she pursued interior design as a career.
For 15 years, design was her side hustle while she worked at Compass Group as a dietician and, later, in human resources. She took interior design classes at Central Piedmont Community College and worked on design projects when time allowed. Then she found a mentor in Rachel Sutherland, a former Charlotte Observer style editor who launched a public relations company that worked with clients like the Habitat for Humanity ReStores. Sutherland hired Luckett to promote Habitat ReStores, a job that introduced her to the old, solidly constructed furniture that ReStores sell at a fraction of the retail price.
"I would buy old pieces and reupholster them," Luckett recalls. "That became a signature. It's why I go for things that are timeless. I'm pulling cues from pieces I've used over the years and re-envisioning them for a more modern aesthetic."
In January 2017, she quit her job at Compass Group to run her interior design business, Dwell by Cheryl.
She had always posted on social media about her business, often including proverbs, psalms, and personal stories about her journey and faith with her followers. It caught the attention of Sylvester Alexander, a family-owned Hickory furniture company that sought a design partner for a licensed line. "They're a minority-owned business, so it was a really good match," says Luckett, who is African-American. "I think that's so important, teaming up with manufacturers and designers from all different backgrounds."
Finding the right fabric designs, she says, was "a bit of an epiphany. I knew I wanted colorful fabrics. I went to some big brands first, then thought of my design friends. If I could get them to jibe, it would benefit them, too."
Her debut collection showcases fabric from Southern designers Kim Hoegger and Denise McGaha, and Charlotte-based abstract artist Windy O'Connor. Because Luckett was already a brand ambassador for Revolution Performance Fabrics, she recruited that company as well. "I wanted to bring them into the fold because they're a North Carolina-based company and family-owned," she says. "They're all industry folks who gave me a lot of leverage."
Today, the collection is available to the trade through Sylvester Alexander and to the public through Luckett's website. Priced between $1,500 and $2,500 each, "they're not huge investment pieces," she says, "but it's still well-made, custom furniture. It's American-made, so you pay for that, but it's quality."
She's interested in designing a line of textiles, and she's open to partnering with other manufacturers as she grows her brand. Luckett says she loves the versatility of upholstered pieces because she can continue to introduce new fabrics for a completely different look. "It's amazing to see something that was in your head, in someone's house," she says. "It's creating something from nothing. After this collection, I feel like I birthed five kids."
---
The Belle by Cheryl Luckett Collection
$1,500-$2,500