Chickadee's Cafe Open in Elizabeth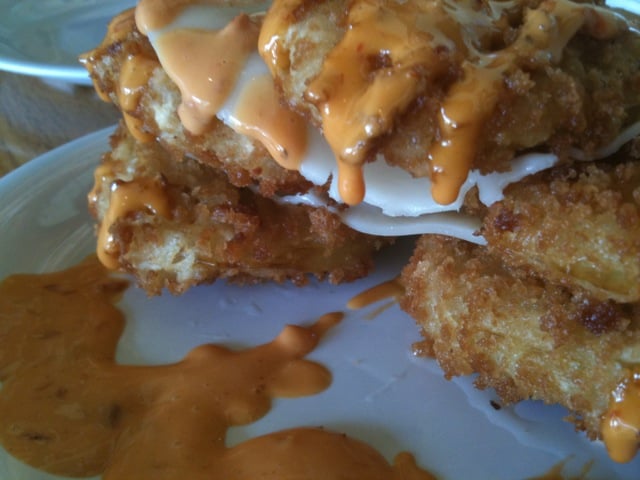 Charlotte old timers will say it's in the old Anderson's space. Newcomers will likely refer to it as being in the old Elizabeth Starbucks' spot. Regardless, the new Chickadee's Cafe on Elizabeth Avenue has arrived.
The bright restaurant offers deli sandwiches and casual fare, making it the perfect spot for a quick lunch for nearby hospital workers. (When I visited almost a third of the dining room was wearing scrubs.) Plus, you can place orders to go, which a long line at the counter indicated was a popular option. But if you do choose to dine in, expect friendly servers in an airy atmosphere complete with light oak tables, tile floors, and walls dotted with Charlotte art.
The menu has a few unexpected—and tasty—options like these pictured fried green tomatoes layered with melted provolone and drizzled in a spicy aioli. There's also a burger called "The Heart Stopper," which features fried cheese, fried pickles, fried green tomatoes, chili, french fries, and onion rings— and makes you glad you're only a block from Presbyterian's emergency room. Perhaps the most interesting offering though is the "Beast of the East." It's a burger topped with hot chili, hot sauce, jalapenos, and pepper jack cheese. You have to sign a waiver to eat it, but if you finish, you get a t-shirt.
For the cafe's full menu, check out its Facebook page. Chickadee's is located at 1617 Elizabeth Avenue.