Cinco de Mayo Parties in Charlotte
In a week where we're celebrating our military triumph, it's also time for the annual celebration of the Mexican army's victory from nearly 150 years ago, a.k.a the day to drink plenty of tequila and Corona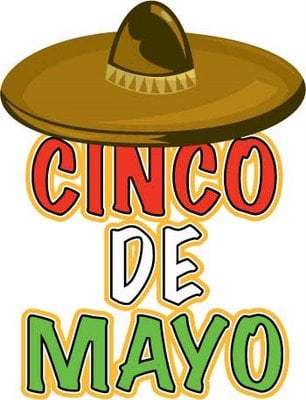 Wednesday, May 4
Countdown to Cinco Bar Crawl
The EpiCentre is transformed into "EpiCinco" as several of its venues open their doors for a festive bar crawl. There will be a live mariachi band all night, Corona girls, and plenty of prize giveaways including iPad2's, Kenny Chesney concert tickets, and a grand prize trip for two to Mexico. Bar crawl schedule is as follows: 5-6 p.m., Vida Cantina; 6-7 p.m., Blackfinn; 7-8 p.m., Wild Wing Café; 8-9 p.m., StrikeCity; 9-10 p.m., Howl at the Moon; 10-11 p.m., Whisky River; 11 p.m.-2 a.m., Suite. Presented by Carolina Nightlife. Free admission. EpiCentre, 210 E. Trade St., epicentrenc.com.
Cinco Le Bang
Dharma's weekly party goes south of the border, featuring piñatas, free moustaches, and a stripper pole (not sure how that last one relates). There will be plenty of drink specials and a free keg. And music by guest DJ from Philadelphia, Flufftronix. 10 p.m. Free for ages 21 and up; $5 for 18 and up. Dharma Lounge, 1440 S. Tryon St. dharmacharlotte.com.
Thursday, May 5
Cinco de Mayo
Cinco de Mayo Taco Smash
This event will feature local celebrities and city officials competing in a taco-eating contest, sponsored by Salsarita's, to help raise funds for Charlotte Mecklenburg Middle School Sports and The M2 Foundation. Mascots from local colleges and the Charlotte Bobcats as well as the Charlotte Checkers cheerleaders will cheer them on. And WFNZ's Bustin' Loose with Frank and Moose show will broadcast live from the event. 12-3 p.m. $5. The Square, corner of Trade and Tryon Streets in uptown.
Cinco de Mayo at EpiCentre
Alive After Five begins its run at the EpiCentre after spending the first month at Wells Fargo Plaza. Live music by Jesse's Girls on the Bud Light Stage at Pavilion, and Alternate Take on the Courtyard Stage on the main level. Several of the EpiCentre's venues are getting into the Mexican holiday mood: Latin rock band Peralta will perform at Wild Wing Café; $3 Corona and $4 Jose Cuervo shots at Whisky River; piñata bashing at Mortimer's Café & Pub; and more. 5 p.m. EpiCentre, 210 E. Trade St., epicentrenc.com.
Cinco de Mayo at Loft
The bar with one of the best patios and views of the city is serving $5 margaritas, $4 Coronas, and $3 tequila shots. A portion of the bar proceeds will go to the American Red Cross to assist the recent tornado and storm victims. Music by DJ Soden. 6 p.m. Free. Loft 1523, 1523 Elizabeth Ave. loft1523.com.
Cinco de Mayo at Butter
This party will feature a Kill the Keg on the outdoor patio as well as a mariachi band. It's also a celebration for DJ Dimitry's birthday. Drink specials include $3 imported beer from Mexico, $3 tequila shots, and $5 margaritas. 10 p.m. Butter NC, 950 Seaboard St., inside NC Music Factory, buttercharlotte.com.
Corona Extra Cinco de Mayo Festival (May 5-7)
This first-year festival spans three days and will feature fun for the whole family. Entertainment includes national and regional musical acts, carnival rides, a children's petting zoo, pony rides, and a variety of authentic Mexican food and merchandise vendors. May 5 and 6, 3-11 p.m.; May 7, 10 a.m.-11 p.m. Concord Motor Speedway Park, 7940 U.S. Hwy. 601 South, Concord, cincodemayoconcord.com.