Color, Whimsy Inside Home of Amélie's Designer Brenda Ische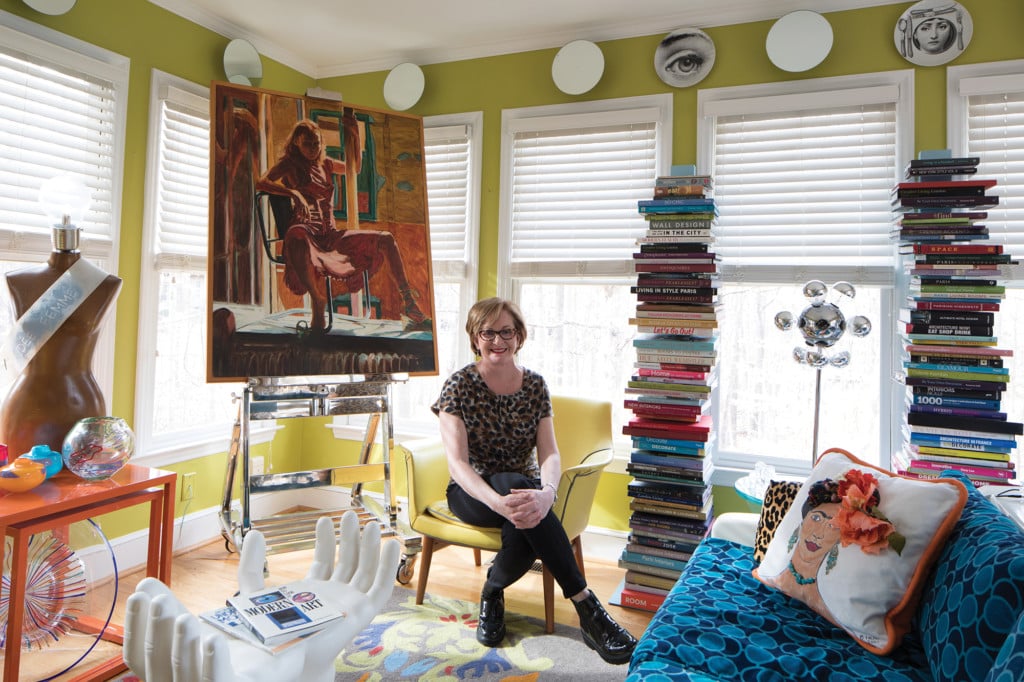 FROM THE OUTSIDE, Brenda Ische's traditional two-story brick home with taupe shutters could be any other in her south Charlotte neighborhood. But on the inside, all convention is abandoned. Color rules, nothing matches, and almost everything has been repurposed—from the brown metal Army desk, powder-coated a cornflower blue with black-and-white stripes on top, to the 1960s fiberglass sofa ($50 at Habitat ReStore), with cushions covered in a modern Jonathan Adler fabric.
It's everything you'd expect from the creative force behind the eclectic interiors at Amélie's French Bakery, of which Ische is a partner. A former flight attendant for US Airways with an art degree—she's primarily a self-taught artist—Ische had always done design work on the side.
When she first saw the original Amélie's space in NoDa in 2008, then a single room, the walls were painted eggplant and mustard yellow with black chair rail. The owners imagined standard-issue restaurant tables and chairs, but the designer had a more inspired vision. "I said, 'I have some ideas,'" Ische remembers.
Amélie's signature décor—creatively upcycled furniture, fanciful lighting fixtures, oversized picture frames, and tongue-in-cheek design flourishes—is as integral to the brand's appeal as its salted caramel brownies and French macarons. Ische has deemed the look "Alice in Wonderland meets Marie Antoinette."
The designer is as much a mistress of thrift and whimsy when tackling her home. "One challenge I really love is working with a tight budget," Ische says. "It forces me to be creative. And I love to keep things out of the landfill." Her design philosophy: Everything is something else.
To outfit the growing number of cafés (up to six and counting), Ische is on the hunt a couple of times a week at salvage sites and thrift shops such as ReStore. That's where she spotted an entire castoff custom kitchen with Sub-Zero and GE Monogram appliances that she snagged for a song. She painted the antique beige cabinetry white, but added splashes of color and commissioned 3-D white "origami" backsplash tiles from New York's Urban Archaeology. The refrigerator door handles are small climbing figures bought on eBay. The kitchen desk, an outsized diorama, is outlined by an ornate frame and populated with objects both eye-catching and useful—a glass shelf and catchall drawer, art, and a clock she crafted from a trio of Campbell's soup cans.
In the gallery-like living room, a Van Gogh self-portrait (with a bandage mischievously taped on his ear) and paintings retrieved from an art school dumpster share the densely covered walls with original works by Alexander Calder and Xavier Cugat. Other serious art, including sketches by Salvador Dali and Alberto Vargas, reside in other rooms. Photos and mementos are everywhere—her husband Larry's hospital bill from the day he was born; a deco figurine awarded to her grandmother for perfect Sunday school attendance in 1905—attesting to cherished family connections.
"Some people say, 'I couldn't live with all this stimulation,'" Ische confesses. "But to me, it's soothing, and it makes me happy."
At home, Ische is not constrained by the Amélie's palette of Wedgewood blue, tomato red, and buttery yellow. The recently reimagined master bedroom is awash in poppies and blooms that extend to the bathroom wallpaper. The floral scheme is punctuated by black-and-white stripes and animal prints, other common motifs. The comfortable room is a study as much in textures as colors, with its red shag rug, velvet settee, and window cornices, and a headboard assembled from needlepoint cushions.
Color and personality also abound in Ische's window-filled office. Look closely, and you'll spot a pair of real earrings on her Frida Kahlo pillow. Chartreuse walls are the backdrop for red, green, and yellow retro furniture pieces and a striking translucent étagère displaying part of her extensive glasswork collection. Narrow, vertical bookshelves between the windows offer easy access to her art and design books.
As at Amélie's, there are no ordinary lamps to be found. Every light fixture—from the mannequin lamp in her office to jewel-toned chandeliers festooned with blue flocking—are unique works of art. A pair of madcap floor lamps she made for Maya Angelou's 83rd birthday party, stacking colorful vessels, a beefy clock face, and vintage plates atop a metal column base, are a particular favorite.
The fun doesn't stop there. Even Ische's halls and bathrooms are quirkily curated. "It's like play when I'm designing," she admits. "I feel like I'm at summer camp during craft time."