Coming Home
After four years, three states, and countless struggles, one couple is finally married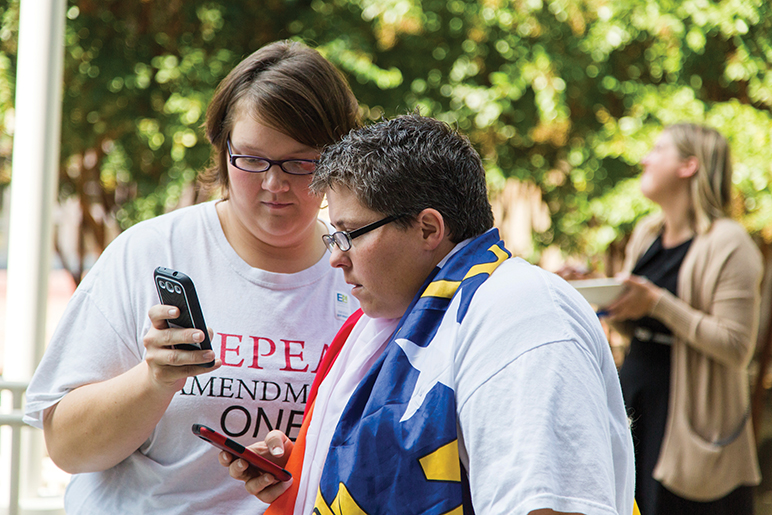 SAME-SEX MARRIAGE became legal in North Carolina on October 10, and in Mecklenburg County, couples lined up for marriage licenses at the Register of Deeds the following Monday. There were public ceremonies on the office's front steps. Brandi and Ashley Morris served as guests for most of the weddings that day. The two women wanted to help other couples celebrate while marking the end of their four-year journey to have their marriage recognized by the state they call home. Brandi shares their story:
We are both from Hartvsille, South Carolina, but I was already living in Charlotte when I first met Ashley. We discovered each other using the dating site PlentyOfFish. Our journey to marriage began after a couple of years of dating.
The first part was a [2010] ceremony here in Charlotte. There wasn't anything official; we didn't have any pieces of paper or anything like that. We knew it was just for us. In our hearts, we were married. But to be legally married just seemed far in the distant future. And then Amendment One came [defining marriage, in the North Carolina constitution, as a union between one man and one woman]. It was terrible. In 2012, I just remember being in the car that day, feeling devastated.
And then the very next day, President Obama went on ABC News and said that he supports marriage equality. That really changed things. We started to feel more positive about it. When a sitting president comes out in support—I believe that has a lot to do with the progress of marriage equality. Things started to feel like they were moving. In 2013, when DOMA [the federal Defense of Marriage Act] was overturned, we had to drive to the nearest state with marriage equality, Maryland. We knew we would drive home with some federal protection, but it wasn't complete. We still weren't recognized in our home state.
And when the [U.S.] Supreme Court made their recent decision [on October 6, not to hear cases seeking to uphold state bans on same-sex marriage], I remember feeling confused. It's like we won without winning. But either way, our four-and-a-half year journey came to a close. It was like putting a tack on our marriage. It definitely felt different when we crossed the border into South Carolina to see my grandparents this week, leaving our marriage-equality state.
Back in my high school years, my dad was the only person in my family who supported me. But by the time I met Ashley, they had all come around. Nobody in Ashley's family is supportive, though. They know who I am, but they won't even meet me. They have some deep-seated religion. I'm not saying anyone who is religious has those issues at all. But if there is a scale, they're at the bottom of that.
I wouldn't say everyone back home feels that way. My grandmother and grandfather who are Mormon—I mean, they're 88 and 86—they are completely accepting. We visited them the other day, and we were sitting with them in the kitchen. I said to my grandmother, "I can't tell you how much I appreciate this. Just us being able to sit here married with you. Just to come here and feel normal." And she said, "I've loved you since the day you were born. Nothing will ever, ever change that." It's amazing how people can be different.
But it's still kind of setting in. And when we came back to North Carolina this week, for the first time, it felt like coming home safely. —As told to Andy Smith