Competition Dining Cook-off Week 2 Roundup
Three chefs advance into second round this week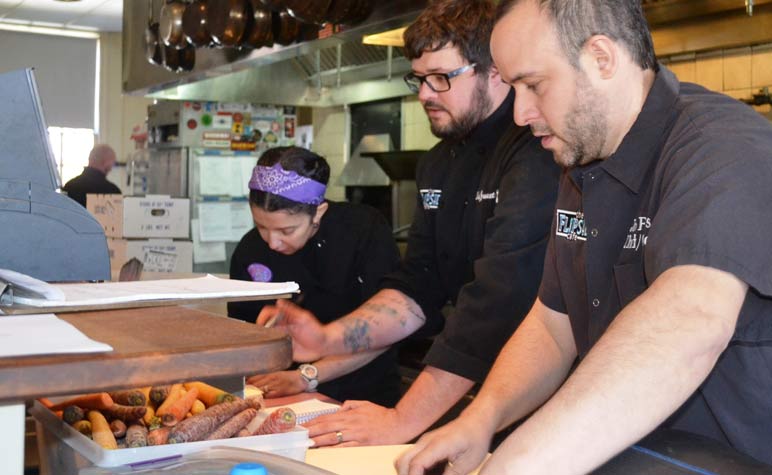 Battles of the second bracket in the Got to be NC Competition Dining Series took place this week, wrapping up in a close call between Aaron Rivera of Tapas 51 and Neil Bratton of Local Dish. If you're unfamiliar with the contest, it brings together chefs from the Charlotte area to a bracket-style cooking competition. Chefs cook three dishes, and each dish is judged blindly by the audience and three chef judges. The winning chefs advance to the next round, and the Charlotte champion will move on to battle against the winning chefs in the Triangle and Triad. See the full event schedule and buy tickets here.
This is how the last week played out:
Sunday, March 29:
Chefs: Joe Cornett of The Flipside Café vs. Jon Ernst of Café Monte French Bakery and Bistro
Surprise ingredient: Rosemary Pete's Beets & Carrots
Audience pick: Cornett (30.852) over Ernst (27.895)
Pro pick: Cornett (31.333) over Ernst (26.000)
Advancing: Cornett, with a score of 30.99672131 to Ernst's 27.32679739
Cornett's highest-scoring dish of the night (pictured right): Harissa-Bourbon Barrel Smoked Salt Lamb Loin, Rosemary Pete's Beet-Carrot Ravioli, Carrot-Verjus Butter, Benton's Bacon Confit, Lamb-Beef Reduction (weighted score: 36.394)
Monday, March 30:
Chefs: Mike Suppa of Vivace vs. Melissa Joy Claude of Joy Bistro
Surprise ingredient: NC Chicken Eggs
Audience pick: Suppa (29.923) over Claude (27.256)
Pro pick: Suppa (27.256) over Claude (22.889)
Advancing: Suppa, with a score of 29.67925608 to Claude's 25.94615385
Suppa's highest-scoring dish of the night: Scott Farms Sweet Potato Bisque, Olive Oil Poached NC Egg Yolk, Benton's Bacon Gastrique, Crispy Mushroom Salad, Pickled Red Onion (weighted score: 32.359)
Tuesday, March 31:
Chefs: Aaron Rivera of Tapas 51 vs. Neil Bratton of Local Dish
Surprise ingredients: Joyce Farms Rabbit and Windcrest Farm Radishes
Audience pick: Bratton (29.685) over Rivera (28.019)
Pro pick: Bratton (24.333) over Rivera (22.917)
Advancing: Bratton, with a score of 28.07981221 to Rivera's 26.48808411
Bratton's highest-scoring dish of the night (pictured right): Joyce Farms Rabbit Ravioli, Acorn Squash-Butternut Squash Bisque, Benton's Bacon Crouton, Crispy Windcrest Farm Radish Leaves (weighted score: 31.046)
Chef Cornett will take on Chris Coleman of The Asbury, who had a first-round bye, in the quarter-finals on April 19. Chef Suppa is up against Heirloom's Clark Barlowe on April 20, and Block & Grinder's Ben Philpott will cook against Chef Bratton. The Summit Room's Brent Martin and Lexington Avenue Brewery's Michael Fisera will be in the kitchen with the winners of the remaining to preliminary round contests, which will take place on Monday and Tuesday with Bank of America Stadium against The Cypress and Dogwood facing The Mandrake.