Creative Loafing's Sudden, Shocking Demise
Ax comes down hard and fast for Charlotte's only alt-weekly newspaper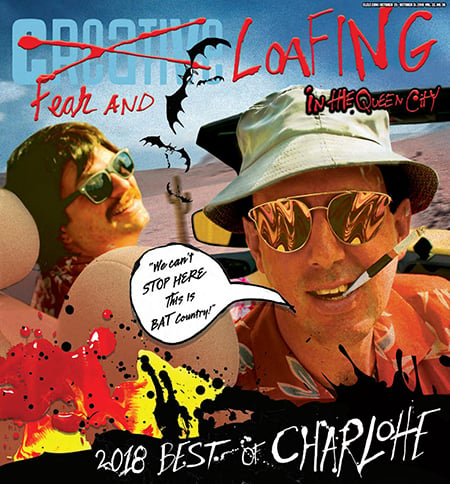 Ryan Pitkin, the editor in chief of Charlotte's lone alt-weekly newspaper, Creative Loafing, received an email Tuesday night from the paper's publisher, Charles Womack III. Wednesdays are production days for the paper, which begins circulating in newsstands and kiosks on Thursdays. The email's message was blunt: Make sure you're finished with production by noon.
"That was a little weird," Pitkin said. "We usually go a little bit past noon." Pitkin joined the CL staff as news editor in July 2015 and was named editor three months ago after former editor Mark Kemp was suddenly dismissed. Going past noon had never been an issue.
At about 12:05, Pitkin said, Womack, who lives and works in Greensboro, knocked on the door. The staff of seven—four in editorial, three in sales—wasn't expecting him. Womack told them to gather in an office. He informed them that his company, Womack Newspapers, Inc., was shutting the paper down, effective immediately. The paper they had just put to bed would be the last Creative Loafing, a year after it had celebrated its 30th anniversary.
"What does this mean for us, for our jobs?" asked Dana Vindigni-Guedes, the art director. "Does this mean we don't have jobs?"
"Yes," Womack responded. "That's what it means." He gave staff five minutes to pack their things and leave. "He said, 'I've got people coming in to move stuff,'" Pitkin said.
Pitkin and I spoke by phone at about 2:30 p.m., a little more than an hour after he had tweeted out the bad news: "Everyone out of work. No severance. No nothing. It's been real." The editorial staff repaired to Solstice Tavern, near Pitkin's home in NoDa, to drink and commiserate. One of them, associate editor Courtney Mihocik, had left a job and boyfriend in Ohio three months ago to join the staff after Pitkin took over as editor. "Now she's got nothing," he said. "I'm contemplating leaving Charlotte. I do not have a backup plan at all."
I've got some horrible news, our publisher Charles Womack waited until we went to print today then shut down the whole paper after 31 years just like that. Everyone out of work. No severance. No nothing. It's been real.

— Ryan Pitkin (@pitkin_ryan) October 31, 2018
In the meantime, CL's parent company had released its official explanation: Womack was selling the paper to his son, Alex Womack, 28, and his company, Womack Digital LLC, which "is changing the business into a digital first multimedia company." The release did not detail exactly what the new product would look like or how its content or mission might differ from CL, or whether the new company would keep a version of the name. "The media industry is moving fast and furious into the digital age," the elder Womack said in the release, "and that is where Creative Loafing needs to be."
Pitkin had seen the statement by the time we spoke. He responded this way: "That's the most ridiculous fucking thing I've ever read." (The release included Alex Womack's email address as a contact "for more information"; he has not yet responded to an email request for comment.)
The demise of the paper, affectionately referred to as "the Loaf" by readers and staffers, leaves a notable gap in a local media ecosystem that continues to wither even as the city booms. CL, like most alt-weekly papers in big cities throughout the country, occupied an editorial and advertising niche that catered to the young and cutting-edge, highlighting the arts, underground culture, and local politics with a liberal—pun intended—garnish of snark and attitude.
Yet the migration of advertising dollars to online platforms—the phenomenon that's devastated daily newspapers over the past decade—has all but destroyed traditionally cash-strapped alt-weeklies. The Village Voice in New York City, the alt-weekly flagship brand, ceased publication Aug. 31 after a series of ownership changes and the execution of its print edition. Since 2013, similar papers in Baltimore, Philadelphia, San Francisco, Washington, and Boston have folded.
"The alt-weekly sunset has many causes," Jack Shafer wrote in Politico magazine in December. "The record shops and bookstores, the ones that reliably advertised in alt-weekly pages, have mostly vanished, as have many local retailers and service providers. Once the lowest-cost advertising vehicle in many cities, alt-weeklies have lost that status to Web advertising, most notably in the classified ads and personals categories, where the mass migration from print to online has sapped all newspapers, alt-weeklies and dailies alike. Once the untouchable authority for what to do in the city, the alt-weeklies were long ago eclipsed by the mobile phone."
Creative Loafing was founded in Atlanta in 1972 as a kind of southeastern version of the Voice, eventually expanding to Tampa and Sarasota, Florida, along with Charlotte. But the company declared bankruptcy in 2008 and had sold all its publications by 2012. Womack's company bought the Charlotte CL from SouthComm Inc. in 2014, and quickly began cutting costs and assets; Pitkin told me Womack had recently been pressuring him to cut its freelance budget, an essential tool for publications with only a few full-time staff members.
But Pitkin, 32, was used to operating on a shoestring. It fit the the spit-in-your-eye Loaf attitude—its motto was "Shelter From the Mainstream"—that made Pitkin a fan even before he began writing for the paper in 2008. He moved to Charlotte as a child with his family in 1995. "I grew up reading Creative Loafing. I just thought it was the coolest thing," he said. "I've always loved it. So this just breaks my heart."