Curated Cuisine at Halcyon Flavors From the Earth
The new restaurant in the city's most well known museum offers farm fresh dishes in a sophisticated setting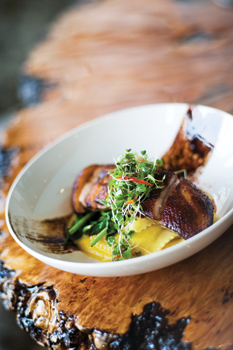 Before Halcyon, Flavors from the Earth even opened last fall, the uptown restaurant had already set the bar high for expectations. First, there's its semi-pretentious name, complete with a comma and a reference to Greek mythology. Then, there's the fact that it's in the new Levine Center for the Arts—and in a prime location, just off the entrance to the Mint. Plus, it has the same owners as the popular local catering and café company Something Classic. And at the helm in the restaurant's kitchen is Marc Jacksina, a chef whose creative dishes have received praise since he was at Plaza Midwood's Lulu and who has promised to bring local, seasonal ingredients to Halcyon's menu. But Halcyon surpasses those expectations with chic décor, a true farm-to-table menu, and a modern dining experience unlike anything else offered uptown.
The restaurant isn't large—in fact, almost the entire space can be seen in one glance from the entrance. But floor-to-ceiling two-story windows covering most of two walls gives it an open, breathable feeling. The windows offer views past Halcyon's patio to Nikki Saint Phalle's sparkling Firebird and The Green across the street. Pale blue walls contrast well with deep chocolate tones in the rustic tables, created using maple wood by artist Gary Marcus, who is married to Something Classic's Jill Marcus. With a trickling stone fountain in the center and chandeliers made from twigs, the space feels earthy and organic, the kind of place that is at once both elegant and comfortable.
Menus come attached to wood cutting boards, and while the idea is clever, the menus are also cumbersome. It's unlikely, though, that you'll spend much time with them, as each one is simple and only one page. The menus change seasonally, and the restaurant offers weekend brunch, weekday lunch, and dinner (Tuesday through Saturday), as well as what they call "grazing." The grazing menu is offered from 3 to 5 p.m. and then as an appetizer menu at dinner, making it perfect for those looking for lighter choices with a glass of wine before a show at the adjacent Knight Theater, or perhaps for a snack after a tour of the Mint.
The grazing menu features complex dishes like a calamari salad ($9) with cold noodles of calamari tossed in a peppery citrus sauce and garnished with olive tapenade, and mushroom chèvre crêpes ($9), delicate crêpes stuffed with tender mushrooms and goat cheese. But some of the best choices from the grazing menu may be the most simple. An olive bowl ($5) comes piled high with seasonal olives slippery in their oil; crusty fresh bread is accompanied by house-made butter in flavors like orange saffron and honey-lemon thyme; and a cheese board features local and artisanal cheeses like a heady gorgonzola, perfect for pairing with one of the more than a dozen wines offered by the glass.
Heartier eaters can—and should—order the Halcyon Burger ($11). Made with house-ground short rib and chuck, the juicy burger is topped with a black-pepper aioli, tangy green tomato chow chow, lettuce, and a rich cheddar cheese.
At lunch Halcyon fills with a convivial mix of museum guests and business diners. There's a large offering of simple farm-fresh soups and salads like the "nested wedge,"($9), a picturesque wedge of crisply roasted romaine lettuce topped with a thick slab of bacon, resting in sweet cherry jam, drizzled in balsamic, and accompanied by warm squares of cheese mixed with polenta. It's not a big serving, but it's a delicious mix of flavors for a lighter lunch. Heartier eaters can—and should—order the Halcyon Burger ($11). Made with house-ground short rib and chuck, the juicy burger is topped with a black-pepper aioli, tangy green tomato chow chow, lettuce, and a rich cheddar cheese.
The best time to go to Halcyon is in the evening—partially because the views of South Tryon are especially attractive at night, but also because the menu features several choices that stand apart from anything you'll find earlier in the day. A cider-brined pork chop ($22), which sits next to a creamy helping of gorgonzola polenta, is well seasoned and moist, and a cold pan duck ($21) offers slices of crispy-skin duck set over a mound of butternut squash puree and soft roasted brussels sprouts. Other offerings include ginger-ale short ribs ($19) braised with a local beer and served with potato puree, and a seafood carbonara ($24) featuring pan-roasted prawns and diver scallops tossed with house-made pasta. The dishes are presented beautifully but unfortunately, on one visit, while our server asked how we wanted our entrées prepared and even recommended temperatures, the duck and the pork chop both arrived overcooked.
On most visits, though, the servers at Halcyon were very helpful and knowledgeable. Ask them about a dish or drink and they're likely to share the name and location of the local farm, brewery, or vineyard from which the ingredients came. They'll also direct you to the sweetest option at Halcyon, the "coffee and doughnuts" dessert. In this sweet rendition of the classic, the "coffee" is a velvety espresso chocolate pot de crème and "donuts" are miniature beignets served warm and crusted in sugar. It's a modern and well-executed twist on something simple, something at which Jacksina—and Halcyon—are proving to be especially adept.

Halcyon, Flavors from the Earth
501 S. Tryon St.
704-910-0865
$$$, L, D, FSB, P, R