DA: No Charges in Scott Shooting
Mecklenburg County prosecutor says CMPD officer 'acted lawfully'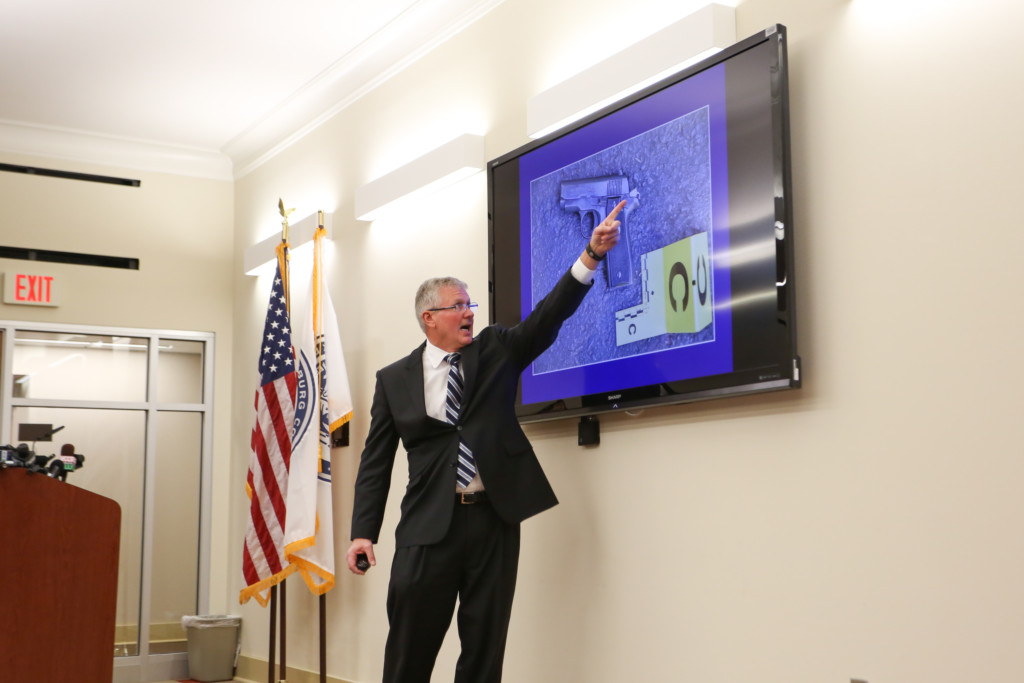 THE CHARLOTTE-MECKLENBURG POLICE OFFICER who fatally shot Keith Scott in September will not be charged, the county's top prosecutor announced Wednesday.
District Attorney Andrew Murray said his office determined Officer Brentley Vinson "acted lawfully" when he shot Scott four times during a confrontation outside a University City apartment complex. Scott's death set off protests and unrest that thrust Charlotte into the global spotlight.
At a news conference, Murray meticulously outlined the conclusions drawn from a 15-person probe into the shooting. "All of the credible, available, and believable evidence supports the conclusion that Scott was armed with a gun," Murray said.
Police dashboard- and body-worn cameras do not clearly show Scott holding a gun or pointing one toward officers. But Murray said Vinson was justified in believing he was in danger after Scott produced a Colt .380 semi-automatic handgun and didn't respond to at least 10 commands from officers to drop the weapon.
The district attorney's office posted Murray's 20-page report, along with supporting materials, online. "I'd like to the community to take a collective pause," Murray said. "The community should read our report, digest the report. Police did not act viscerally."
In the days and weeks following the shooting, people who said they witnessed the shooting—including Scott's wife, Rakeyia—claimed Scott did not have a gun and that Vinson wasn't the officer who opened fire. Murray said those claims were not true.
Critics of Murray's decision, and of the city's police department, plan to demonstrate outside CMPD headquarters Wednesday night.
Scott's family, through their attorneys, issued a statement disagreeing with the prosecutor's ruling and calling for calm.
"We are profoundly disappointed in their decision not to criminally charge Officer Brantley Vinson for his actions in taking the life of Keith Lamont Scott," the statement read. "While we understand that many in the Charlotte area share our frustration and pain, we ask that everyone work together to fix the system that allowed this tragedy to happen in the first place … We respectfully ask that you please keep any protests that may occur peaceful."