Decadent Art at The Gallery
Spot's cake and wine are an adult's cookies and milk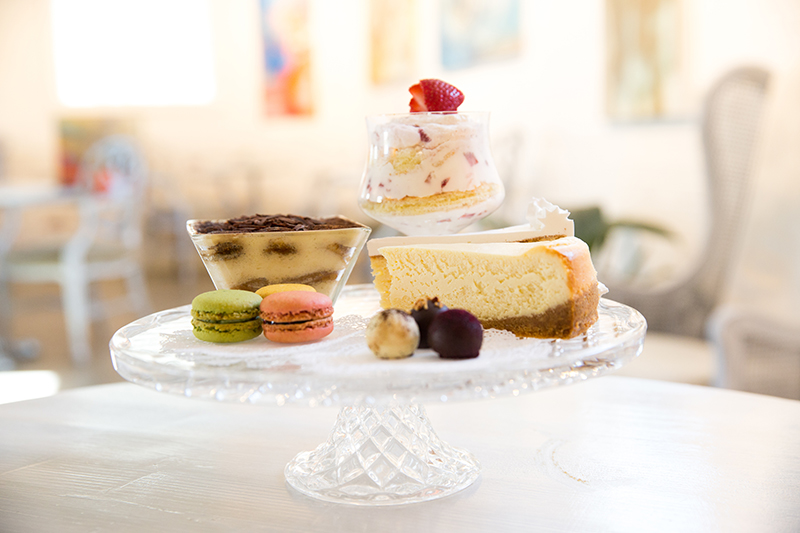 HERE'S A CONFESSION: I don't like cake.
I know. I'm a little embarrassed.
But my problem with eating cake, if you'll forgive the sports analogy, is that it's kind of like rooting for the Tar Heels in football. There's always so much hype at the beginning, and an overwhelming sense of disappointment by the time everything's finished. It just can't live up to my expectations.
So I approached the extensive list of cakes served at The Gallery, on South Church Street, with trepidation. The restaurant is part bakery, part coffee shop, part wine bar, and part art gallery. Although it also serves sandwiches, salads, and appetizers, the cakes are what we've popped in to taste on a humid August afternoon.
The inside is industrial, with concrete floors and brick walls painted a brilliant white. Swirls of color from local paintings, all for sale, adorn the walls. The Gallery's name is appropriate; the space feels like a cafe dropped into the middle of an art exhibit.
Each member of our group orders a different slice, which rotate on the menu. The signature millé crepe ($8) is actually 20 wafer-thin crepes layered delicately between sweet pastry cream. We also pick the gateau aux marrons, an almond cake with chestnut cream and walnuts ($8.50), and the checker cake ($8.50), which is vanilla and chocolate sponge cake covered in ganache. I order the couronne du chocolat ($8.50), a dark chocolate sponge cake layered with chocolate mousse and topped with ganache.
The cakes arrive on small white plates, and after the first bites, we let out a jumbled heap of words and noises that indicate these slices live up to expectations. The desserts are rich but not overly sweet, dense without being chalky, moist but not gooey. My couronne du chocolat is the best chocolate dessert I've had outside of France.
The Gallery serves Stumptown coffee, which is perfect for our late afternoon stop or for those who drop in for an early-morning breakfast sandwich. For evening visits, there's a selection of wines by the glass and bottle, as well as some craft beers, to pair with cheese and charcuterie boards. The Gallery Classic ($15.95) comes with a choice of three cheeses and one meat, plus a selection of other goodies, such as olives and nuts, sprinkled around a marble board. Charcuterie, a couple of glasses of wine, and a shared millé crepe before strolling among the painted canvases could make for a casual but sophisticated evening.
Maybe The Gallery should frame a piece of cake and display it alongside the paintings on the walls. It's worthy of being considered art.
The Gallery
1320 S. Church St.
980-299-1968
Cakes $8-$9
B, L, D, BW, P
---
This article appears in the November 2015 issue of Charlotte Magazine
Did you like what you read here? Subscribe to Charlotte Magazine »
---