Designer Adds Personal Flair to Bland New Construction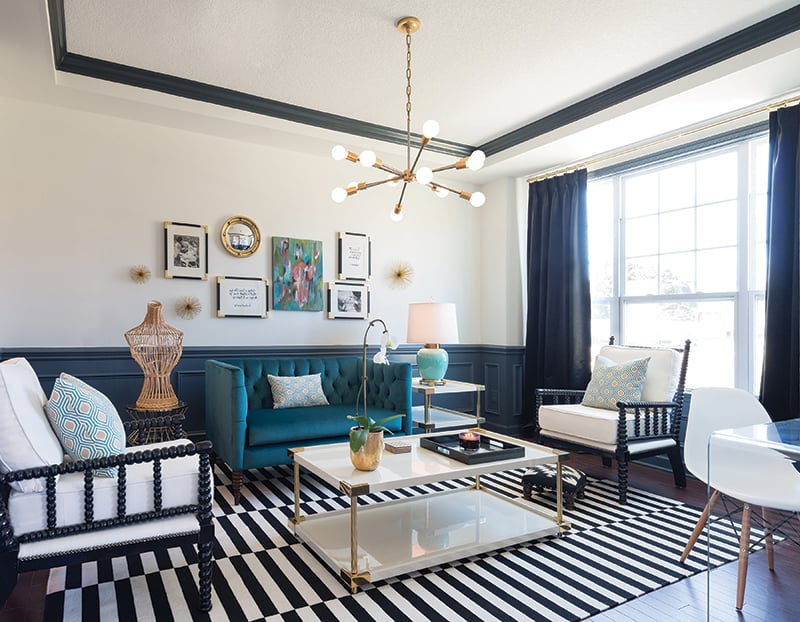 IT SEEMED the stars could never quite align for Mike and Lauren Cardwell. "It was like a comedy of errors over and over," says Lauren of the couple's dream to build a custom home in Davidson. From sales that fell through to finding the perfect lot, only to learn an unfavorable business was going in next door, the Cardwells, it seemed, just weren't meant to design their own home from the ground up.
So in 2013, when Lauren learned she was pregnant with baby number three, the couple decided they needed to set down roots somewhere—and fast. "This home popped up and it was new construction in the Old Vermillion neighborhood," Cardwell says. "It had a beautiful, private backyard, and we loved the neighborhood, already having lived in there for a few years prior." The only drawback, though, she says, was that "the houses were all a bit cookie cutter. They all looked the same, and that was one thing we really wanted to avoid."
But with few other options that suited them, the Cardwells purchased the 3,600-square-foot home in Huntersville, and not long after Lauren reached out to her college friend, Meredith Beregovski of Georgia Street Design, to help draw out a plan for the home's interiors and, ultimately, take it from builder basic to a custom look. Beregovski began planning the home's design, drawing inspiration from Lauren's eclectic-yet-classic personal style and also from the couple's design board, which highlighted a rustic-meets-modern aesthetic.
Beregovski started in the family room, a two-story space that overflowed into an open loft above. The somewhat cavernous space was cold, far from the inviting and warm feeling the Cardwells wanted in the room where they planned to spend most of their time together. To take the room from a basic new build look, Beregovski added floor-to-ceiling wallpaper from Anthropologie in a white birch pattern. "It instantly warmed up the room, but also took it from the basic beige that comes with every home to something that feels more custom," says Beregovski, who also replaced the fireplace surround with stacked stone to complement the home's fresh aesthetic. In lieu of built-in bookcases flanking the fireplace, the designer had custom-made, oversize iron and barnwood bookshelves built to eat up some of the space on the expansive two-story wall. The addition of custom two-story long draperies and a seating arrangement that encourages conversation feels welcoming and instantly softens the room, while the existing ceiling fan was replaced with a large chandelier.
Not wanting a traditional, formal dining room, Beregovski transformed the space into Cardwell's home office, where the photographer could meet with clients. "I wanted it to be my special room, with really bold, fun colors and feminine touches," Cardwell says. To customize the home's original architectural detailing, Beregovski painted the molding a sleek and sophisticated black. "I absolutely love brass and gold, so I wanted that throughout the home and especially in this room," Cardwell says. A modern light fixture Beregovski sourced from Etsy pulls together the other gold accents found in the artwork, accessories, and coffee and end tables. A black-and-white rug—a must for Cardwell—complements the turquoise velvet sofa by West Elm and the pair of chairs found at Cotswold Marketplace. "Lauren has such a great sense of style, and we really wanted to showcase that in her home office," Beregovski says.
Conveniently, the kids' playroom is across the hall, so Cardwell can work while keeping an eye on them. One of Cardwell's favorite spaces, the playroom is "all girl," she says. "At the time, we only had our two girls, and I absolutely love the combination of pink and yellow." The whimsical design was inspired by the room's one-of-a-kind, handmade light fixture designed by a local artisan and sold at the VTGCLT market, made of tiny pieces of colored paper. Vintage metal chairs were cut down to child size and powder coated in a pale blue finish, a playful pairing to the rustic, electrical spool-turned-art table.
To transform the home from basic finishes in the rest of the home, Beregovski replaced all of the hardware on the kitchen cabinets and bathroom vanities with gold pulls, and tore out the existing kitchen backsplash and added clean, white subway tile. New light fixtures were installed throughout, while various trim and architectural details were painted a darker hue in lieu of new construction white.
Though the Cardwells initially felt they were abandoning their dream home, it turns out they were actually creating one without even knowing it. "What Meredith did was take a builder home and make it feel so warm and so cozy," Cardwell says. "This is exactly what we envisioned."