Designer Transforms Son's Ballantyne Townhome
Complete with flea market finds, hand-me-downs, and grandpa's suits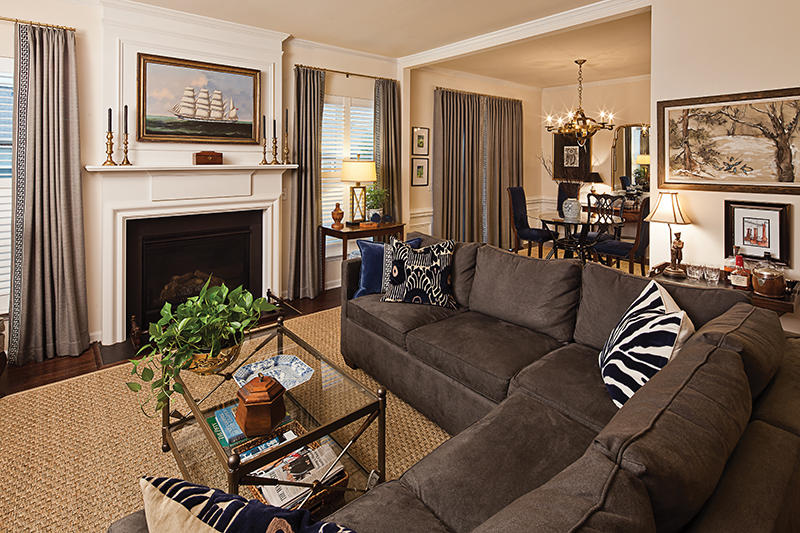 DONNA SIKORSKI POINTS ABOVE the fireplace mantel to a painting of a tall ship at full sail in the middle of an ocean. It's dated 1904 and, at first glance, appears to be the kind of scene one would find hanging on the walls of a golf club or inside an upscale men's store. The painting, she says, was the inspiration for the living room in this Ballantyne townhome. It also happens to be a family heirloom, passed down from her father to her 24-year-old son, R.J.
Shades of blue and pops of patinaed brass make appearances throughout the space. A second painting, of another ship under sail, hangs on the opposite wall, beneath three brass mirrors. Two are portholes; the other is a Federal-style piece with convex glass. Sikorski found them, as she usually does, by hunting: at an antiques store in Virginia, in a relative's attic, and at her "new favorite place, Sleepy Poet Antique Mall. I love it."
Sikorski, who lives in Bristol, Virginia, and has been designing homes for 20 years, didn't feel the need to deviate from her usual approach when R.J. asked her to help him furnish his first home. "I don't like to do showroom decorating, where you go in and buy the showroom and it's like, 'Here you go,'" she says. "It would be easy to go to market and load up, but that's not how I work. I like for it to reflect my client's personality and not mine."
Of course, when the client is also a son, the lines blur.
The dining room chairs are French antiques Sikorski has had since she and R.J.'s father married. She had them reupholstered in a sumptuous navy blue suede and paired them with a glass-topped rattan table she found and rehabbed. On the wall behind the table, she framed black-and-white prints from a botanical book that belonged to her mother.
Sikorski set out to create rooms that felt masculine and mature while still remaining appropriate for a young man. Striking that balance is difficult. Men often struggle to define where home decor should land on the continuum between "Bluto" Blutarsky of Animal House and Hugh Hefner. Lean too much one way and a home feels like a frat house (complete with beer posters tacked to the walls). Skew in the other direction, and the "man cave" feel of leather-bound books and rich mahogany can be comically overwrought.
The personal accents throughout the two-story townhome help visitors understand its owner. "He has opinions, and he has good taste," Sikorski says of her son, "but he was pretty good about letting me go."
Vintage golf clubs sit in an antique caddy on a nook in the stairwell, alongside mementos from a father-son round at Pinehurst. In the guest room, framed and hung on the wall, are notes of scrip from the Virginia coal mining companies that employed R.J.'s great-grandfathers. A quilt on the bed in the guest room, upon closer inspection, features squares of suiting material—pinstripes, glen plaids, solids. "My dad, when he retired, was going to give all these suits away," Sikorski explains. "I thought I should hold on to them, but I wasn't sure what I was gonna do with them right yet. It's a nice heirloom piece for my son to hold on to."
In the upstairs study, framed Civil War artifacts that belonged to family ancestors are set against deep forest green walls, which add masculinity without kitsch. The room's focal point, though, is a large mid-century burl walnut desk with brass legs. "It's actually a dining room table," Sikorski says with a laugh. "We had to take it apart to get it upstairs." It's the kind of desk with literal and figurative weight. I'm doing work, it says.
If there was any creative tension between mother and son, Sikorski doesn't let on.
A glossy blue chest in the master bedroom, opposite the bed, was a light maple color when Sikorski found it at an antiques shop. "It had great lines and I wanted something tall here," she explains, "so I sent him a picture." R.J. wrote back, skeptical. "He said, 'Mom, that doesn't look like something you'd buy. It's ugly.' And I told him that he was just gonna have to trust me, because I had already bought it."
She had it sprayed with a steel blue lacquer, elevating the piece from quaint and homely to elegant and lustrous. Looking around her son's room, Sikorski's eyes land on a bucket of golf pencils, collected from dozens of rounds, sitting on the nightstand. "That's him. That's his thing," she says. "If you really achieve the ultimate goal, it shouldn't look like it has been decorated."