Designing a Home That's Equal Parts His, Hers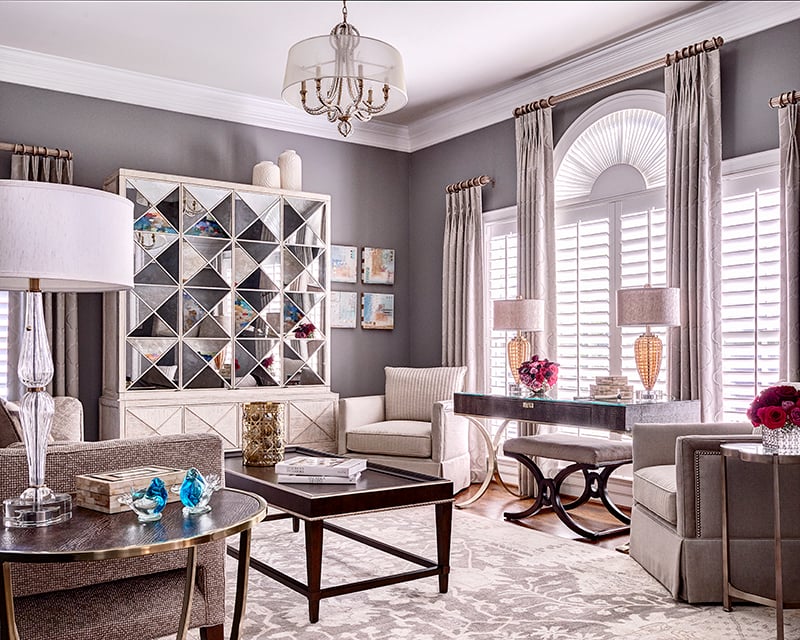 REAL ESTATE AGENT David Huss was meeting with a homeowner several years ago, hoping to be the man's listing agent, when he noticed the home's design. It stood out to him as well decorated and elegant, even though it wasn't quite in his style. So two years ago, when looking for an interior designer to help redesign his own home, he emailed the homeowner to find out who had done it.
The designer, Wanda Horton, came to David and Vonda Huss's Ballantyne house to talk over what they were looking for. The couple had hired a designer to help with their kitchen, but they were unhappy with the experience. With David's job in real estate and Vonda's position in human resources, they didn't have time to manage the project, but found themselves doing just that. They also felt as though the design wasn't quite theirs.
"(That designer) was good at bringing ideas, but she wasn't listening to what we told her. So she's bringing the wrong ideas," David says. "With Wanda, she hit it—she knew what we were after."
In that first meeting with Wanda, the Husses could tell Horton was different. She asked the right questions about how they would use the rooms. She showed them shapes and colors and asked them which were their favorites, gathering information on their preferences.
"My first impression was that she was different than any other designer I'd worked with—and I'd worried she wouldn't be," Vonda says. "She was incredibly organized."
They decided within minutes of meeting Horton that they'd hire her to work on their family room, which opened into the kitchen decorated by the Husses' former designer. The two rooms now felt disjointed. The couple's younger son, Parker, is a freshman at UNC Chapel Hill, meaning David and Vonda had the freedom to decorate how they wanted, without having to worry about the boys (Mason, 22 years old, lives in uptown) and their friends.
"We always before went, 'OK, let's go mid-price range and functional and something that will last through a bunch of teenage boys eating Cheetos and making sure it's going to be able to be cleaned and all of that,'" Vonda says. "This time, we wanted to get what we really, really wanted."
A Huntington House sofa sits across from a flat-screen TV, the depth of which is cleverly hidden by custom molding—one of David's favorite design touches. The two-story wall that now holds the TV was taken up by a massive entertainment center in the old design—outdated furniture that limited the size of the TV. David jokes he couldn't even get Goodwill to take it. Without the massive piece, the wall looked empty, so Horton had a carpenter break up the space with rectangular designs. Across from the TV wall, Horton also commissioned a custom archway to add some elegance to the entrance between the kitchen and family room, rooms that are now unified.
The two shimmering, leather chairs flanking the fireplace add a little glamour, and four ottomans on casters are pushed together in the center of the room. Together, they act as a coffee table; on their own, they can be pulled over as a footrest. Artwork on the wall adds touches of the homeowners' personalities—in the early design stages, Horton learned Vonda loves red, while David wanted to see pops of blue.
"I thought, 'I have to be careful not to make this look like a patriotic home,'" Horton says.
Accents, such as the artwork, add both colors to the design. That thoughtfulness wasn't lost on the Husses, and they hired Horton to design their dining room and living room, as well.
In the dining room, which the Husses use more often now, a Marge Carson table rests underneath a stunning Currey and Company chandelier. Circles are subtly present throughout the room, from the handles on the Bernhardt buffet to the chair pulls. Horton says this has a calming effect, as your eye can rest on familiar shapes throughout the room. The room seats eight, which is just enough—David and Vonda have three couples they often entertain for dinner.
Across the hall is the living room, which Vonda just wanted to be pretty, as it's the first room guests see when they come in the house. Horton, however, had different plans. While still stunning, it now has a purpose, too.
A TV is hidden inside an Ambella Home mirrored cabinet, a statement piece in the room. A gold and glass desk placed under the window is a convenient space for Vonda to do some work here and there. She sits on the couch in the morning for bible study and the evening to enjoy a glass of wine and watch TV. Two little, blue birds perch on books above the coffee table, and preserved red roses sit on an end table, touches of Vonda and David's favorite colors.
Now that the downstairs has been redone, David says they plan on having Horton help with their patio, which overlooks an in-ground pool. They're doing some renovations on their own upstairs, too. That might not last for long.
"I think we've become spoiled with (Wanda)," Vonda says. "Right now, what we're doing is our boys' bathroom … with sort of just basics. We think we can probably do a lot of that on our own, but already trips to Lowe's, trips to tile stores, here and there, we're recognizing how spoiled we were."
This time, at least, they'll know who to call.