Direct Flight: Stingray City, Antigua
A born-and-raised Floridian learns not to fear the friendly, floppy creatures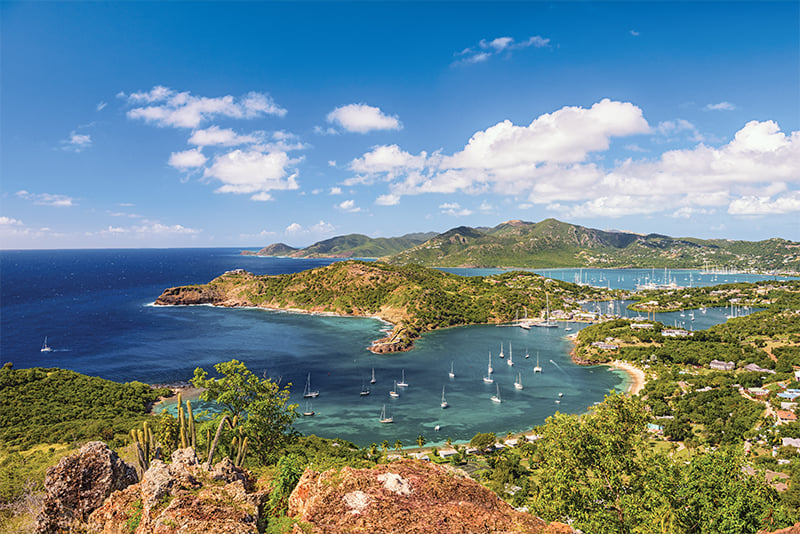 MILES FROM CHARLOTTE: 1,718
FLYING TIME: 3 hours, 45 minutes
NONSTOP SERVICE ON: American Airlines (seasonal)
WHEN YOU SPEND Thanksgiving with a fever of stingrays, one thing you'll learn is to tuck your thumb inside your clenched fist when you feed them strips of squid.
That is, unless you want your thumb to be part of the feast.
The next thing you'll learn is that stingrays are disarmingly cute and, dare I say, cuddly.
After spending the first two decades of my life in Florida, dancing into the sea doing the "stingray shuffle" was, as it is for most Floridians, second nature. You didn't just prance into the ocean, lest you wanted to step atop an angry ray. No, you entered the water ever-so-softly, shuffling your feet in the sand to scare away any sand-covered rays.
So, as you can imagine, everything in my body, mind, and lived experiences, as I jump into the shallow reef that is Stingray City in Antigua, is telling me to abort the plan and stay on the speed boat that brought my husband, two tourists from England, and me here. Stingrays are dangerous (one killed the Crocodile Hunter, for crying out loud), so why would I voluntarily jump into a big open-ocean bathtub full of them?
Because I'm on my nine-day honeymoon in Antigua (pronounced an-TEE-ga), the southeast Caribbean island nation of about 95,000 people and 365 beaches (one for every day of the year). My boat guides, officially called "stingray wranglers," have assured me—with the help of a stuffed animal stingray demonstration aboard the boat—that the stingrays won't hurt me. They're here for the food we're bringing them. For them to sting me, I'd have to back up into their barbed tail or step on them.
Stingray shuffle it is, then.
Stingray City is a popular excursion or afternoon trip for resort-occupying tourists like my husband and me. But it's also a remarkable, demystifying experience with animals in their natural habitat who get a fairly bad rap.
Our boat slices through the Caribbean and weaves through buoys in the water like a slalom skier until it reaches a floating dock next to a sandbar. Like a dog to a can opener, a parade of stingrays appears as the boat nears the dock—as it does three times a day for three different tour groups.
The rays are massive: Female southern rays, which are larger than males, can reach six feet in diameter and weigh more than 200 pounds, 80 heavier than I. With my snorkel mask on—and against all my best judgment—I hop in the crystal-clear water with the group of 30 or so tourists and an equal number of hungry stingrays.
The rays, indifferent to the waders, glide past us, fins grazing our legs and torsos as they propel through the water. I expect the rays to feel scaly or rough like sandpaper. Instead, when one touches you, it's like a 200-pound piece of wet velvet. I swim along, smiling giddily.
At Stingray City, wranglers take strips of fleshy squid out of a blue bucket and offer my husband and me a chance to feed the rays. Their mouths—which, when they're turned upside-down or when you swim underneath them, look remarkably like big grins—are on their undersides, so they'll glide over our hands to take the squid as they flail with the waves. Tuck your thumbs under, the guides remind us.
I tuck the squid in my fist, thumb out of sight. A ray slides atop my hand. I shriek and let go, the squid falling to the sand, as I run away in fear.
The guides and my husband both laugh and shake their heads.
My thumb is perfectly fine.
Stay
This all-inclusive resort on the eastern side of the island is made up of charming duplex guesthouses. A five-minute walk down the road, the Verandah's sister resort, the Pineapple Beach Club, is an adults-only resort accessible with a guest pass from the Verandah. Don't miss The Outhouse, a quirky outpost atop the resort's hill with spectacular views of the water and many mongooses that live on the property. Long Bay, St. Philips, 866-237-1785.
Eat
Half Moon Bay
Antigua's roads are pockmarked and bumpy, but a trip to the secluded Half Moon Bay is worth it. There's a charming food shack but not much else. That's fine. You came for the views, and you won't regret it.
Do
No trip to Antigua is complete without a good shake of Susie's Hot Sauce atop a meal. Find the sauce at almost every restaurant or shop on the island. Visit Shirley Heights Lookout on Sunday evenings for local music and Antiguan barbecue.