DIY Luxe In Plaza Midwood
With a sewing machine, spray paint, and a great eye for detail, Michelle Lane transforms her home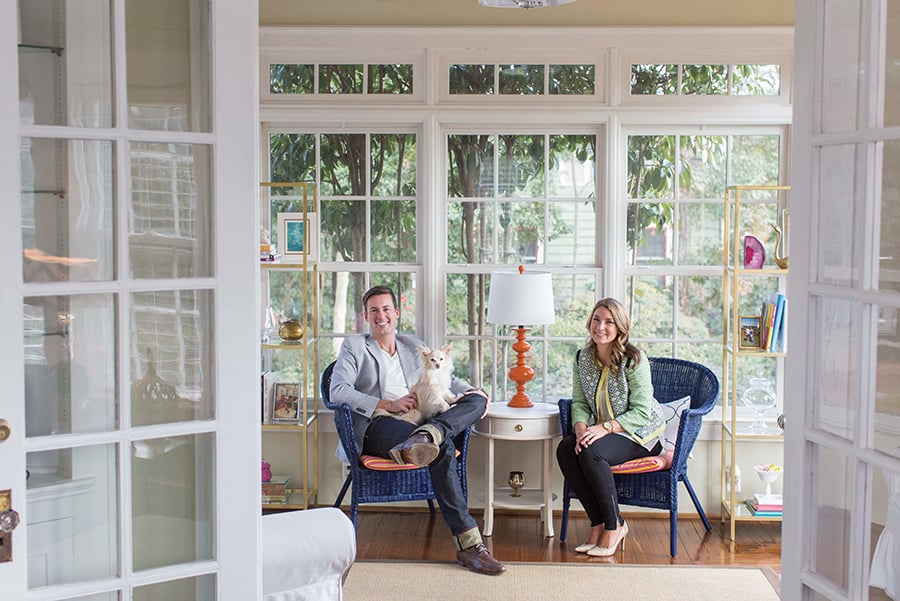 Michelle and Brandon Lane knew right away this was the perfect house for them. That's because while they toured it, their little dog, Donut, hopped up on the sofa, snuggled into it, and went to sleep like it was home.
The house on The Plaza was the first of 17 the newlywed couple viewed that day in the fall of 2012. A job relocation opportunity had brought them from Cary to Charlotte, where they'd been checking out Myers Park, Eastover, and Dilworth. "There were no areas we didn't love," Michelle says.
But this house was somehow different. The Lanes sensed something irresistible about the white, Cape Cod-style home: It had history, and it had heart.
It also had an outdated kitchen, a tiny bathroom, and worn electrical wiring throughout. Every room needed plaster repair. But on the plus side, several opulent, crystal chandeliers with medallions adorned the ceilings, along with matching sconces on the walls in the living and dining rooms. The kitchen floor was Brazilian cherry parquet. And a cheery sunroom looked out into the welcoming neighborhood. It had history, and it had heart.
Less confident homeowners might have been uncertain of how to proceed, but the Lanes had a vision. They worked with neighbor and contractor Matt Ferguson from the Stirling Group to update the home. Renovation can be a painful process, but Michelle used the opportunity to blog about the experience with a fresh and fun point of view–and with advice for other rehabbers.
At the same time, the couple began meeting neighbors and learning about the home, built by the Victor family around 1941. The Victors, along with the Van Landingham family, were instrumental in the early development of what would become the Plaza Midwood neighborhood. Understanding that legacy strengthened Michelle and Brandon's resolve to respect the history of their new home, its era, and its prior owners' memory.
The result, completed in early 2013, is modern, bright, and welcoming. Neutral wall colors accented with glossy white trim provide the backdrop for traditional furnishings in the downstairs living and dining areas. Mirrors and gilt trim on tables and accessories add sparkle. The Lanes chose geometric patterns for rugs and textiles, most in classic navy and some with accents of hot pink or orange for extra verve.
Developing the home's design has been a hands-on experience for Michelle, an unabashed crafter. Seeking out designer fabrics at discount prices, she sewed many of the pillows that help unify and enliven the space. The look is luxe—for less.
"Everyone should be surrounded by things they love," Michelle says, and it's evident in a gallery wall she created of family memorabilia using vintage photos, wedding portraits, and poppies her grandmother painted in the 1950s.
In the renovated kitchen, cool gray walls and marble countertops balance the deep, burnished color of the refinished parquet flooring. The well-organized cabinet layout looks like a custom design, but the Lanes don't mind revealing that it all came from The Home Depot.
Upstairs, a second gallery wall creates a focal point in the small hallway. Each of the three charming bedrooms has its own personality. The master bedroom walls are a deep, charcoal gray. Bedding is crisp and monochromatic, yet the room feels warm and inviting. Michelle purchased the vanity table and bench at discount stores, then painted and updated them to blend seamlessly into the décor. The renovated bathroom is a tranquil retreat.
In the main guest room, a wall of aqua satin drapes creates a dramatic effect behind a tufted, upholstered headboard. The white, lacquered dresser was a curbside find, and it now holds a basket of travel-sized amenities for visitors, just like a fine hotel. An odd-shaped corner has been transformed into a reading nook.
The smaller guest room doubles as a craft room; it's a colorful space for inspiring creativity. In fact, it's where Michelle has begun to fulfill what she calls her mission: "To beautify my little corner of the world, on a budget." Here she sews on a vintage, European Bicor machine that was also a curbside find. It's sturdy and reliable and produces professional results.
For aspiring homeowners who want to try their hand at DIY style, she offers inspiration and project instructions on her blog. In her online Etsy store, she sells bold, geometric pillows she makes from the same high-end fabrics she uses in her home.
Although DIY design is never truly done, for now everyone in the Lane household is content, especially Donut. Michelle reports, "He has his own bed. But he claims every single down-feather pillow in the house." And just like on his first visit, that's the kind of comfort that lets a family know they've truly found the perfect place to call home.